Darling Self Catering, Pet Friendly Accommodation
All Darling Self Catering accommodation is verified
1 Self Catering in Darling.
Enter dates to see full pricing and availability: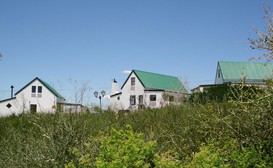 Aloe Cottage
Cottages
, Self Catering, Pets By Arrangement
in Darling
The holiday home has been beautifully decorated with quality linen, furniture and artwork and enjoys possibly the...
Destinations Related to Darling Self Catering
Bloubergrant, Moorreesburg, Hopefield, Parklands, Metaverse Robben Island, West Beach, Langebaan, Olifantskop, Yzerfontein, Riebeek Kasteel, Malmesbury, Melkbosstrand, Big Bay, Riebeek West
Darling Reviews
10 February 2022
My family had a fabulous time at Doornfontein, my kids liked the fact that they had there own private pool, great hospitality from Amanda and husband. Kids when quad bike riding, saw animals. It was adventurous for our family. Arendse family.
09 January 2020
Wine tasting, Olive tasting, toffee tasting, Evita se Perron and so much more.
30 July 2018
We fell in love with this beautiful gem! Definitely a must visit town!
More info about Darling
The simplest description of Darling is that it's a flower town but this would be an injustice to this dynamic little West Coast town that offers perpetual, innovative and most happening events throughout the year. Events range from an uber music festival to intimate plays held in resident's lounges.
Once a sleepy dairy town, Darling blossomed when playwright, comedian, author and political terror Pieter Dirk-Uys came to town. He purchased the old station and began operating a theatre-dinner venue which has been drawing in crowds now for over 20 years.
Darling has its own wine route and is a popular stop during the wildflower season. The town also has the largest orchid nursery in the country.
Although only an hour's drive from Cape Town, Darling is a trip through beautiful countryside and a welcome respite from city life.
Top 8 reasons to visit Darling
1. The enthusiastic and informed curator at the Darling Museum can... Show more
About Self Catering
Self Catering places can be found from rural to urban areas and can vary in what they offer. They allow plenty freedom and is a great inexpensive way to spend your holiday. They have been widely classified as a "Home away from home". This is a good option for guests who don't mind cooking their own food, and are looking for a more independent and flexible form of accommodation. For budget and large families, we would recommend self-catering for a more personalised experience.