Kruger National Park Health Resorts Accommodation
4.7 – 35 Guest Reviews
All Kruger National Park Health Resorts accommodation is verified
1 Health Resorts in Kruger National Park.
Enter dates to see full pricing and availability: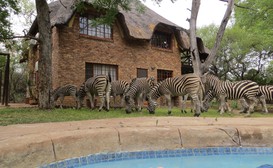 Rafiki's Resthouse
Bed And Breakfast
, Guest Houses, Holiday Homes, Guest Lodge, Game Lodges, Self Catering, Resorts, Villas, Health Resorts
in Marloth Park
'Rafiki' means friend and we want to welcome you in our home as friends.
Surrounded by trees, our house and garden...
FROM
R

2,000

per night

% Off
Kruger National Park Reviews
15 November 2021
We love Kruger but unfortunately visitors to Skukuza need to be educated about keeping it a quiet, peaceful experience. Perhaps Sanparks can look into this.
11 September 2021
We were very blessed to see many animals and had a wonderful time!
24 May 2021
Know the Kruger well - lovely place. Been going since childhood, love the place.
10 May 2021
Cleanliness of the Park.
16 November 2020
Sightings are plentiful. The park is beautiful and well looked after.
We loved visiting the KNP. We'll be back again soon.
19 November 2019
The place is well kept and organised.
02 October 2019
Everything!
25 September 2019
Seeing a zebra, unfortunately not all the big 5.
16 September 2019
Nature!
More info about Kruger National Park
The second largest game reserve, the Kruger National Park is south Africa's flagship Game reserve. Originally the Kruger Park was the Sabi Game Reserve, and it was only in 1927 when the National Parks Act was declared that the Kruger National Park came into existence (by merging the Sabi Game Reserve with the Shingwedzi Game Reserve). In 1927 the first motorists drove through the park for a mere pound.
Today the park spreads across 2 of the country's provinces (Limpopo and Mpumalanga) and spans an awesome 19,633 square kilometres (7,580 sq mi) . Just the drive from North to South of the park is 60 kilometres (220 mi), while east to west is only 5 kilometres (40 mi). It is also home to Africa's Big Five, the birding Big Six, as well as thousands of indigenous fauna and flora. Day guests to the park can visit between 5 - 18:30 in the South African Summer... Show more
About Health Resorts
For a lavish and exotic getaway, a Health resort should be first choice. For the ultimate relaxing experience, we recommend staying at a Health Resort. They offer all basic amenities as well as spa treatment services such as massages, detox treatments, beauty treatments and jacuzzis. Best chosen for guests who have the time and would like to make it an integral part of their stay, or simply spoil themselves. They are generally applicable to a higher budget but there are some resorts which offer more value for your money.