Mombasa Bed and Breakfast Accommodation
All Mombasa Bed and Breakfast accommodation is verified
1 Bed and Breakfast in Mombasa.
Enter dates to see full pricing and availability: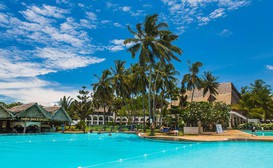 Reef Hotel
Bed And Breakfast
, Apartments, Self Catering, Hotels
in Mombasa
Discover the magic of Kenya at the Reef Hotel Mombasa.
Welcome to Mombasa and to the Reef Hotel, conveniently...
Mombasa Reviews
More info about Mombasa
The beautiful coastal city of Mombasa is situated in the south eastern region of Kenya, and is located on an island in the Indian Ocean. Mombasa has a major airport as well as a port that overlooks a harbor where commercial shipping intermingle with traditional dhow sailing boats. Although the port plays a vital role in the economy through its import and export industry, Mombasa is a thriving tourist destination. The city is steeped in rich history and culture, a fascinating and vibrant city that is depicted by the dusty winding streets and whitewashed streets found in colorful Old Town Mombasa. The ancient buildings, ornate art designs and abundant curio shops are best explored on foot as the narrow streets can not accommodate large numbers of vehicles. The busy markets are a hive of activity and the air is heavy with the scent of Indian spices. At he docks the boats are filled with fresh fish... Show more
About Bed and Breakfast
B&B's (also knows as BnB's) vary from one another, but are each unique and offer a personalised getaway. B&Bs, as they are often called, save guests time and money by removing the worry about the first meal of the day This makes planning that much easier for your stay. This is perfect for guests who plan on doing a lot of sightseeing and expect to be out and about the entire day and night. Bed and Breakfasts are often in private homes or converted historical buildings. Meaning if you have a look through Accommodirects listings, you can find the perfect Bed and Breakfast suited to your taste.