Montagu Bed and Breakfast, Pets by arrangement Accommodation
4.4 - 23 Guest Reviews
All Montagu Bed and Breakfast accommodation is verified
1 Bed and Breakfast in Montagu.
Enter dates to see full pricing and availability: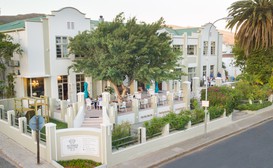 Bed And Breakfast, Self Catering, Hotels, Pets By Arrangement
in Montagu
The Montagu Country Hotel is the only original Art Deco Hotel in South Africa, where warm country hospitality and...
Montagu Reviews
17 January 2022
The beautiful nature. The view of the mountain.
11 January 2022
The Koo / Keisie valley is absolutely beautiful and peaceful.

22 November 2021
Lovely town, the stores have everything one needs. The Spar is well stocked.
27 September 2021
Lovely mountains and countryside.
10 May 2021
The Keisie and Koo scenes.
07 May 2021
Climbing, climbing, climbing.
Quaint, clean town.
Beautiful environment.
04 May 2021
The Dried Fruit Factory Shop is a must to visit. Its a pity the hot springs was closed to all day visitors due to Covid.
18 March 2021
Quiet little town with all the charm of a bygone era. Loved that they kept so much of the old town and restored so many places.
15 February 2021
Small town.
30 August 2020
Sonya's beautiful cosy little cottage was an amazing weekend getaway. Sonya is a brilliant host and I will definitely be returning.
More info about Montagu
Another of the Western Cape's appealing small towns, Montagu is a 2-hour drive from Cape Town and lies nestled on the eastern slopes of the Langeberg Mountains.
The road between Worcester and Montagu is fairly flat until you reach a chain of 450 million year old mountains that appear squeezed up against themselves and fittingly called the Cape Fold Belt. You enter Montagu town via a natural arch with an old fort atop and you come to the realisation that you are about to discover a rather unique and magical town. And you won't be disappointed; Montagu is renowned for its hot springs but this historic town has a host of other attractions, from the interesting architecture to outdoor pursuits such as hiking and mountain climbing. Deciduous fruit is grown in the surrounding valley and sweet dessert wines, particularly Muscadel, are produced under the warm climate.
Montagu has 21 national monuments, 2 museums and a... Show more
About Bed and Breakfast
B&B's (also knows as BnB's) vary from one another, but are each unique and offer a personalised getaway. B&Bs, as they are often called, save guests time and money by removing the worry about the first meal of the day This makes planning that much easier for your stay. This is perfect for guests who plan on doing a lot of sightseeing and expect to be out and about the entire day and night. Bed and Breakfasts are often in private homes or converted historical buildings. Meaning if you have a look through Accommodirects listings, you can find the perfect Bed and Breakfast suited to your taste.