Mozambique Caravan Parks Accommodation
All accommodation is verified
2 Caravan Parks in Mozambique.
Enter dates to see full pricing and availability: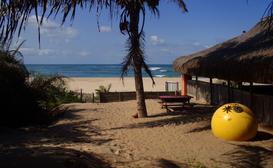 Camps, Chalets, Self Catering, Caravan Parks
in Pomene Bay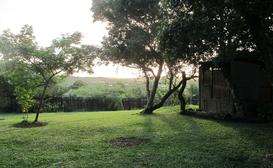 Camps, Caravan Parks
in Ponta do Ouro
Popular Destinations
Pomene Bay , Jangamo, Maputo Province, Xai Xai, Ponta Malongane, Ponta do Ouro, Maputo, Morrumbene, Ponta Mamoli, Mozambique, Chidenguele, Bilene, Mozambique, Matola, Inhambane Province, Vilanculos, Gaza Province, Praia do Tofo , Inhambane, Inhambane
Mozambique Reviews
More info about Mozambique
Pristine white beaches that almost blind the eye, warm blue seas, gently swaying palms, excellent seafood, old colonial architecture and a relaxed, friendly culture is what beckons travellers to Mozambique.
Mozambique is an African country spanning the Tropic of Capricorn and situated in the south west corner of the continent. The country's eastern coastline lies along the warm Indian Ocean and the strip of sea separating Mozambique with the island of Madagascar is known as the Mozambique Channel. Also bordering Mozambique is Tanzania, Malawi, Zambia, Zimbabwe, Swaziland and South Africa.
The country's currency is the Mozambique Metical (MZN), its value roughly one third of the South African Rand.
Mozambique's official language is Portuguese due to its colonial legacy, however, English is spoken at most hotels and resorts.
The climate is tropical, averaging 28° in summer with high humidity. The rainy season occurs during summer and the dryer winter months remain pleasantly warm.
Experience peaceful everyday life... Show more
About Caravan Parks
One of the most intimate ways of staying a night or more in the open, Caravan Parks are for guests willing to get closer to nature. There are also often a host of activities from canoes, fishing and hiking trails depending on the destination.If you have your very own caravan, this makes it the perfect choice for your trip as you will be able to make the most out of your budget. This form of accommodation is ideal for those on a budget, couples, small groups of friends and families.