Ngorongoro Conservation Area Guest Lodge Accommodation
All accommodation is verified
2 Guest Lodge in Ngorongoro Conservation Area.
Enter dates to see full pricing and availability: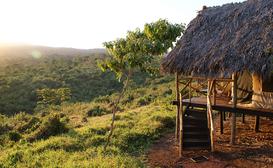 Camps, Guest Lodge
in Ngorongoro Conservation Area, Tanzania
Crater Forest Tented Camp
Camps, Chalets, Guest Lodge
in Ngorongoro Conservation Area, Tanzania
Natron
Ngorongoro Conservation Area Reviews
More info about Ngorongoro Conservation Area
The Ngorongoro Conservation Area is one of Tanzania and Africa's most important archaeological and natural sites. This stunningly beautiful expanse is a kaleidoscope of indigenous peoples, landscapes, rolling plains and hills, abundant wildlife, and important archaeological discoveries including evacuated fossils, which show this area as being one of the earth's oldest regions for hominoid habitation.
Located in the northern part of Tanzania and bordering the iconic Serengeti National Park, the Ngorongoro Conservation Area is a few hours drive from the town of Arusha, which is nestled at the foot of the Meru Mountain, which in turn yields views of the majestic and world-famous Kilimanjaro. The conservation area itself is a beautiful assortment of mountains, waterfalls, and volcanoes and because it is a protected district, only the indigenous peoples of the Maasai tribe are allowed to live within its borders.
Ngorongoro Conservation Area is home to the Olduvai Gorge, Lake Ndutu and Masek, which are... Show more