Phalaborwa Caravan Parks Accommodation
All accommodation is verified
1 Caravan Parks in Phalaborwa.
Enter dates to see full pricing and availability: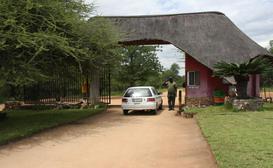 Chalets, Game Lodges, Self Catering, Caravan Parks
in Phalaborwa
Come and experience unspoiled Africa in one of our self-catering, elevated A-frame cabins. Or bring your family to...
Phalaborwa Reviews
06 March 2020
Nature and the vibe.
13 August 2018
Good location to visit the Kruger Park.
04 August 2018
All needs close together. Warm Weather.
More info about Phalaborwa
The garden town of Phalaborwa is located in the Limpopo Province, well-planned and proudly decked out with grassed public areas and flowering trees lining the streets. Phalaborwa was proclaimed in 1957 and is considered a gateway town into the Kruger National Park. The area is rich in minerals too, with generous deposits of apatite and iron ore. The town has Africa's largest open cast mine, the copper recovered at staggering rates, and the mine is currently over 200m deep and 2km wide.
The Phalaborwa gate is South Africa's northern-most entry into the Kruger National Park and animal life in this part of the park is prolific around the Letaba River where animals generally congregate.
The word Phalaborwa means 'better than the south', named by a travelling Zimbabwean Karanga tribe who were forced to turn back and head northwards when tribe members were struck down by fever. They settled here in around 400CE after discovering a rich... Show more
About Caravan Parks
One of the most intimate ways of staying a night or more in the open, Caravan Parks are for guests willing to get closer to nature. There are also often a host of activities from canoes, fishing and hiking trails depending on the destination.If you have your very own caravan, this makes it the perfect choice for your trip as you will be able to make the most out of your budget. This form of accommodation is ideal for those on a budget, couples, small groups of friends and families.