Port Shepstone Backpacker Accommodation
4.2 - 4 Guest Reviews
All Port Shepstone Backpacker accommodation is verified
1 Backpacker in Port Shepstone.
Enter dates to see full pricing and availability: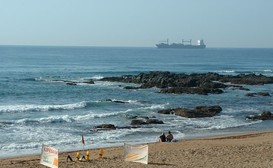 The Spot Backpackers
Backpacker
, Self Catering
in Port Shepstone
This magical spot is set right on the beach. Early risers can grab a coffee and watch a beautiful sunrise, go for a...
EXCLUSIVE DEAL
SAVE %!
FROM
R

260

per night
Port Shepstone Reviews
22 March 2022
Weather ...
26 March 2020
Everything is easily accessible.
10 September 2018
Hotels in Port Shepstone.
05 September 2018
We loved the friendly unpretentious locals and the beaches!
More info about Port Shepstone
Port Shepstone is somewhat of a legendary holiday spot in KwaZulu-Natal. People come from over the country, and beyond, to experience a taste of this charming coastal town.
Port Shepstone has unbeatable location, situated around the mouth of the Mzimkulu River right on one of the most unspoiled coastlines in the world. Port Shepstone, like most of KZN, is blessed with warm weather all year round. Perfect for a holiday getaway, at any time of year! From here, you have easy access to the best of Durban and more!
Port Shepstone started off in 1867 as a small community based around the rich marble deposits found around the river mouth. Over the years, this small village grew into a large town that today attracts visitors from all over the country and beyond!
There are many ways to spend your time while on holiday in Port Shepstone. The beautiful beaches are a major draw card here, and... Show more
About Backpacker
For those who are a little adventurous and enjoy the company of other travellers, you can decide to stay at a Backpackers. Often having to share a room with others as well as costs, it is incredibly inexpensive. Often the best choice for those who may be just passing through or will be occupied for the majority of their day. It comes with the most basic amenities and is often formed as part of a bar or similar establishment. Not recommended for those who want privacy, this is best suited for those who wouldn't mind meeting various other interesting travellers.