Clarens, a charming small town situated on the foothills of the Maluti Mountains in the Free State, offers its visitors beautiful surroundings and pretty views, outdoor adventure and warm hospitality. 
So it comes as no surprise to learn that this dynamic town offers a selection of top local restaurants and great things to do.
Here are ten of the best things to do in Clarens and surrounds:
#1 Visit the Golden Gate Highlands National Park
Situated some 18 km from Clarens is the beautiful Golden Gate Highlands National Park. Nestled in the foothills of the Maluti Mountains, this national park offers visitors plenty to see and do.
Some of the main attractions include the Basotho Cultural Village, Cathedral Cave, Brandwag Buttress and much more.
The dramatic sandstone cliffs; rich, diverse wildlife and plants; incredible birdwatching; and the chance to hike; stay the night; or enjoy a day visit to this special park make it a worthy South African attraction.
For more insight into the available offerings and activities at Golden Gate Highlands National Park, please visit the SANParks website – and enjoy planning a spectacular trip!
Note: Entry fees and other prices for accommodation, activities (such as horse riding and abseiling) may vary. Please visit the SANParks website or contact them for more info on this.
Contact: +27 (058) 255 1000, Goldengate@sanparks.org
Website: www.sanparks.org/parks/golden_gate/tourism/general.php
Address: Golden Gate Highlands National Park, Clarens, Free State, South Africa.
#2 Dine Out at One of the Local Restaurants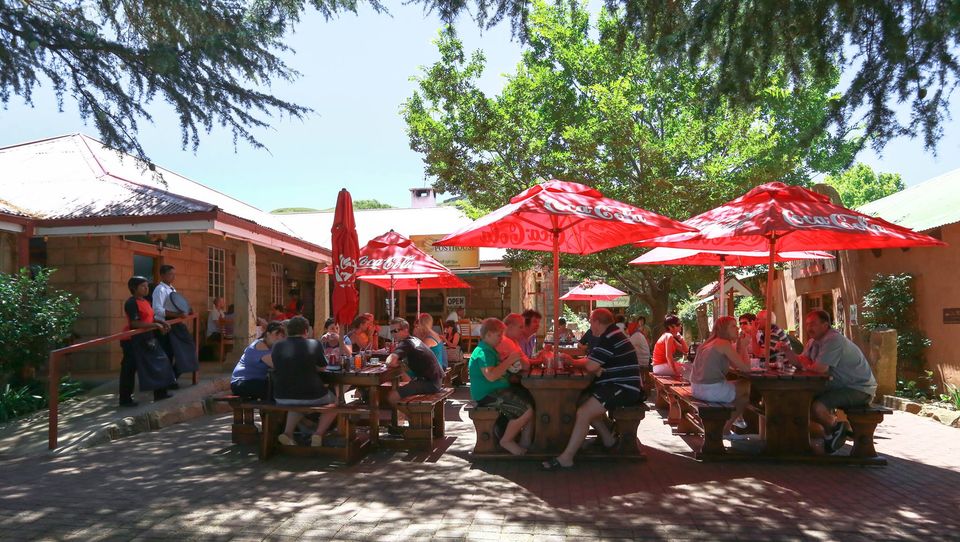 Clarens may be a small town – but it is big on food and hospitality. This means that there are a host of excellent coffee shops and restaurants in Clarens.
Dine out at one of the local gems, such as Clementines Restaurant and Bar; Addo's Fine Dining; The Courtyard Bakery and Cafe; or The Posthouse Restaurant to name only a few – and enjoy a quality, wholesome meal in this vibrant town.
Many of the local eateries are also family-friendly, making them ideal for both locals and travellers passing through.
Contact: N/A
Website: clarens.co.za
Address: Clarens, Free State, South Africa.
#3 Visit the Adorable Bibliophile
Bibliophile, a local gem of a bookstore, is one of the most popular stops in Clarens.
This adorable-looking bookstore offers an incredible selection of fiction and non-fiction books – many at low prices – as well as audio books, travel guides, maps, puzzles, games and activities for all ages.
If you're not an avid book reader, don't worry because they also have a great music section, which stocks a good supply of jazz, classical and world music, available on CD and vinyl.
Then there is the Artist's Corner, which offers a treasure trove of canvases, paints, easels, sketchpads and other handy essential art supplies for budding or seasoned creatives to enjoy.
Bibliophile offers a warm, fun experience and is always a great place to visit, whether you're buying or simply browsing.
Contact: +27 (058) 256 1692, clarensbooks@gmail.com
Website: N/A
Address: Bibliophile, 312 Church Street, Clarens, Free State, South Africa.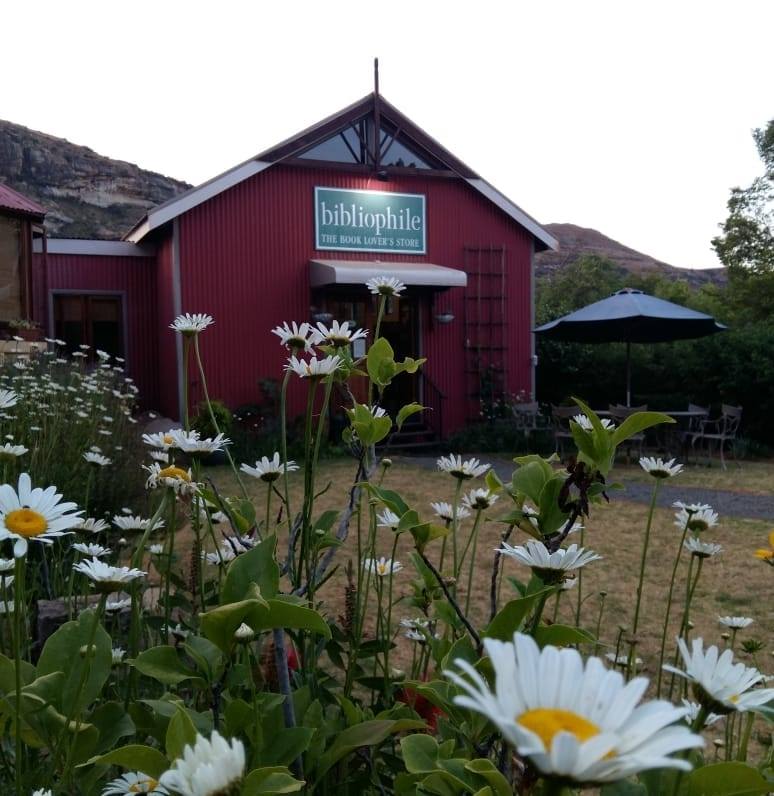 #4 Time Your Visit Right – and See the Cosmos
The beautiful cosmos flowers are a common sight along Free State roadsides. While the time of flowering may vary slightly, it is generally accepted to fall during autumn (March) and late spring (November).
These special flowers break into pretty pink and white carpets, lining the roadsides and surrounds in the Free State especially, although they are now quite widespread across different parts of South Africa.
With this in mind, if you time your visit to Clarens right, you may be afforded a sensational flower show… for free!
Enjoy seeing the cosmos, posing near them for pictures or simply admiring them as you drive around.
Contact: N/A
Website: N/A
Address: Clarens, Free State, South Africa.
#5 Hike in Clarens Conservancy
Another popular outdoor activity in and around Clarens is hiking. Through the Clarens Conservancy (or Golden Gate Highlands National Park), locals and visitors can enjoy some incredible, scenic hikes.
There are several trails in and around Clarens itself to enjoy, all of which are maintained and developed by the local Clarens Conservancy.
This NPO works with the local municipality to improve the environment and create positive outdoor experiences. When you hike one of the conservancy trails, you are almost guaranteed great views and possibly even some game sightings.
Trails and routes include the likes of Kloof and Dam Walk (1km), Spruit Walk or the longer Kloof Mountain Trail, a 4.5km walk that takes some three hours but it is certainly worth the time and effort.
Routes include Mallen Walk, Sandstone Koppie-Maluti View, Scilla Walk and Leucosidea Trail, each with varying lengths and rewarding views and scenery to savour.
For more information on local hiking trails in Clarens, please contact the Clarens Tourism body or visit their website.
Contact: N/A
Website: clarens.co.za
Address: Clarens, Free State, South Africa.
#6 Go White Water Rafting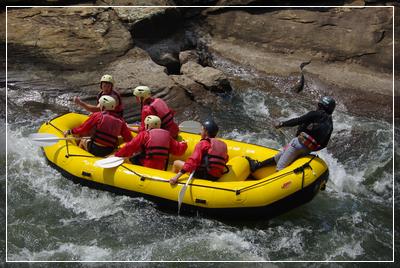 With local adventure zone, Clarens Xtreme, you can enjoy a host of incredible, adrenaline-inducing activities in and around Clarens.
These include abseiling, archery, MTB trails, quad biking, wall climbing and more – but arguably one of the best is white water rafting.
With Clarens Xtreme, you can make a splash on Ash River, found just outside of Clarens. This beautiful river provides year-round white water rafting experiences and offers nine rapids, stunning scenery and great birdlife.
You can enjoy white water rafting as a family, with friends or even as a corporate adventure. Permitted ages run from "6 to 106" so it really is great, guided fun for the whole family.
Experienced guides will take you down grade 111 and IV rapids, ensuring your safety and fun.
Book is essential and the activity includes a half-day white water rafting experience, complete with all necessary equipment, transport to and from the river and drinks.
Half-day trips depart daily at 08:15 am and 13:00 pm from their base. During winter, the time slots change slightly to 11:00 am to 15:00 pm to ensure optimal warmth.
Note: A minimum of two people must book this activity. For pricing and other information, please contact Clarens Xtreme directly.
Contact: +27 (058) 256 1260
Website: clarensxtreme.co.za
Address: Clarens Xtreme, 531 Sias Oosthuizen Street, Clarens, Free State, South Africa.
#7 Enjoy a Beer Tasting at Clarens Brewery
Another popular local establishment is Clarens Brewery. Here, you can enjoy exploring one of South Africa's first brew-pub, cidery and distillery.
Set in the foothills of the beautiful Maluti Mountains, Clarens Brewery is a place where passion and fun live. With a range of excellent beers, craft gins, ciders, juices and liqueurs, there is plenty to buy and enjoy when visiting the brewery.
Add to that, a selection of tasty food, brew pub bites, salad bowls and more and you are all set for a great visit.
Note: Clarens Brewery does not work on reservations so you can stop by and if a table isn't available, you can enjoy a free taster while you wait.
Contact: +27 (058) 256 1193, hello@clarensbrewery.co.za
Website: www.clarensbrewery.co.za
Address: Clarens Brewery, Shop 1, Rosemary Centre, 326 Main Street, Clarens, Free State, South Africa.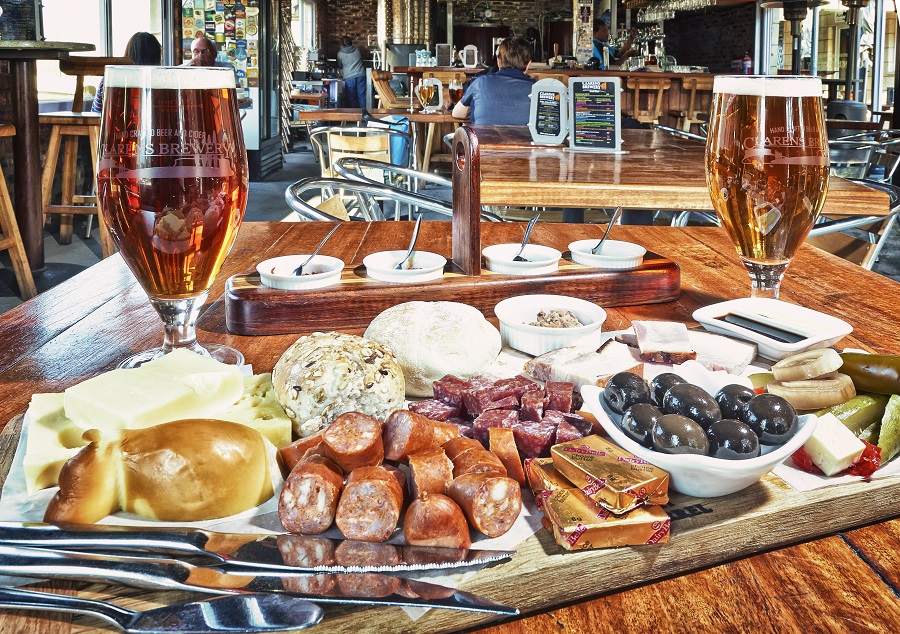 #8 Embark on a Hot Air Balloon Ride
Another unmissable experience when visiting Clarens is booking a once-in-a-lifetime hot air balloon ride.
Whether you book it for a special occasion, such as a birthday, wedding anniversary or surprise engagement, or simply as an unforgettable life memory, a hot air balloon ride over Clarens with Hot Air Ballooning SA is always a good idea.
Experience the breathtaking views and scenery of the Maluti Mountains and surrounds when you book an incredible Clarens hot air balloon ride. Make a weekend or mini-holiday of it and enjoy a special stay in SA's adventure capital.
For more information, bookings and pricing, please contact Hot Air Ballooning SA directly.
Contact: +27 (011) 802 4318, info@hotairballooningsa.co.za
Website: www.hotairballooningsa.co.za
Address: Hot Air Ballooning SA, Clarens, Free State, South Africa.
#9 Enjoy Horse Riding
Another special experience to enjoy when visiting Clarens and surrounds is horse riding. Happily, there are even a number of local tour providers, each offering the thrilling experience of riding safely through the Free State and enjoying incredible local scenery in and around Clarens.
Some of the top local provides include Bokpoort Horseback Adventure and Holiday Farm (5km from Clarens); Schaapplaats Farm (12km from Clarens); Gladstone Stables (situated at Golden Gate Highlands National Park); and Clarens Outrageous Adventures.
Book a fun horse ride with your friends or family. Most rides can accommodate children and adults and are generally suitable for everyone from beginners to experienced riders but also check with your tour operator of choice beforehand.
For more information on horse rides, pricing and rider levels, please contact the relevant tour operator of your choice in Clarens.
Contact: N/A
Website: N/A
Address: Clarens, Free State, South Africa.
#10 Explore a Local Art Gallery
Finally, it seems no visit to Clarens is complete without exploring one of the many local, highly rated art galleries.
For a small town, Clarens offers a wonderful array of local art galleries, with something for everyone to enjoy.
Some of the more well-known offerings include Art and Wine Gallery; Blou Donki Art Gallery; Addy & Hoyle Art Gallery; and Tina De Beer Gallery.
For more information on each respective art gallery and its visitation details, please contact them directly.
Contact: N/A
Website: clarens.co.za/search/cat/art
Address: Clarens, Free State, South Africa.
These are just ten of the best things to do in charming Clarens and surrounds… Which are you keen to try first?
Book your Clarens getaway here!