This attractive city (and province) in Mozambique has a whole lot of heart. Not only does it offer some wonderful history, marine life and vibrant eateries but it is blessed with some glorious beaches, picture-perfect scenery and wonderful adventures for all to enjoy.
Here are some of the top activities to experience in Inhambane:
#1 Snorkel at Two Mile Reef
If you are a snorkeling enthusiast, you will adore Two Mile Reef. It's rated by some as one of East Africa's best snorkeling areas and, with schools of fish, frolicking humpback whales (usually visible around August) and the occasional hawksbill turtle, it's not hard to see why it's so well-loved… So go on, dive on in!
Contact: n/a
Website: www.inspirock.com
Address: Two Mile Reef, Bazaruto Island, Inhambane Province, Mozambique
#2 Catch a tan on Barra Beach
This pristine beach is the place to go for some quality relaxation and, above all, to escape from the madding crowd.
You can swim in deliciously clear waters, go for a night swim with fluorescent sea critters or simply kick back and relax (preferably with a book), as you soak up the surrounds. Nearby local stalls offer handy drinks and snacks for sale.
Contact: n/a
Website: www.inspirock.com
Address: Barra Beach, Inhambane Province, Mozambique
#3 Travel to Praia do Tofo 
The charming town, Tofo, is well worth visiting when you visit Inhambane province and, in that same vein, you should definitely try visit Tofo beach.
This vast, beautiful beach offers plenty of fun and hives of activity, thanks to local stalls, amazing nature (including some epic marine life, like sharks, dolphins and humpbacks), surfing and swimming too!
Contact: n/a
Website: n/a
Address: Praia do Tofo, Tofo, Mozambique
#4 Discover Machilla Magic curios
No holiday or stay in Mozambique is complete without doing some gift or curio shopping – and in Machilla Magic, visitors find a truly special place to indulge their shopping needs.
Browse all kinds of goods – like locally made African furniture and keepsakes from across the country – and take home some gems at affordable rates, which support local communities. It is located in the small fishing town of Macunhe, so make a day of it and enjoy a fun drive there and back again.
Contact: +258 82 393 3428
Website: www.machillamagic.com
Address: Machilla Magic Gallery, 19 de Outubro, Mahaque, Vilanculos, Mozambique
#5 Gain insight into the Marine Megafauna Foundation
Marine Megafauna Foundation (or MMF) works hand-in-hand with popular local diving company, Peri-Peri, to conserve the marine life.
During your visit to Mozambique, experience an insightful lecture, support the research through donations or head on a fun diving trip with Peri-Peri.

Contact: info@marinemegafauna.org
Website: www.marinemegafauna.org
Address: MMF, Baia Sonambula, Praia Tofo, Mozambique
#6 Take a boat to Maxixe 
The largest city in Inhambane province, Maxixe, is a great place to explore. To get to the city, you can easily catch a dhow boat across the bay; locals offer 'dhow transport services for tourists, making this a relatively accessible and easy travel option.
Once across, take time to explore the city, enjoy its beautiful beaches and then, when it's time to go home, embark on a fun ferry ride back to Inhambane town.
Contact: n/a
Website: www.accommodationmozambique.co.za
Address: Maxixe, Inhambane Province Mozambique
#7 Savour seafood at Bistro Pescador
No visit to Mozambique is complete without sampling some fine seafood offerings.
At Bistro Pescador,because they boast an array of seafood-orientated dishes, visitors can dine on seafood platters, prawn curry (with rice) and mouth-watering crayfish to their heart's content. Head here for a relaxed, yet wholesome seafood meal.
Contact: +258 84 251 0911
Website: n/a
Address: Bistro Pescador, Inhambane, Mozambique
#8 Check out Vasco da Gama's statue
Inhambane had a special place in the heart of famed Portuguese explorer, Vasco da Gama, who arrived here in 1498 and now, to this day, his statue proudly watches over the town.
The statue is worth a visit, as it's found quite nearby to the regional museum, and is its own take on 'art through history'.
Contact: n/a
Website: afrotourism.com
Address: Inhambane, Mozambique
#9 Explore the Museu Regional Inhambane
This regional museum is one for the history buffs and culture vultures among us… Here, visitors can view a range of diverse exhibits and artefacts, many of which detail Inhambane's history, dating as far back as its pre-colonial era.
For your history fix, browse farming implements, worship totems, instruments of war and much more at Museu Regional Imhambane.
Contact: n/a
Website: afrotourism.com
Address: Museu Regional Imhambane, Avenida de Vigilancia, Inhambane, Mozambique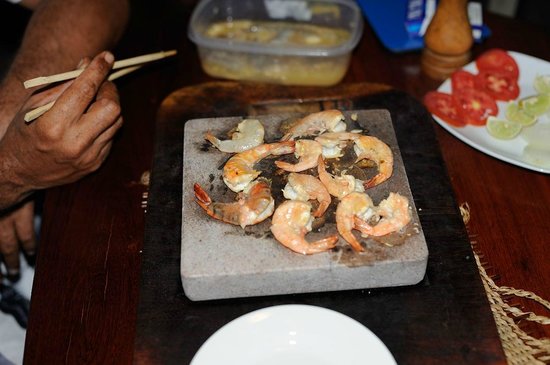 #10 Grab a meal at Branko's
Last but certainly not least, we have Branko's: a casual shack-style eatery that offers arguably the best mix of food in Inhambane province.
And, because it's situated behind the local central market, it allows visitors to experience a healthy blend of bustling, local life, as they tuck into an assortment of drool-worthy pizzas, meat and seafood dishes.
Contact: +258 84 066 6470
Website: n/a
Address: Branko's, Tofo Beach, Inhambane Province, Mozambique
These are some of the best experiences and activities to enjoy in Inhambane!