Beaches, beautiful scenery and Cape Town's biggest natural attraction (psst, that's Table Mountain, if you didn't guess it) – these are just some of the incredible aspects of Bloubergstrand and its surrounds.
Bloubergstrand, found in Cape Town's Northern Suburbs, is a breath of fresh ocean air, offering picture-perfect settings, beautiful beaches and a lovely area at large well worth exploring.
If you're considering a getaway, view Afristay's accommodation in Bloubergstrand.
Better still? The host of amazing restaurants and activities found here!
So, if you're keen to keep things cool by the sea, here are the top 10 activities near Bloubergstrand for you to enjoy:
#1 Beach walks and sunsets along 
Bloubergstrand

 beach

Few things are as charming as long, slow walks along the beach with your friends or loved ones – but at Bloubergstrand Beach, it's an almost life-changing experience.

As the waves crash and churn, you have Table Mountain and Table Bay as a poignant backdrop to every scene, sealing this peaceful, beautiful beach as a winner on all fronts.

It's also blessed with great waves (perfect or wind- or kitesurfing), long, sandy stretches of shoreline and some little rock pool areas here and there for kids to enjoy.

Whether you park down on a nearby bench, stroll along the strand or enjoy a memorable photo shoot – you really can't go wrong with Bloubergstrand's prime beach.

Contact: n/a

Website: n/a

Address: Bloubergstrand Beach, Bloubergstrand, Cape Town, Western Cape, South Africa.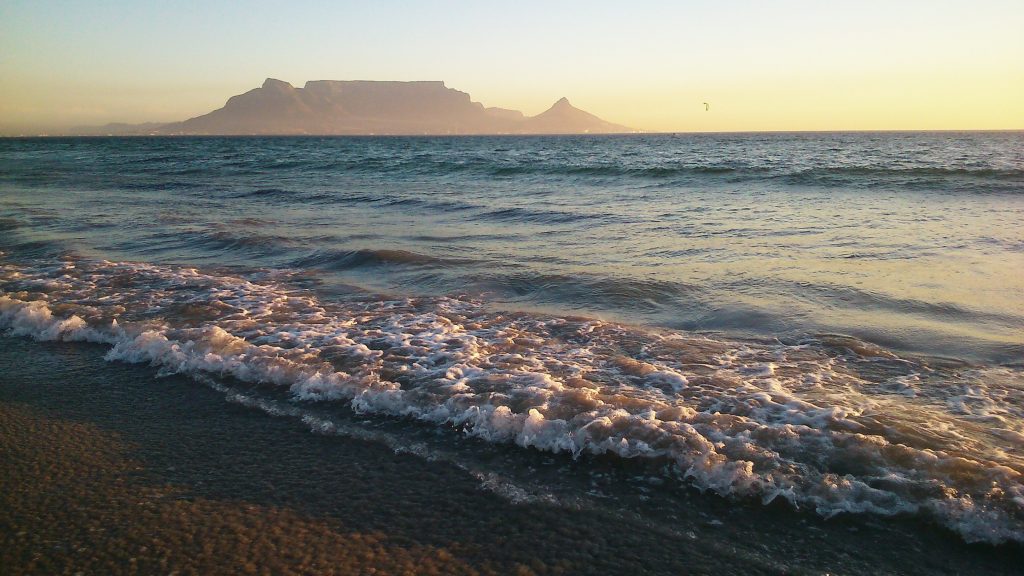 #2 Soar on the Wind
Famed for its gorgeous beach and excellent wind- and kitesurfing conditions, Bloubergstrand Beach attracts plenty of ocean-based adventurers and seaside fans.
So, if you're keen to learn how to windsurf or even to hone your skills, there are few better places (if any) in the Mother City to do it.
Conditions are often perfect for you to glide on the wind and waters, and – should you require some guidance or company – there are plenty of local instructors and schools based in the area to help you do it.
So get your gear, check the weather conditions and enjoy some excellent windsurfing in Bloubergstrand!
Contact: varies
Website: varies
Address: Bloubergstrand Beach, Bloubergstrand, Cape Town, Western Cape, South Africa.
#3 Visit SANCCOB
Situated close by in Table View, one finds the dedicated non-profit organisation, The Southern African Foundation for the Conservation of Coastal Birds, more commonly known as SANCCOB.
Their admirable mission is to save, rehabilitate and assist in the protection of South Africa's  protected African penguins.
With branches based in Cape St Francis, Port Elizabeth and Cape Town, SANCCOB assists these lovely, clever seabirds by helping to rescue, rehabilitate and rear them, while still educating the public on how they can do their bit to help too.
If you would like to volunteer or donate towards a penguin's happy life and good health, this is the place to do so!
Note: You can even adopt and name a SANCCOB penguin – and no, sadly you don't get to take your penguin home – but you will still get a cool certificate and the joy of having your 'own' penguin!
Adoption costs range from R300-R1000, depending on what you choose to adopt (egg, bird or resident SANCCOB penguin character(s)).
Contact: +27 (021) 557 6155, info@sanccob.co.za
Website: sanccob.co.za
Address: SANCCOB,  22 Pentz Drive, Table View, Cape Town, Western Cape, South Africa.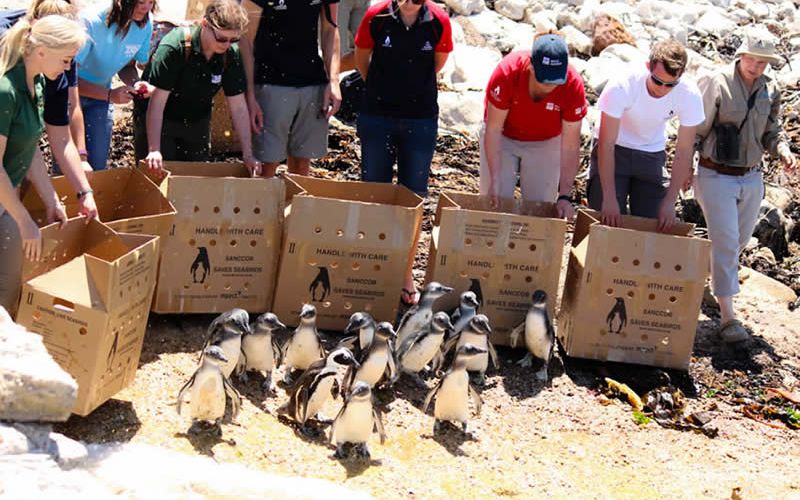 #4 Fly like a Kite with Coastline Kite Surfing
As we've already discovered, Bloubergstrand and surrounds are ideal for kitesurfing… So, if you have established that you're willing to take a stab at it, look no further than Coastline Kitesurfing.
Based in Table View, this dedicated team of instructors offers you the chance to learn kitesurfing. Lessons are professional, carefully structured and loads of fun, with only the best, certified, multi-lingual instructors on-hand to assist and guide you.
You choose how long you wish to try it out for (anything from 3.5-hours (paid daily) to 2, 3 or even 5-day courses)… Be it a few hours or several days. And no matter whether you're a beginner or advanced kitesurfer – all are welcome!
Best of all? No wind means no pay… So if the weather swoops in and spoils your fun –  rest easy knowing that you won't have to forfeit your money and can enjoy it another day instead.
Note: For more information, please visit Coastline Kitesurfing's website.
Contact: +27 (082) 550 0076, info@coastlinekitesurfing.com
Website: coastlinekitesurfing.com
Address: Coastline Kitesurfing,  Shop 5, 14 Beach Boulevard, Table View, Cape Town, Western Cape, South Africa.
#5 FrozenYO by the beach
If you love frozen yogurt or food trucks, then you're really going to love Cape Town's first frozen yogurt food truck… and not least of all because they call Blouberg Beachfront home!
Established in 2014 by Nicholas and Samantha Ahrends, FrozenYO has steadily built up their local fan base – and today, they are synonymous with delicious delights, refreshing frozen treats and good service.
The gluten-free FrozenYO is made using only the finest frozen yogurt product (imported from Italy) and is happily low in calories and milk content but rich in probiotics and live cultures. This means it is good for your gut in every possible way!
Not to mention it just looks and tastes amazing all round… Honestly, if this isn't a food-and-ocean match made in heaven, we don't know what is!
Note: FrozenYO can also often be found at local markets and events around Cape Town, and their food truck is available for hire for all sorts of special events, from school functions to weddings and birthday parties.
Contact: 082 445 6429, nick@frozenyo.co.za
Website: frozenyo.co.za
Address: Frozenyo, Bloubergstrand Beach, Bloubergstrand, Cape Town, Western Cape, South Africa.
#6 Ocean views with your coffee at On the Rocks
With its gorgeous ocean views and delicious food and drink offerings, On The Rock is a popular haunt for many in the city… and is a veritable local favourite to boot!
It offers a vibrant, relaxed atmosphere, good food and consistent service, which makes it a worthy seaside restaurant.
But, particularly if you are in and around Bloubergstrand, this one is a must-visit.
Contact: +27 (021) 554 1988, ontherocks@seascapecollection.co.za
Website: www.ontherocks.co.za
Address: On The Rocks, 45 Stadler Road, Bloubergstrand, Cape Town, Western Cape, South Africa.
#7 Have fun with Surf Big Bay
It's not just wind- and kitesurfing that Bloubergstrand and its nearby suburbs are famed for… It's the surf that draws the crowds too!
If you're looking to enhance or even kick-start your surfing skills, Surf Big Bay is one of your best local options… And with them, you can enjoy taking to the waves and soaking up the scenery of Table Mountain, Big Bay and Bloubergstrand.
Their school boasts professional coaches, excellent equipment and both public and private lessons, for adults and kids aged 5 and older.
And all you need to bring along is yourself – and some sunscreen, a towel and your swimming clothes, of course!
Note: Depending on which package option you select, rates range from R300 to R900. For more information, contact them directly.
Contact: +27 (071) 425 5470, info@surfbigbay.co.za
Website: www.capetownsurflessons.co.za
Address: Surf Big Bay, 143 Big Bay Beach Club, Otto Du Plessis Drive, Big Bay, Bloubergstrand, Cape Town, Western Cape, South Africa.
#8 Discover Small Bay Beach
Found next to its big 'beach brother', Big Bay (a popular local beach), Small Bay might be both lesser known and frequented – but it is no less beautiful!
In fact, it has its own panoramic views of Table Mountain and Robben Island for visitors to admire from afar and is also a prime sunset spot.
What's more, it is a family-friendly beach, where, again, both wind- and kitesurfing are enjoyed.
So pack in a picnic and let the little ones play, while you enjoy watching them and the skilled surfers at Small Bay Beach.
Contact: n/a
Website: n/a
Address: Small Bay Beach, Bloubergstrand, Cape Town, Western Cape, South Africa.
#9 Explore Blaauwberg Nature Reserve
Cape Town is blessed to have so many wonderful, well-preserved and vibrant nature reserves and just like the other parts of the city, Bloubergstrand has its own nearby nature reserve in: Blaauwberg Nature Reserve.
This reserve offers incredible hikes and walks, picnic areas and an environmental education centre… Oh, and stunning views too, of course!
Also, from Blaauwberg Hill, the reserve offers a stunning view down fynbos-covered slopes and out across the Mother City. As an added bonus, this hill is one of the few viewpoints anywhere in the world that you can see Table Mountain and Robben Island, both acclaimed World Heritage Sites.
If you wish to linger longer, the reserve also offers the self-catering Montispectus unit, which allows you and your friends or family to stay here overnight.
Note: Entry fees vary.
Also, the Eerste Steen braai and picnic facility is open from November to April from 08:00 am – 19:00 pm, and in May to October from 08:00 am – 17:00 pm.
The coastal section, meanwhile, is open from Monday to Sunday, from sunrise to sunset.
Contact: +27 (021) 444 0454, blaauwberg.naturereserve@capetown.gov.za
Website: www.capetown.gov.za
Address: Blaauwberg Nature Reserve, Eerste Steen Resort, Otto du Plessis Drive, Bloubergstrand, Cape Town, Western Cape, South Africa.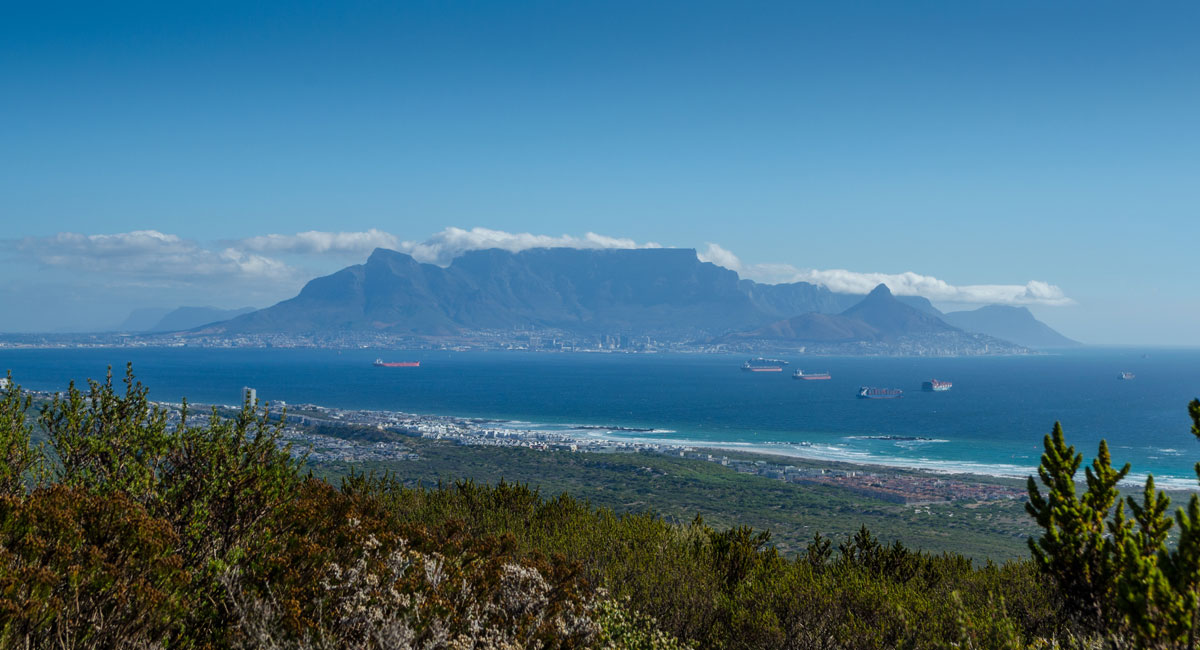 #10 Shop at Eden on the Bay Mall
And last but not least, if you prefer to soak up the local atmosphere and shop up a storm at the lovely Eden on the Bay Mall, then that's fine too!
This lifestyle mall is where shopping, lifestyle and leisure meet. It's a popular local hub and offers a wide range of shops, restaurants and more.
Check out the top fashion stores, grab some food supplies or take your time savouring one of its local eateries (like Cup & Cake, Moyo Blouberg or Saints Burger Joint) – because the options are relatively vast at Eden on the Bay.
Contact: +27 (021) 554 9660, yolande@edenonthebaymall.co.za
Website: www.edenonthebaymall.co.za
Address: Eden on the Bay Mall, Sir David Baird Dr & Otto du Plessis Drive, Bloubergstrand, Cape Town, Western Cape, South Africa.
These are just some of the most fun or scenic activities to enjoy near Bloubergstrand and beyond… Which will you tackle first?
Bloubergstrand is a 25 min drive from Cape Town, so you can also book accommodation in Cape Town, if you're considering a getaway. We also have excellent places for self-catering accommodation in Bloubergstrand.