Leafy Rondebosch, situated in the heart of Cape Town's Southern Suburbs, is a wonderful part of the city to spend time in.
Not only does it offer some great attractions and is but a relatively short drive from the City Bowl – it also has some top restaurants to enjoy!
So, if you're peckish while in and around Rondebosch, here are some great food spots to check out:
#1 Al's Place
Aside from Al's Place being one of the best and most popular restaurants in the Southern Suburbs – in recent years, it has fast cemented itself in the hearts (and stomachs) of Cape Town diners from far and wide.
Headed up by the experienced and affable, Alan Tavares, Al's Place offers a comfortable atmosphere, with great, reasonably priced food to boot!
If you are looking to enjoy a memorable meal, to celebrate with family and friends or are simply craving a quality steak, Al's Place is the place to go (pun intended).
Contact: 021 686 8254, alsplacerestaurant.com
Website: alsplacerestaurant.com
Address: Al's Place Restaurant, 24 Station Road, Rondebosch, Cape Town, Western Cape, South Africa.
#2 Michael's Kitchen and Bar
Immerse yourself in the beautiful and warmth atmosphere that exists Michael's Kitchen and Bar. This pretty eatery offers casual, intimate dining at its best.
Here, visitors can sample a range of tasty food and drinks, including gourmet burgers, mouthwatering pizzas, dreamy milkshakes and more!
It's a short drive from Claremont and perfectly situated as far as Rondebosch goes, so it is ideal for work lunches, catch-ups with friends or even cosy dinner dates.
Contact: +27 (021) 689 9188
Website: www.facebook.com/MichaelsKitchenAndBar
Address: Michael's Kitchen and Bar, 88 Campground Road, Rondebosch, Cape Town, Western Cape, South Africa.
#3 Hussar Grill Rondebosch
First established in 1964, the Rondebosch Hussar Grill is one of Cape Town's oldest institutions. And, as the original Hussar Grill, it embodies the the grill room's best intentions and serves as the yardstick  against which the other branches are now measured.
Although Hussar Grill has evolved into a popular, quality franchise spread right across South Africa, there is no doubt that the original Hussar Grill offers a unique experience, worth enjoying for yourself!
Contact: +27 (021) 689 9516, rondebosch@hussargrill.com
Website: www.hussargrill.co.za
Address: Hussar Grill Rondebosch, 10 Main Road,
Rondebosch, Cape Town, Western Cape, South Africa.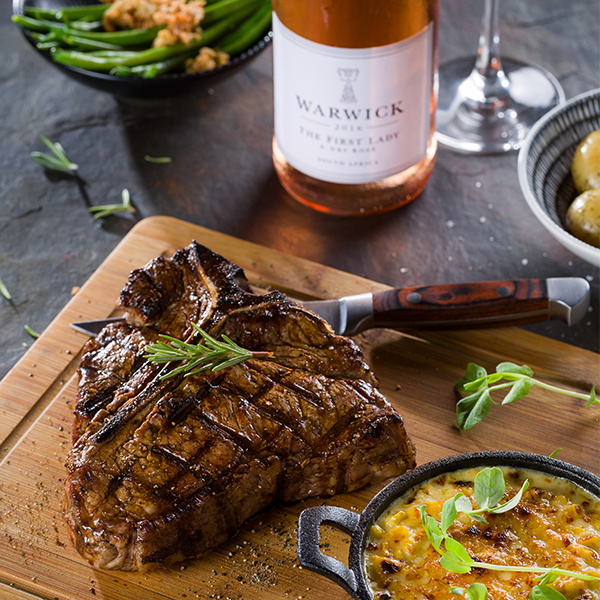 #4 Some Oaks Bistro
Owned by father and sons team, Jeremy, Greg and Marc de Sadler, this laid-back, family-friendly restaurant in the Southern Suburbs is quite a special gem.
Serving up wood-fire pizzas, delicious gourmet burgers and tasty pastas to name a few meal options, there ia no doubt that Some Oaks Bistro is all about feel-good food fillers… so go on, dig in!
Contact: +27 (021) 689 1756/9,  info@someoaksbistro.co.za
Website: someoaksbistro.co.za
Address: Some Oaks Bistro, 92 Campground Road, Rondebosch, Cape Town, Western Cape, South Africa.
#5 Chuck Yang's Chinese Restaurant
For those craving good, quality Chinese cuisine, Chuck Yang's is one of the best places to find it in the Mother City.
Portions are generous and reasonably priced, with plenty of vegetarian and vegan options to choose from, as well as some meaty dishes too.
The restaurant isn't fancy but it is child-friendly, which is a big plus. What's more, service is friendly and the quality of the food here speaks volumes.
Contact: +27 (021) 689 7967
Website: www.facebook.com/pages/Chuck-Yangs-Speciality-Dishes
Address: Chuck Yang's Chinese Restaurant, 93 Campground Road, Cape Town, Western Cape, South Africa.
#6 Govindas Pure Vegetarian Cafe
This small but quaint eatery has a major focus on Indian food – and that always means good food done right!
For vegetarians especially, Govindas is a true gem, as it offers a host of delicious, vegetarian-friendly dishes.
The food is great, meal variety is good and service is friendly – what more could you want?
Contact: +27 (021) 686 1179
Website: N/A
Address: Govinda's Pure Vegetarian Cafe, 17 St Andrews Road, Rondebosch, Cape Town, Western Cape, South Africa.
#7 The Baxter Restaurant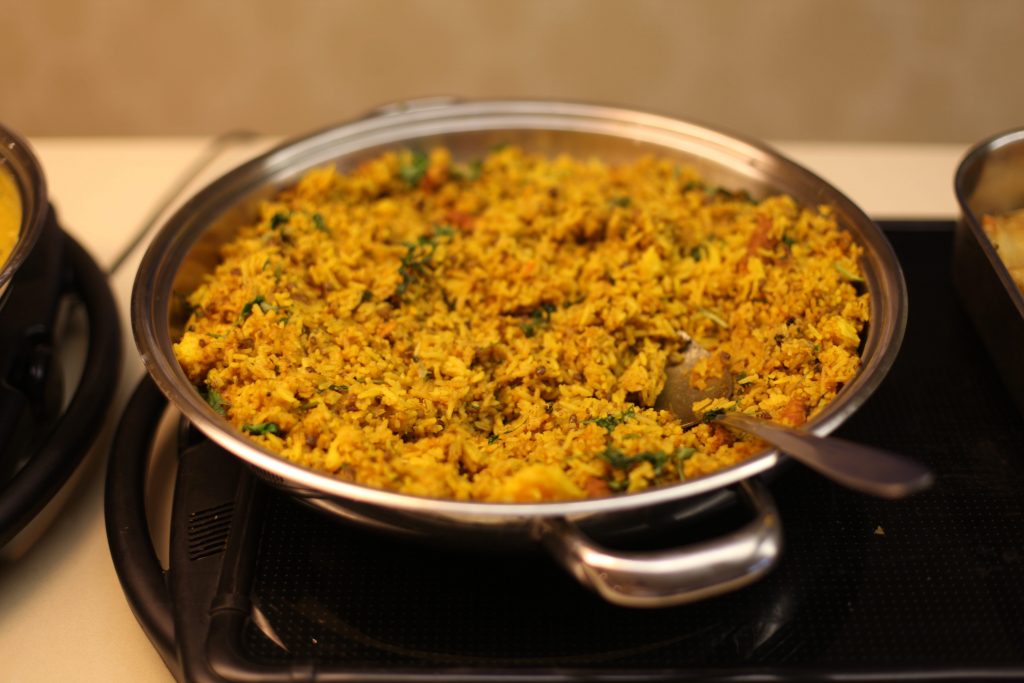 The Baxter Theatre is one of the city's most famous attractions – and while it needs little introduction, it is true that not everyone knows that it also houses its own restaurant.
Run by Theresa Peters – of the famous Maharajah brand – The Baxter Restaurant offers a buffet of delicious vegetarian lunch and dinner options for visitors to choose from.
Think everything from gorgeous curries to pastas and stir-fries – it offers this and so much more! The restaurant is firmly buffet-style, so you never miss a performance – or a good meal!
To reserve a spot, please contact the Baxter Reception on 021 685 7880 and ask to speak to Theresa Peters.
Contact: +27 (021) 685 7880
Website: www.baxter.co.za
Address: The Baxter Restaurant, Baxter Theatre Centre, Main Road, Rondebosch, Cape Town, Western Cape, South Africa.
#8 Maharajah Vegetarian Restaurant
For those seeking mouthwatering vegetarian Indian cuisine, Maharajah Vegetarian Restaurant should be your first port of call.
Inside, you find a neat, cheerful space, where friendly service and good food reign supreme. It is, in every way, pure, good Indian cuisine at its best.
The restaurant team strives to change the world, one meal at a time – and with food and service this good, they really do change the world for the better…
Contact: +27 (021) 685 7891
Website: www.maharajahvegetarian.com
Address: Maharajah Vegetarian, Main Road, Rondebosch, Cape Town, Western Cape, South Africa.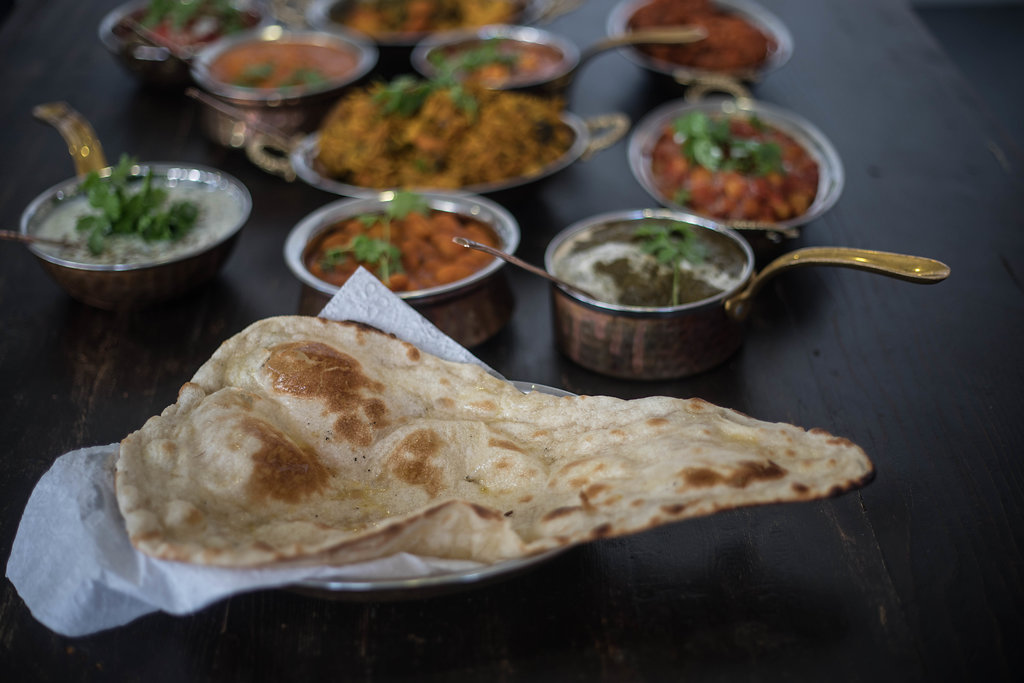 #9 The Creamery (Newlands)
While The Creamery has a host of delicious branches spread across the Southern Suburbs and the main city too, the Newlands branch is definitely one of their most beloved and buzzing of them all.
This airy, beautiful space is always full to the brim with people tucking into or leaving with a host of oh-so-good treats. These include ice-creams of all flavours (which change each month), ice-cream and glorious waffles and even excellent milkshakes and coffee.
The Creamery might not be situated in Rondebosch… but it's definitely worth the short drive!
Contact: +27 (021) 686 3975
Website: https://www.facebook.com/pg/thecreamerysa
Address:The Creamery, Shop 4, Newlands Quarter, Dean Street,
Cape Town, Western Cape, South Africa.
#10 Common Ground Cafe
Situated at the Common Ground Church, this unassuming cafe opposite Rondebosch Common offers a unique experience, equipped with good food and quality service.
You can choose to sit inside, or outside on the balcony – but either way, you're in for a memorable visit. The cafe's cakes, Eggs Benedict and other delicious cooked and baked goods make it a place where everyone can find a common love for good food (and service).
And, perhaps best of all, all profits go to the local NPO, Common Good – so you can enjoy a lovely meal and do a good deed all at once… isn't that special?
Contact: +27 (021) 686 0154, cafe@commongroundchurch.co.za
Website: commonground.co.za/common-ground-cafe
Address: Common Ground Cafe, Common Ground Church, 23 Milner Road, Rondebosch, Cape Town, Western Cape, South Africa.
These are just some of the gems you can enjoy eating at in Rondebosch – and believe us, they have plenty of heart, good food and friendly service to go around!