Safari in Kafue National Park
Kafue National Park covers a massive area in western Zambia. It's known for its abundant wildlife and the Kafue River, running north to south through the park.
In the north, the fertile Busanga Plains are home to lions, zebras, abundant birdlife and the sycamore fig trees of Busanga Swamps. In the more remote south, elephants and antelopes roam the Nanzhila Plains, and hippos swim in the waters of Lake Itezhi-Tezhi.
Contact:  +27 21 712 5296 (Sun Safaris)
Website: www.zambiatourism.com/destinations/national-parks/kafue-national-park/
Address: Kafue National Park, Zambia.
Fish and Boat Cruise on Lake Kariba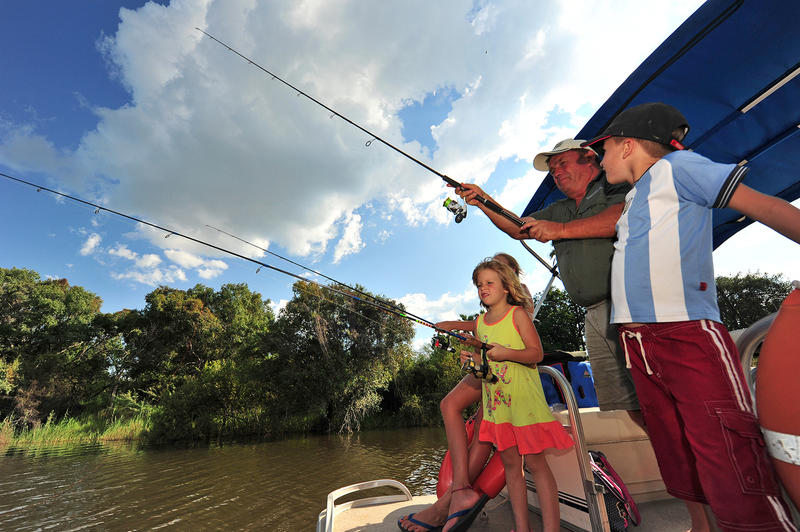 Go fishing, cruising or overnight on a houseboat on Lake Kariba. Sunsets are all kinds of splendid and no matter how hot it gets, don't be tempted to give into the cool lake. Hippos and crocodiles call it home.
Contact: N/A
Website: www.victoriafalls-guide.net/zambezi-cruise-safaris.html
Address: Lake Kariba, Zambia.
Lower Zambezi National Park
A private game reserve until 1983, the park was declared national property to curb poaching and currently covers 4,200 sq km (1,622 sq mi).
Go on a game drive within this park and find elephants and hippos at Lower Zambezi National Park, a protected wildlife viewing area along the northwestern bank of the Zambezi River.This park is home to the big cats including lions, leopards, cheetahs as well as buffalos, zebras, baboons, and bushbucks.
Contact: +260 97 4424013
Website: www.lowerzambezi.com
Address: Sud di Lusaka, Lusaka, 10100, Zambia.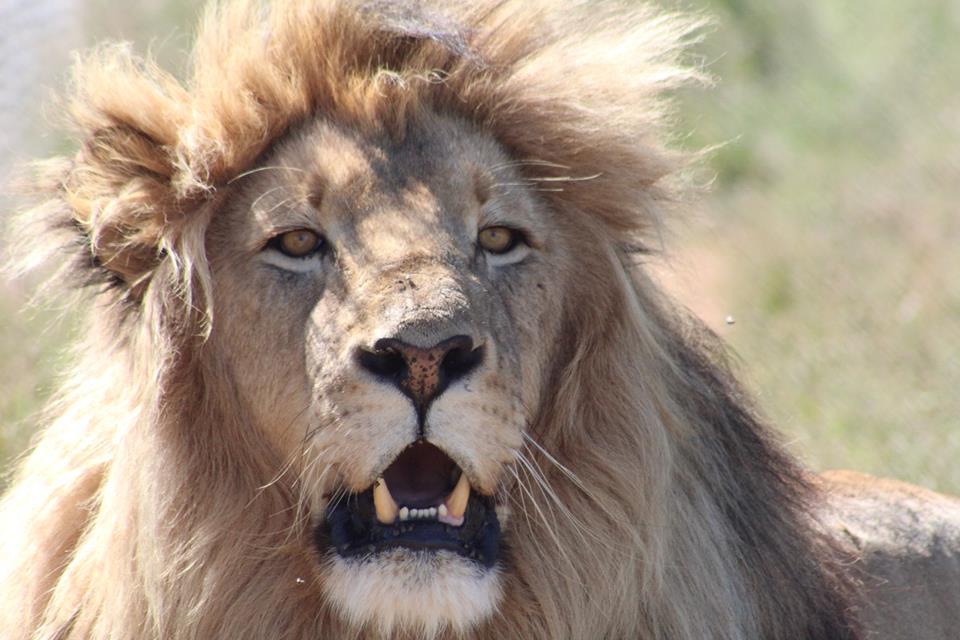 Game drives in Mosi-oa-tunya National Park
Most lodges will offer game drives within this world heritage site park and even though there are no big cats in this Zambian national park, you'll will find elephants, rhinos, hippos, wildebeest, zebras, giraffe and more here. Head out on a game drive at sunrise or around sunset when the animals are most active and when temperatures are milder.
Contact:+27 10 600 0520 (Pure Africa), +27 11 469 9300 (Bushtracks Africa)
Website: www.zambiatourism.com/destinations/national-parks/mosi-oa-tunya/
Address: Mosi-oa-tunya National Park, Zambia.
Livingstone Museum
The museum was formerly known as the David Livingstone Memorial Museum and Rhodes-Livingstone Museum.
It is the largest and the oldest museum in Zambia, located in Livingstone near Victoria Falls and well worth a visit if you didn't have guide taking you to the falls.
Contact: +260 213 324 429
Website: www.victoriafalls-guide.net/david-livingstone-museum.html
Address: Livingstone Museum,  Plot 567, Mosi-Oa-Tunya Road, Livingstone, Zambia.
Shop at Pakati Sunday Market
At Pakati Sunday Market, shop to your heart's content and choose from Zambian masks, paintings, traditionally colored fabrics, wooden cutlery, bowls and carvings, malachite and copper jewelry, and knitted garments. Feel free to bargain get the best price.
Contact: +260 21 1256729
Website: N/A
Address: Arcades Shopping Centre, Lusaka 10100, Zambia.
Modzi Arts Gallery
Visit the Modzi Arts Gallery where various artists will have their works on exhibition.
Modzi Arts aims to support the growth of contemporary art and cultural scene and make it more visible within and outside the Zambian society, by creating a space that is easy to access, offering education, gallery space, events and promotional for artists.
Contact: +260 95 5783992
Website: www.modziarts.com
Address: Modzi Arts, 2499/M Ibex Hill Road, Lusaka, 10101, Zambia
Victoria Falls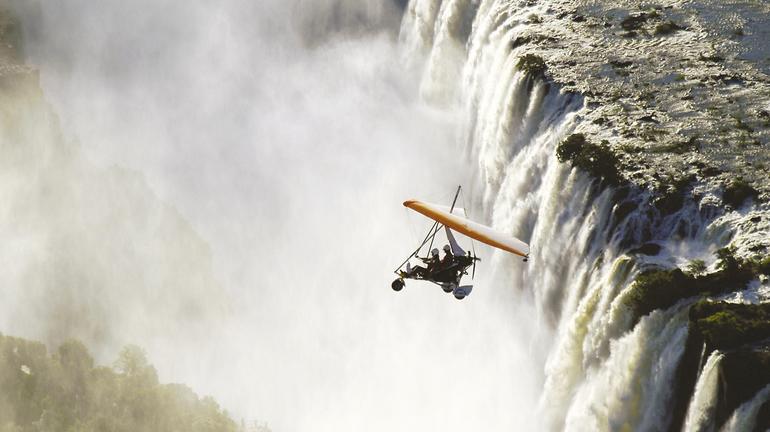 Driving towards the falls it will appear as though you're making your way towards a bush fire. With all the 'smoke' and mist rising up from the powerful waterfall, you can certainly understand why it appears this way. Try get to the park as early as possible. Before 7am, hardly any tourists have already arrived and you'll have a combination of the best light and space to take great photographs.
April and May when the falls are at the strongest, the Zambia side is a wonderful place for viewing. While many viewing spots are dry, be sure to take a rain coat ( and waterproof poncho if possible) as you will get drenched.
Make sure your valuables, phones and cameras are safe in waterproof cases too) But more than anything soak in the beauty and spray of this awe-inspiring beauty.  For the adrenalin junkies you can go river rafting, on a helicopter ride/microlight flight over the falls or bungee from the bridge connecting Zimbabwe and Zambia.
Contact: N/A
Website: www.victoriafalls-guide.net
Address: Victoria Falls, Mosi-o-tunya Road, Livingstone, Zambia.
Zambezi Sunset Cruises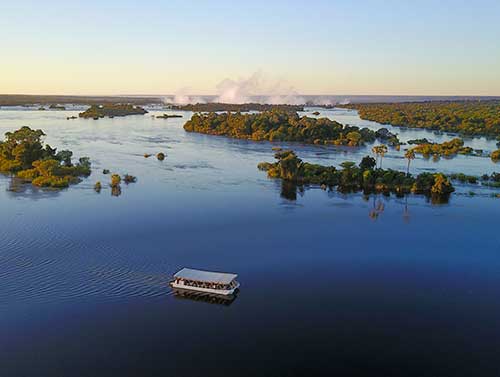 To fully take in the splendor and bird life on Africa's fourth largest river, jump aboard a river cruise at sunset. Head up and down the river on the calmer parts of the river with a guide who will point out hippos, crocodiles and the burgeoning bird life.
Plus there's almost always promise of sundowners aboard the boat. For those wanting to get more active, opt for a kayaking trip down the river with a guide.
Contact: +263 (83) – 2844571, 2844426, 2842313, 2842029 (Wild Horizons)
Website: www.wildhorizons.co.za
Address: Zambezi River, Zambia
Visit a Local Village
Many lodges and operators will have this activity during your stay. Do your research before and select an operator who values sustainable interactions with locals and who contributes to the upskilling, education and entrepreneurial advancement of the locals in the village.
Educate yourself on the structures of villages in Zambia; the way they are built, run and what they do to earn a living.  If there are ways for you to donate or contribute in a meaningful way then do so through your lodge or tour operator.
Contact: N/A
Website: https://pickyourday.com/activity/2483
Address: Various, Zambia