This coastal city in Namibia is known for its sandy beaches, Atlantic views and host of adventures and history just waiting to be discovered – but Swakopmund is also a pretty special place to go for food too!
Here are some of its best restaurants:
#1 Hansa Hotel 
This restaurant is perfectly delightful with its old school elegance – but the food is far from outdated! At Hansa Hotel restaurant, a tranquil, beautiful setting combines effortlessly with excellent food.
Be advised though: booking is recommended, as preference is given to overnight guests.
Contact: +264 64 414 200
Website: www.hansahotel.com.na
Address: Hansa Hotel, 3 Hendrik Witbooi Street, Swartkopmund, Namibia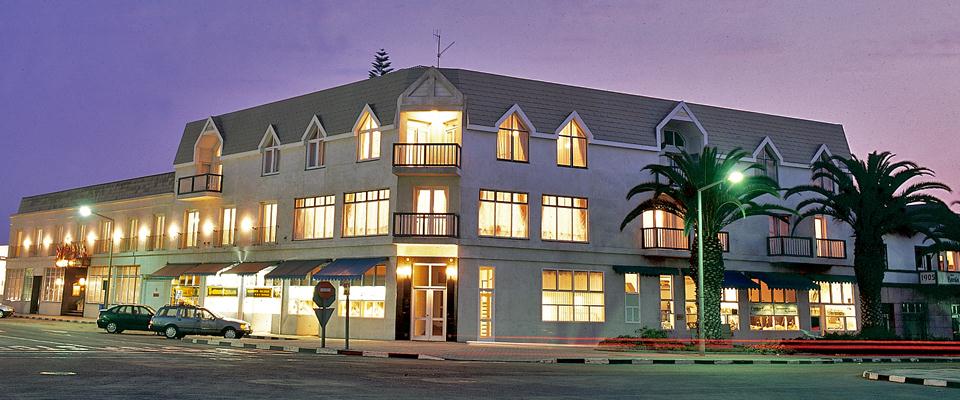 #2 Farmhouse Deli 
At Farmhouse Deli, food is cooked to perfection and served with warmth and care by Anatolia and her team of staff.
Also, this gem of a restaurant lies tucked away inside The Strand Hotel complex, ensuring it is well-situated and close to the promenade.
Contact: +264 64 411 4522
Website: n/a
Address: Farmhouse Deli, Swakopmund, Namibia
#3 Brewer & Butcher 
If you are looking to enjoy lovely ocean views and good Namibian food – served with top brews – then Brewer & Butcher is the place to go!
This stylish restaurant is attractive and popular – and, in addition to its food, it offers a good selection of local craft beers to sample too.
Contact: +264 64 411 4512
Website: brewer-butcher.com
Address: Brewer & Butcher, Swakopmund, Namibia
#4 Village Cafe
This vibey, colourful cafe is a ray of sunshine in Swakopmund. It probably has some of the friendliest staff around, so guests can expect to immediately feel welcome when they walk through the door.
While all the food is delicious and fresh, their cakes and homemade bread, known as Ma se Brood, are particularly good, so be sure to give those a try!
Contact: n/a
Website: www.villagecafenamibia.com
Address: Village Cafe, 21 Sam Nujoma Ave., Swakopmund, Namibia
#5 Ocean Cellar
Ocean Cellar has it all: great seafood and sushi, gorgeous views and top service in a truly lovely setting.
It's a quality establishment, with a stellar reputation – one which it undoubtedly deserves, mind!
Contact: +264 64 411 4532
Website: www.ocean-cellar.com
Address: Ocean Cellar, Strand Hotel, Swakopmund, Namibia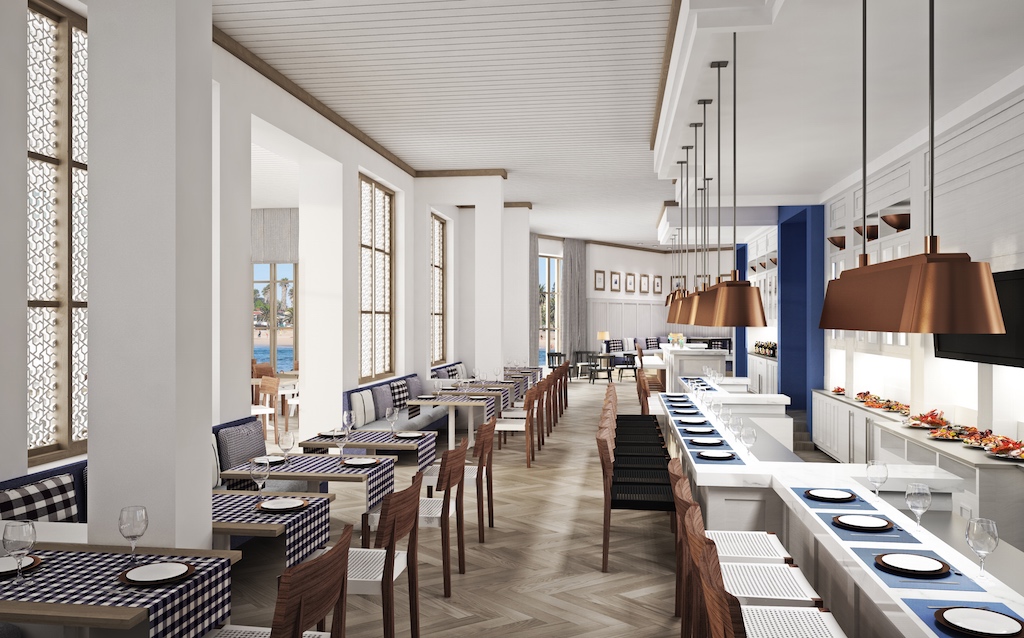 #6 Jetty 1905
At Jetty 1905, the food is superb and the location is dreamy (and unique to boot!)… This combination makes for a particularly special seafood restaurant.
Staff are friendly and service is usually good too so it's an all-round winner in Swakopmund.
Contact: +264 64 40 5664
Website: www.jetty1905.com
Address: The Jetty, Molen Road, Swakopmund, Namibia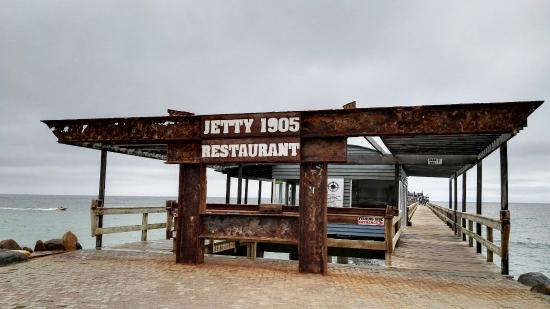 #7 The Tug
Built around a real Danie Hugo tug boat, this unlikely venue is a culinary gem, with years of history and quality service behind its name.
Over the years, The Tug Restaurant has developed into a true Namibian institution. Situated on the shores of the Atlantic, this restaurant offers rustic dining, where fresh food and drink, such as great seafood and top wines, take precedence.
Contact:  +264 64 402 356
Website: www.the-tug.com
Address: The Tug Restaurant, A.Schad Promenade, Molen Road, Swakopmund, Namibia
#8 Kucki's Pub
Kucki's is a favourite among the locals… So while it may be one of Swakopmund's best-kept secret as far as travellers go, this spot is far from quiet and empty!
Food is great and expertly prepared (go for the springbok steak, if you can) and portions are generous and well-priced.
Contact: +264 064 402407
Website: www.kuckispub.com
Address: Kucki's Pub, 22 Tobias Hainyeko Street, Swakopmund, Namibia
#9 The Fish Deli
The Fish Deli is a simple but lovely eatery. They offer good food, fast service and friendly staff, ensuring you can pop in for a sit-down meal or grab a quick takeaway to enjoy in the comfort of your own room.
Contact: +264 064 462979
Website: www.fishdeli-swakopmund.com
Address: The Fish Deli, 29 Sam Nujoma Avenue, Swakopmund, Namibia
#10 Swakopmund Brauhaus 
This popular, authentically German restaurant comes highly recommended… It serves quality German cuisine and because it is centrally located (it's found in the Swakopmund CBD), it is easily accessible too.
It can get pretty busy, so it might be best to make a reservation before visiting – and, when you do, be sure to try one of the delicacies, like sauerkraut or bread dumplings.
Contact: +264 64 402 214
Website: www.swakopmundbrauhaus.com
Address: Swakopmund Brauhaus, Brauhaus Arcade, Swakopmund, Namibia
#11 BlueGrass Restaurant
This modern-chic restaurant is found along the Waterfront. It's an attractive eatery, with an excellent variety of food to choose from and friendly, good service to make it even more memorable.
It's also a prime sundowner spot, where you can enjoy cocktails or a cold one as the sun sets.
Contact: +264 64 461 090
Website: n/a
Address: BlueGrass Restaurant, Platz Am Meer, Waterfront, Swakopmund, Namibia
#12 Cordes & Co.
This coffee shop is delightful on so many levels: great coffee, mouth-watering cakes and milkshakes and lovely food can all be enjoyed at this stylish, quirky little spot.
It's definitely one of Swakopmund's most beloved coffee shops… and it's not hard to see why!
Contact: +264 64 400 977
Website: https://www.facebook.com/cordesandco?fref=ts
Address: Cordes & Co., 23 Daniel Tjongarero Street, Swakopmund, Namibia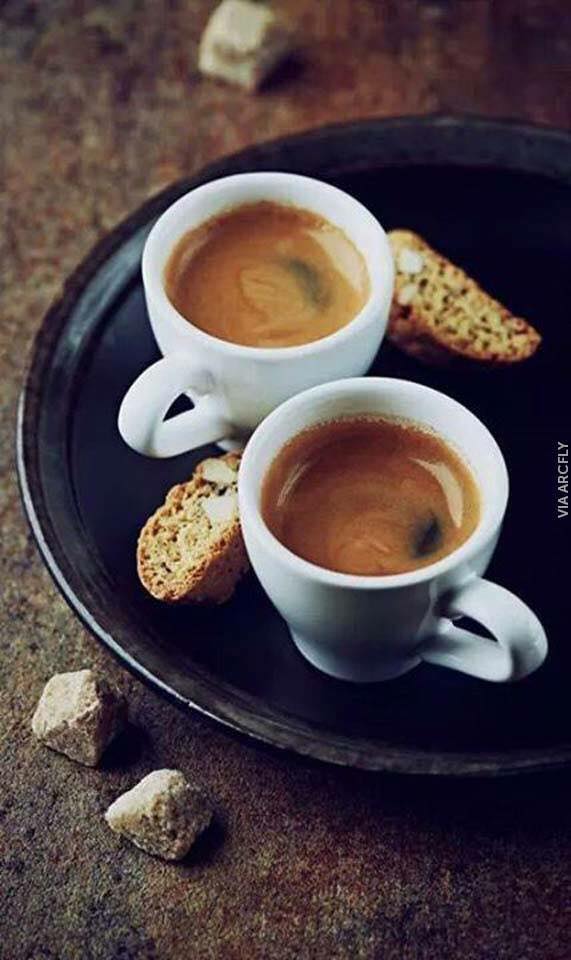 #13 Tiger Reef Beach Bar & Grill
This rustic beach bar and grill is found in the picturesque Swakop River mouth. It lies a stone's throw from the beach, with stunning views of the nearby dunes and the sea in sight.
Tiger Reef Beach Bar & Grill offers a casual setting and great food, taken from a diverse menu – choose from seafood, burgers, wraps or their famous calamari.
Contact: +264 64 400 935
Website: https://www.facebook.com/tigerreefswakopmund/
Address: Tiger Reef,
#14 Garnish Swakopmund
This authentic Indian restaurant, which hails from Windhoek, may not look fancy from the outside, but inside, a treasure trove of oh-so-good Indian food awaits.
Prices are reasonable and staff provide friendly, helpful service to ensure an overall enjoyable experience.
Contact: +264 64 405 401
Website: http://www.facebook.com/garnishswakopmund/
Address: Garnish Swakopmund, corner of Tobias Hainyeko And Woermann Street, Swakopmund, Namibia
#15 Old Steamer Restaurant
This characteristic restaurant has bucketfuls of charm and uniqueness. Add to that, great food (with plenty of variety), top service and an awesome vibe – and you're all set for a wonderful dining experience!
They are also well-known for being able to host big groups for functions  and celebrations, so diarise them for that too!
Contact: +264 81 430 3923
Website: https://www.facebook.com/Old-Steamer-Restaurant-283658378773939/
Address: Old Steamer Restaurant, Alte Brücke Resort, Swakopmund, Namibia
These are just some of Swakopmund's best restaurants to enjoy!