Stellenbosch is loved for its wine, history and laid-back town vibes but many also flock to its streets for the amazing eateries, both in town and on nearby wine estates, that it possesses.
Here are some of the top 20 Stellenbosch Restaurants to visit in 2017:
#1 Delaire Graff Restaurant
Located at the top of Helshoogte Pass in what can only be described as a dramatic setting, Delaire Graff Restaurant offers the best of everything.
Fronted by head chef Michael Deg, the restaurant offers up local, seasonal dishes, which use ingredients that have been freshly sourced from its own garden facilities.
Contact: (021) 885 8160
Website: www.delaire.co.za
Address: Delaire Graff Restaurant, Helshoogte Road, Stellenbosch, Western Cape
#2 Restaurant Jardine 
Leading chef, George Jardine, is the brains behind this relatively new addition to Stellenbosch. Now, what was formerly an old house serves as this inviting restaurant's delightful setting.
Here, chef Jardine prepares a variety of exciting dishes, which reflect his flavourful signature style.
Contact: (021) 886 5020
Website: restaurantjardine.co.za
Address: Restaurant Jardine, 1 Andringa Street, Stellenbosch, Western Cape
#3 Terroir
Chef Michael Broughton leads the way at this multi-award-winning eatery, situated on the tranquil Klein Zalze estate. Tuck away beneath old oaks with views across Stellenbosch, Terroir is a place where unfussy, yet entirely excellent, dishes come to life.
Contact: (021) 880 8167
Website: www.kleinzalze.co.za
Address: Kleine Zalze Wine Estate, Strand Road, De Zalze Golf Estate, Stellenbosch, Western Cape
#4 Overture
With views for days, this restaurant, found on Hidden Valley Wine Farm, is another of Bertus Basson's genius creations. It has steadily become a destination and one which impresses not just with its amazing food, but with its stunning location too.
Contact: (021) 880 2721
Website: bertusbasson.com
Address: Hidden Valley Wines, T4 Route, off Annandale Road, R44, Stellenbosch, Western Cape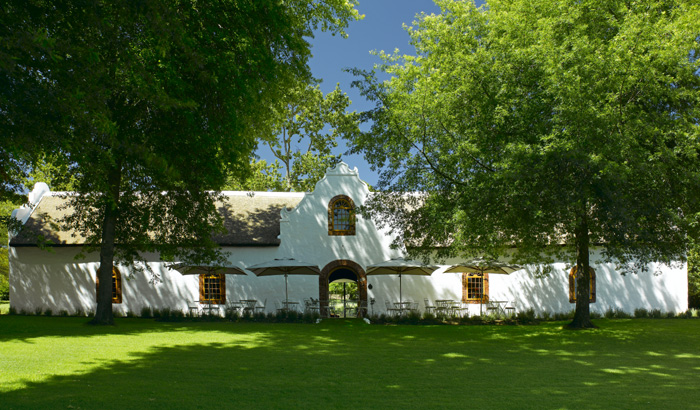 #5 Rust en Vrede Restaurant
Rust en Vrede Restaurant is every bit the ultimate, elegant wine farm restaurant experience. Not only does it offer quality service and French-inspired meals to match, but it has raked in a number of exciting international ratings and nods of recognition from some of the best in the food industry – and quite deservedly so.
Contact: (021) 881 3757
Website: rustenvrede.com
Address: Rust en Vrede, Annandale Road, Stellenbosch
#6 Jordan Restaurant
Located on the beautiful Jordan Wine Estate, this restaurant offers wonderfully detailed dishes and professional service. Meals here are made by chefs George Jardine and Kyle Burn, who team up to ensure one fine eatery.
Contact: 021 881 3612
Website: www.jordanwines.com
Address: Stellenbosch Kloof Road, Stellenbosch, Western Cape
#7 Spek & Bone
With a sweet back story (it was named after the Bassons' pets in pig, Spek and boxer, Bone), this delightful restaurant is magically hidden away off Dorp Street and offers honest food, complemented by a fine wine list to satisfy even the most discerning wine lover. You can dine inside the cosy interior or out in the courtyard.
Contact: (082) 569 8958
Website: bertusbasson.com
Address: 84 Dorp Street, Stellenbosch, Western Cape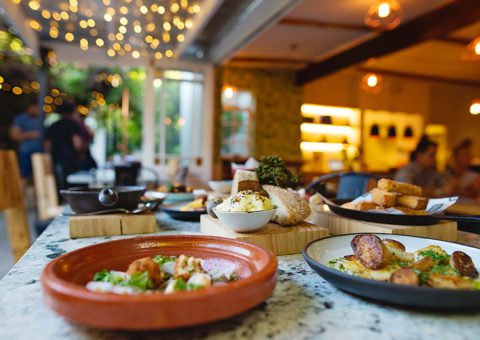 #8 The Restaurant at Clos Malverne
Yet another wine estate offering, The Restaurant at Clos Malverne is blessed with gorgeous views and a picturesque estate setting.
There is an a la carte menu as well as a four-course food-and-wine experience on offer here… both options are sure to be positively delicious so either way, it's hard to lose.
Contact: (021) 865 2022
Website: closmalverne.co.za
Address: Devon Valley Road, Stellenbosch, Western Cape
#9 Cucina di Giovanni
After the success of their popular Somerset West institution, the owners were inspired to open another branch at Eikendal Wine Estate.
At Cucina di Giovanni, a relaxed, family-friendly eatery, delicious Italian fare, award-winning wines and the quintessential wine farm setting are all on offer.
Contact: (021) 855 5033
Website: www.giovannicapetown.co.za
Address: Eikendal Wine Estate, R44, Eikendal Road, Stellenbosch, Western Cape
#10 Postcard Café
Located on Stark-Conde Wine Farm, in arguably one of the most magical Jonkershoek Valley settings, this casual restaurant offers both good food and fine wines.
You might also enjoy a quick ramble about the farm, which simply begs for quiet walks and life's peaceful contemplation.
Contact: (021) 861 7703
Website: www.postcardcafe.co.za
Address: Stark-Condé Wine Estate, Jonkershoek Valley, Stellenbosch, Western Cape
#11 Makaron Restaurant
With chef Lucas Carstens at the helm, this chic, award-winning restaurant, found at the alluring Majeka House, will have guests coming back for more time and time again.
Most recently, they've introduced an exciting small plates menu, perfect for sharing with those you love.
Contact: (021) 880 1549
Website: www.majekahouse.co.za
Address: Majeka House, 26 – 32 Houtkapper Street, Paradyskloof, Stellenbosch, Western Cape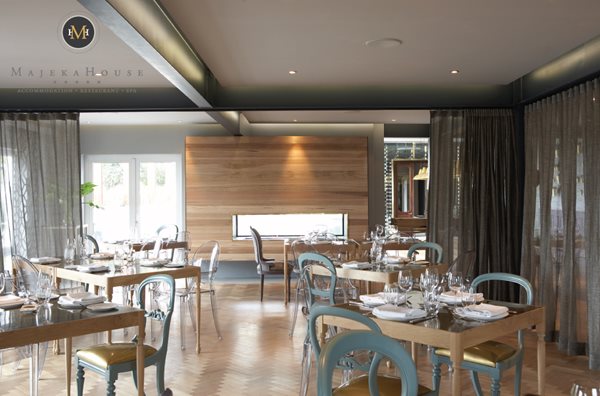 #12 Cuvee
Found at the easy-going, yet endlessly charming, Simonsig Wine Esate, Cuvee is the answer for those seeking old-school charm blended with Cape country hospitality.
At Cuvee, head chef Stephanie de Wet has created a changing menu, full of seasonal, local ingredients that, in turn, make for wonderfully fresh, flavourful dishes.
Contact: (021) 888 4932
Website: www.simonsig.co.za
Address: Simong Wine Estate, Kromme Rhee Road, Stellenbosch, Western Cape
#13 The Big Easy
Found within a building that dates back to 1798, and which is an eclectic mix of Dutch, Victorian and Georgian styles, The Big Easy is, of course, named for owner and pro golfer, Ernie Els and naturally pay homage to a nickname he received during his professional, international golf career.
The food and setting will delight your senses and, before or after your meal, you can even enjoy perusing some golf memorabilia, all of which honours the Big Easy himself.
Contact: (021) 887 3462
Website: thebigeasyrestaurant.co.za
Address: La Gratitude, 95 Dorp Street, Stellenbosch, Western Cape
#14 Oppie Dorp
Found in the bustling heart of central Stellenbosch, Oppie Dorp is definitely well-named. Its décor may be relatively simple but the good service and delicious dishes will nevertheless have you charmed and eager for more.
The menu is relatively concise but it offers some lovely flavourful dishes all the same.
Contact: (021) 883 3889
Website: www.oppiedorp.co.za
Address: 137 Dorp Street, Stellenbosch, Western Cape
#15 The FatButcher
Yet another new addition to the Stellenbosch food scene, The FatButcher has already imprinted itself as a food destination of note in this winelands town. This laid-back restaurant offers pasture-reared, quality meaty dishes.
You can almost dine in area of choice because they have not only vibey indoor seating, but a lovely courtyard space and street-side porch too.
Contact: (021) 882 8705
Website: fatbutcher.co.za
Address: Number 1, van RiebeekStreet, Stellenbosch, Western Cape
#16 Genki
Serving some of the best sushi around, this unobtrusive little eatery is one of Stellenbosch's greatest finds. It is a great sushi bar and Japanese tapas restaurant, where the food is fresh, delicious and above all, sustainable.
Contact: (021) 887 5699
Website: genkisushi.weebly.com
Address: Shop 2, De Wet Centre Courtyard, Church Street, Stellenbosch, Western Cape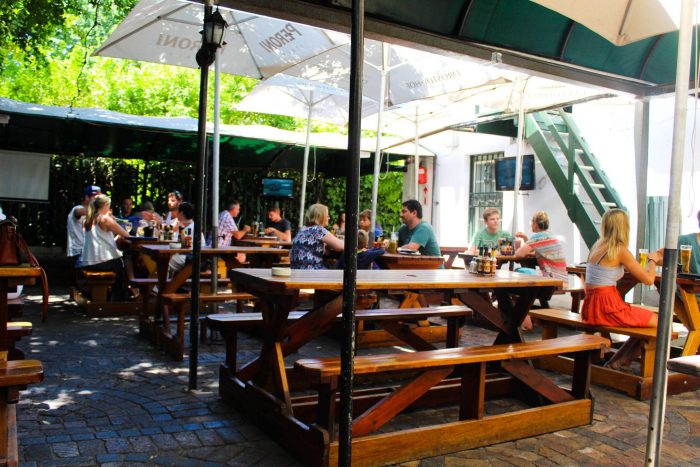 #17 Gino's Restaurant
This inspiring family set-up has ensured a truly Italian restaurant offering in the heart of Stellenbosch, in the beautiful, historic De Kelder building.
The ethos here is firmly on serving up consistently good food at affordable prices for young and old to enjoy.
Contact: (021) 887 9786
Website: www.ginos.co.za
Address: 63 Dorp Street, Stellenbosch, Western Cape
#18 Pane e Vino
The philosophy behind this establishment is already apparent in its name, which means "bread and wine." The menu at this popular Italian establishment includes classic Italian dishes, although it changes daily.
The restaurant atmosphere is laid-back one, with characteristically Italian charm.
Contact: (021) 883 8312
Website: www.dallacia.com
Address: 7 Distillery Road, Bosman's Crossing, Stellenbosch, Western Cape
#19 The Vine Bistro
Situated on the lovely Glenelly Estate, this modern eatery is headed up by chef Christophe Dehosse and offers a nice, French-inspired menu, which changes regularly.
There is indoor and outdoor seating both but either way, you're sure to enjoy views out on the vineyards and nearby hills.
Contact: (021) 809 6444
Website: glenellyestate.com
Address: Glenelly Estate, Ida's Valley, Lelie Street, Stellenbosch, Western Cape
#20 Bukhara
This slightly smaller restaurant from the popular Bukhara restaurant chain is nevertheless a popular haunt for locals, students and of course, tourists.
Lying comfortably on the corner of Dorp and Bird Streets, this restaurant is every bit the authentic Indian restaurant experience and offers exciting, richly flavourful food to match.
Contact: (021) 882 9133
Website: bukhara.com
Address: Corner of Dorp and Bird Street, Stellenbosch, Western Cape
If these top eateries aren't enough to tempt you to visit Stellenbosch during 2017, then nothing will be able to!