Lead image: Zeitz MOCAA via zeitzmocaa.museum
The V&A Waterfront has it all: amazing shopping, a world-class setting, with ocean and mountain views – and of course, some fine restaurants too… but what is there to keep visitors entertained beyond the shopping and food feasts?
The V&A Waterfront, found in beautiful Cape Town, is a tourist destination of note, but it is also loved by locals… It offers restaurants, hotels, shops and attractions for all to enjoy!
Below, let's take a look at the top 10 activities to enjoy in and around the V&A Waterfront:
#1 Visit the hot-and-happening Zeitz MOCAA
There's no doubting that the Zeitz Museum of Contemporary Art Africa (or MOCAA) – an impressive architectural marvel and the world's largest museum dedicated specifically to African contemporary art – has, since its opening in September 2017, become one of Cape Town's most widely visited and talked about places.
And it's really no surprise, as, in the centre of Cape Town's Silo District, guests can enjoy visiting a marvellous and fascinating museum. It features over a hundred galleries (spread across nine different levels) and is equipped with the most amazing array of art you'll find anywhere.
While you're there, don't forget to visit the museum shop for a take-home gift!
Note: The museum is free to children under 18. For adult prices, please see their website.
Contact: +27 (087) 350 4777
Website: zeitzmocaa.museum
Address: Zeitz MOCAA, V&A Waterfront, Silo District, Waterfront, Cape Town, Western Cape, South Africa.
#2 Head to the Two Oceans Aquarium
Another Cape Town gem known and loved across the globe, the Two Oceans Aquarium is ideally situated a stone's throw away from the V&A Waterfront proper.
It is a long-standing favourite, particularly loved for its penguin experience, predator exhibit, cool Clown Fish (aka Nemo) tank, diving experience, kelp forest and so much more!
Here, the fish, penguins and sharks are all just a glass tank or sealed enclosure away from you, making for a lifelike and incredible experience for both young and old!
The aquarium's merchandise shop is another big hit among locals and tourists, and offers some amazing gifts and aquarium-themed goodies alike.
Contact: +27 (0)21 418 3823
Website: www.aquarium.co.za
Address: Two Oceans Aquarium, Dock Road, V & A Waterfront, Cape Town, Western Cape, South Africa.
#3 Immerse yourself in the Silo District
Ah, the Silo District… what's not to love about it?
Not only is it home to two of the best hotels in the city and one of the world's best museums now, in The Silo Hotel, Radisson RED and Zeitz MOCAA respectively – but it also offers travellers great foodie spots in Lindt Chocolate Studio, The Yard, Si! Cantina Sociale and Woolworths' Now Now Cafe to name but a few.
And that's before you even take The Silo Hotel or Radisson Red's own cafes/restaurants, bars and accommodation offerings into account.
Dotted around the District, there are also top-class designer stores and galleries, including Guild and Opus.
If you're short on things to do at the V&A Waterfront, then you clearly haven't visited (or stayed in) the Silo District yet!
Contact: N/A
Website: N/A
Address: Silo District, Cape Town, Western Cape, South Africa.
#4 Ride on the Cape Wheel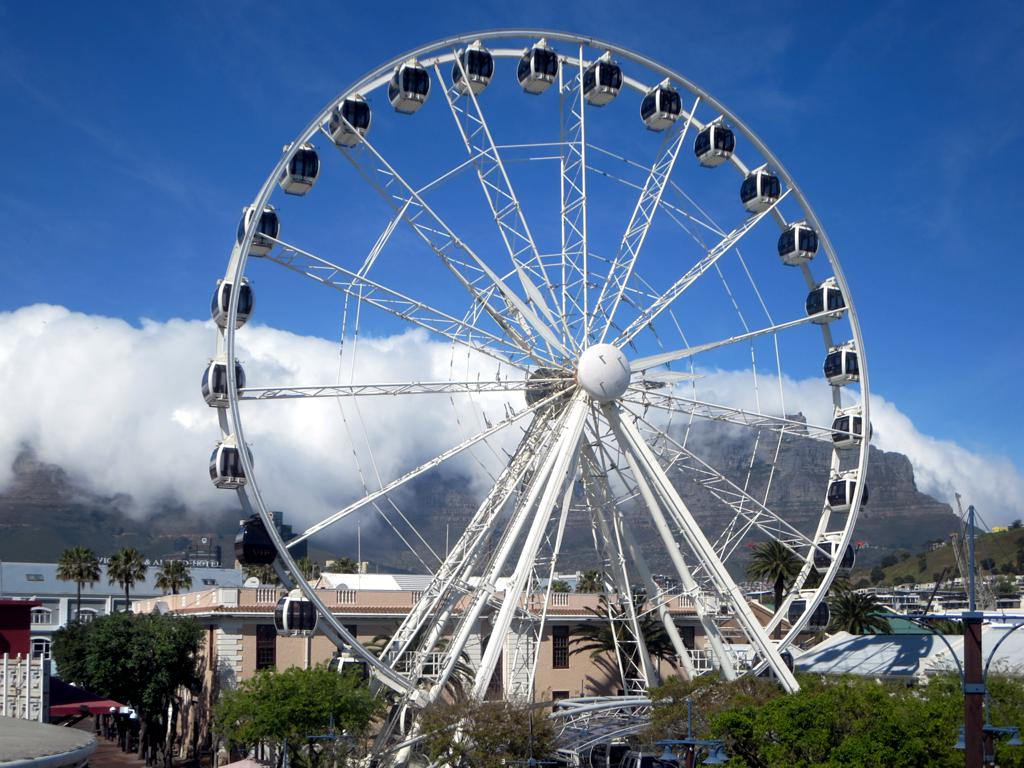 Whether you're looking to spend a fun hour with the whole family 'high in the sky', or to catch a romantic sunset with the one you love – the Cape Wheel makes for a great experience for one and all!
It offers 360-degree panoramic views of Cape Town from the vibrant V&A Waterfront precinct and because it's just outside a main V&A Waterfront entrance, surrounded by outer shops and eateries, it is perfectly positioned too.
For ticket prices, please see their website.
Contact: 021 418 2502
Website: capewheel.co.za
Address: Cape Wheel, V&A Waterfront, Dock Road, Cape Town, Western Cape, South Africa.
#5 Grab a delicious meal at Firefish Restaurant
Since its opening in late 2017, this sensational, stylish addition to the V&A Waterfront restaurant scene has been making a real splash in the local restaurant scene.
At Firefish, visitors can enjoy mouth-watering, fresh seafood, sushi, salads or even vegetarian dishes, all while soaking up the sights and sounds of the nearby harbour and of course, Table Mountain in the distance too.
It's definitely one of, if not the best, V&A Waterfront restaurants.
Contact: +27 (021) 286 4933
Website: www.firefishrestaurant.co.za
Address: Firefish Restaurant, Shop 154, Victoria Wharf, V&A Waterfront, Cape Town, Western Cape, South Africa.
#6 Take the kids to Hamleys
This wondrous toy store – thought up by William Hamley in 1760 and brought across to South Africa from the UK – has enchanted children for many long years… And now it can help to make the dreams of children (and adults) in Cape Town come true too!
It offers all kinds of toys and games imaginable – everything from gorgeous teddies to amazing LEGO creations and large kids' cars!
It's not just a slogan of theirs… this really is the finest toy store in the world – and now, you can find it inside the V&A Waterfront!
Contact: (021) 418 2927
Website: www.hamleys.com/south_africa
Address: Hamleys, Dock Road, V & A Waterfront, Cape Town, Western Cape, South Africa.
#7 Hop on a Seal & Harbour Cruise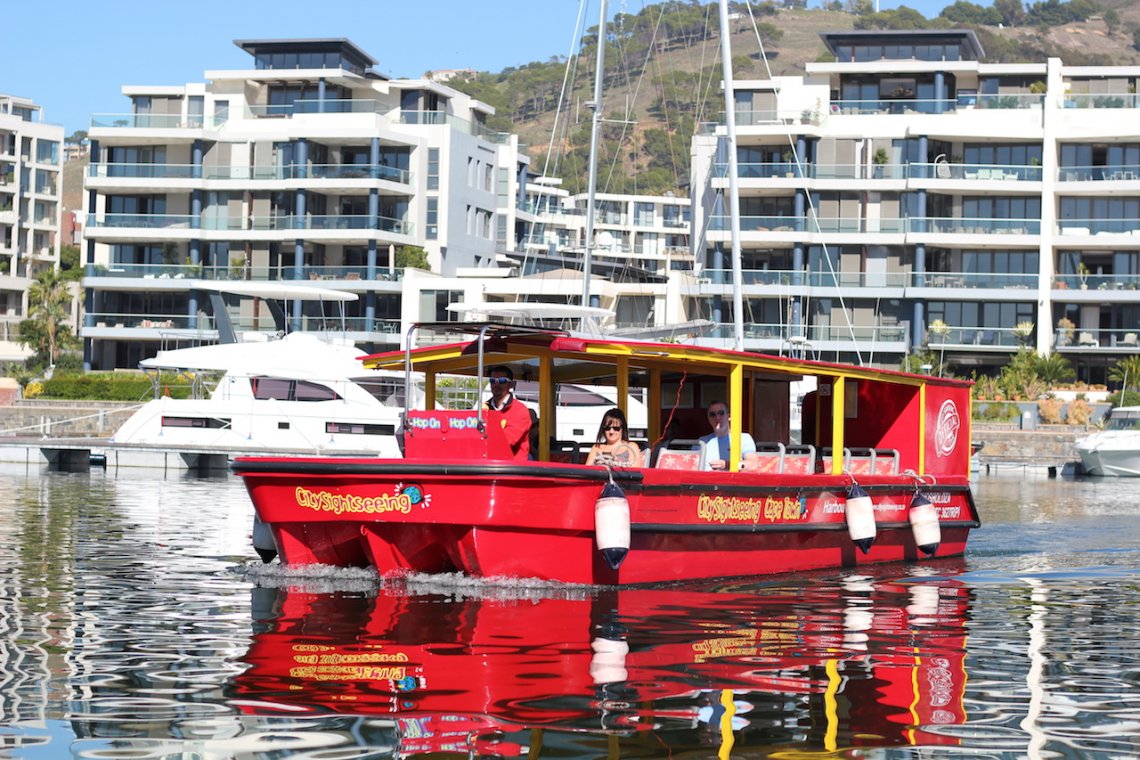 City Sightseeing is one of the best guided, curated travel experiences locals and visitors can enjoy across the Mother City.
And while the famous red buses frequent the V&A Waterfront, bringing travellers closer to all of the tour company's different routes – the Seal & Harbour Cruise is definitely one of the V&A Waterfront's main City Sightseeing attractions.
When you hop on the harbour cruise, you can enjoy a pleasant, 25-minute-long ride around the harbour. Wave at the seals (who lazily dangle a flipper out the water), marvel at the surrounding city sights or simply enjoy listen to the excellent audio commentary provided by City Sightseeing and available in a variety of different languages.
Contact: +27 (0861) 733 287
Website: www.citysightseeing.co.za
Address: City Sightseeing, Dock Road, V&A Waterfront, V&A Waterfront Ticket Office, Cape Town, Western Cape, South Africa.
#8 Stop by the V&A Food Market
Open seven days a week, this ever-bustling, popular street food and artisan retail market is a delectable delight for V&A Waterfront visitors to indulge in.
Shop for wonderful sweets, wraps, good coffee and a wide range of other foods, as well as some fresh produce and home gifts too.
After a hard day's exploring or shopping, pop into the V&A Food Market and enjoy all the best food (and goodies) available!
Contact: +27 (021) 418 1605
Website: waterfrontfoodmarket.com
Address: V&A Food Market, Dock Road, Victoria & Alfred Waterfront, Cape Town, Western Cape, South Africa.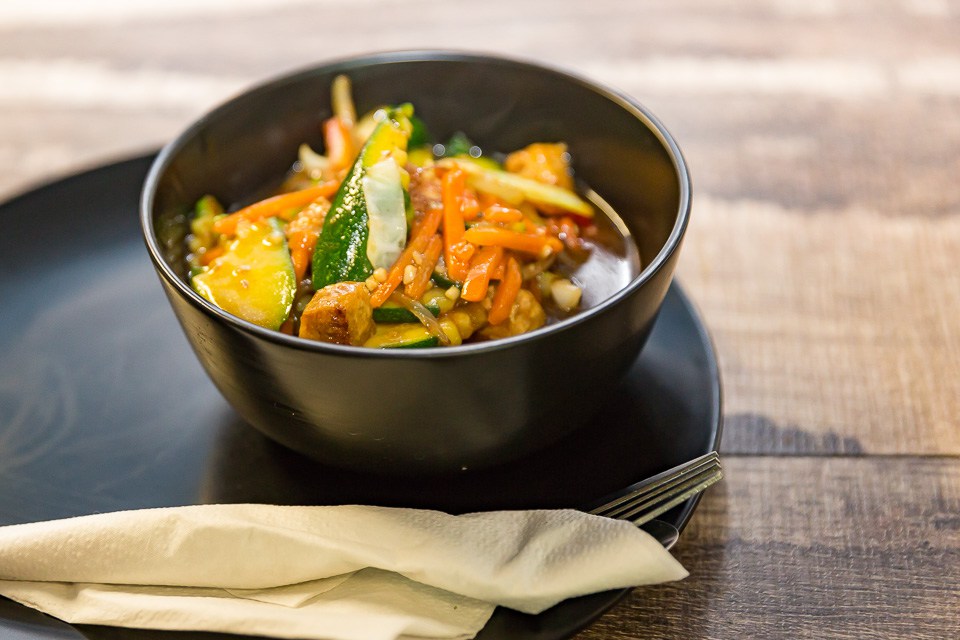 #9 Have a drink at Bascule Bar
Located at the oh-so-elegant Cape Grace Hotel, Bascule Bar is the perfect spot to head for chic, after-work drinks, a catch up with friends or even for a casually professional meeting.
Edging the V&A yacht marina, this suave spot offers over 400 types of whiskies (and many other drinks besides) for visitors to sip in style. Aside from the tipples, it also offers a great tapas-style menu, perfect for snacking and sharing.
Shared whisky tastings and experiences are also on offer, for R395 per person. (This is limited to twelve people, so book ahead and reserve a spot.)
All and all, it's a perfectly delightful place to head for a well-deserved drink!
Contact: +27 (021) 410 7100
Website: www.capegrace.com/culinary-delights/bascule-bar
Address: Bascule Bar, West Quay Road, Victoria & Alfred Waterfront, Cape Town, Western Cape, South Africa.
So, if you're looking for something awesome in or near the V&A Waterfront, then check out these great activities, which cover everything from Cape Town's hottest museum to fun harbour cruises!
The hotels in V&A waterfront are also highly recommended.
For a wider range of options, view Afristay's hotels in Cape Town, or see our entire collection of accommodation in Cape Town with verified reviews and many special offers.