Cape Town's Northern Suburbs are known for their enviable winelands (which lie a hop, skip and jump away), laid-back, family-friendly suburbs – and most of all, for the peacefulness that prevails, as you head just outside of the city centre and into quiet suburbia.
In Durbanville (and its surrounding neighbourhoods), Cape Town is blessed with more than a handful of unique gems – including gorgeous wine farms, classy eateries and shops and some excellent outdoor adventures too!
Durbanville – located within Cape Town and close to the Cape Winelands – is suburbia paradise, where good restaurants, fun outdoor adventures and great wine farms reign supreme.
Here are the top ten things to do in and around Durbanville:
#1 Dine at De Grendel
Few places in Durbanville (and indeed, Cape Town as a whole) are as widely praised as this superb wine farm.
De Grendel is known for its outstanding views (particularly of Table Mountain in the distance), excellent wines and its multiple award-winning restaurant. If that's not enough to tempt to visit, then we don't know what is!
De Grendel Restaurant – which is gorgeous without a drop of pretentiousness – lies safe within the talented hands of chef Ian Bergh, who, along with his team, works his magic behind the glassed-in kitchen.
Watch in wonder as your food is prepared and then feast on an array of mouthwatering and visually stunning dishes. These draw from a classic, ever-changing and altogether creative menu, which incorporates locally sourced ingredients and inventive modernity.
Note: At De Grendel Restaurant, children under the age of 10 are not permitted to join for dinner. | Also, for guests of 12 or more, an advance deposit is required.
Contact: +27 (021) 558 7035, restaurant@degrendel.co.za
Website: degrendel.co.za
Address: De Grendel Wine Estate and Restaurant, Plattekloof Road, Panorama, Cape Town, Western Cape, South Africa.
#2 Let them eat cake at Soet Society Cafe
Few things in this world are as well-loved and delicious as a selection of exquisite, beautifully baked cakes… And at Soet Society Cafe, cake lovers will find themselves well and truly in cake heaven.
At Soet, you can order from a wide selection of cakes, dreamily decorated and delicious tasting. Best of all, the cakes change daily, so you can always expect to find something new to sample!
Soet offers an excellent cake platter, which allows you to choose any four slices of cake. It is perfect for sharing – or even enjoying on your own, if you're a true cake fanatic!
While you're there, browse the other interesting offerings found within the Soet Emporium, of which Soet Society Cafe forms part.
Contact: +27 (021) 975 5294, info@soetemporium.co.za
Website: soetemporium.co.za
Address: Soet Society Cafe, 11 Wellington Road, Durbanville, Cape Town, Western Cape, South Africa.
#3 Sip on good wine at Durbanville Hills
Durbanville Hills is famed far and wide for its gorgeous wines. As such, no visit to the Durbanville Wine Valley is complete without a fun, quality wine tasting at this classy Durbanville estate.
As you relax at the indoor and outdoor tasting centre, choose from the likes of the Cheese, Chocolate, Biltong and Dried Fruit or Crystal pairing/tasting options.
And, if you'd like to see even more of this incredible wine estate, don't forget to book ahead to enjoy an insightful cellar tour!
Note: Cellar tours must be booked at least 24 hours in advance and are available from Monday – Friday.
Contact: +27 (021) 5581300,  info@durbanvillehills.co.za
Website: www.durbanvillehills.co.za
Address: Durbanville Hills, Tygerberg Valley Road, Cape Farms, Durbanville, Cape Town, Western Cape, South Africa.
#4 Hike in Tygerberg Nature Reserve
Tygerberg Nature Reserve is a beautiful, peaceful and well-maintained nature reserve, nestled above the sleepy suburb of Welgemoed.
The views from the reserve are truly spectacular and, at a very low cost rate, it offers some excellent outdoor activities for visitors to enjoy. These include: several easy to moderate hiking trails, picnics and even some insightful lessons at the Kristo Pienaar Environmental Education (located just near the entrance).
Plus, there is a rich, diverse landscape of unique flora (and some fauna) to be marvelled at.
So if you're looking for a great place to enjoy the fresh air, catch up on your daily fitness or simply to spend time with the ones you love, then head to Tygerberg Nature Reserve.
Note: Selected parts of the reserve are wheel-chair friendly. | From 1 November 2018, the Plattekloof access gate will be permanently closed.
Contact: +27 (021) 444 8971, tygerberg.naturereserve@capetown.gov.za
Website: capetown.gov.za
Address: Tygerberg Nature Reserve, Totius Street, Welgemoed, Northern Suburbs, Cape Town, Western Cape, South Africa.
#5 Enjoy art appreciation at Rust-en-Vrede Gallery
Art lovers, this one's for you… The well-established Rust-en-Vrede Gallery showcases inspiring works by both emerging and established artists alike.
Situated within a beautiful Cape Dutch building and National Monument, visitors can enjoy traversing three exhibition spaces.
The main gallery consists of two rooms, known as Salon A and B, while Salon C is the entrance room and offers more informal, solo- or group-exhibitions.
Exhibitions change on a monthly basis and the gallery itself is free to the public.
Note: You can also enjoy eating at the delightful Yoco Eatery before or after you've explored the museum's interiors.
Contact: +27 (021) 976 4691, rustenvrede@telkomsa.net
Website: www.rust-en-vrede.com
Address: Rust-en-Vrede Gallery, 10 Wellington Road, Durbanville, Cape Town, Western Cape, South Africa.
#6 Tuck into gourmet burgers at Roco Mamas Durbanville
Ah, Roco Mamas – the place where burger dreams come to life! And happily, the Durbanville branch is one of the friendliest and most fun you can find anywhere in the Mother City!
Choose from a mouthwatering selection of gourmet burgers, chips and shakes to name just a few of the menu options.
How it works is you receive an order sheet and fill out your order from there. And, to keep things even more playful, the waiting staff all go by aliases.
Roco Mamas Durbanville is centrally located, laid-back and altogether great – so, if you haven't been yet, you really need to make a plan to visit them soon!
Contact: +27 (021) 975 5457, durbanville@rocomamas.com
Website: www.rocomamas.com/restaurant/cape-town/durbanville
Address: Roco Mamas Durbanville, Palm Grove Centre, Corner of Main and Church Street, Durbanville, Cape Town, Western Cape, South Africa.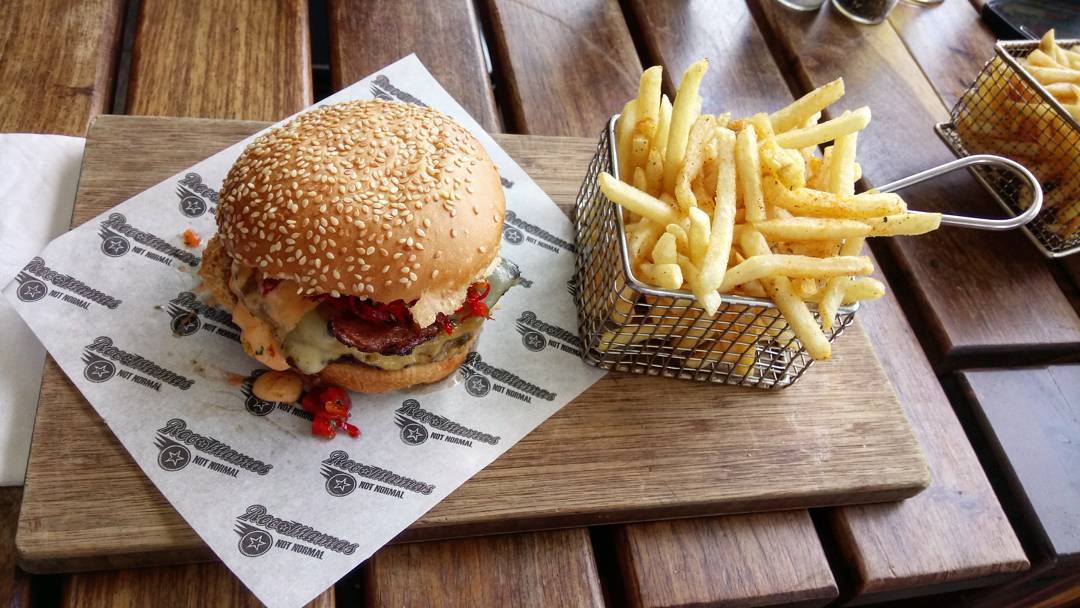 #7 Visit the Durbanville Rose Garden
Durbanville Rose Garden is one of Durbanville's most iconic and pretty spots. Here, you can enjoy a stroll among the roses free of charge – just please don't pick any!
This attractive, award-winning rose garden is ideal for a family picnic, springtime walk or even as a lovely backdrop to special wedding photos (which is what it is often used for).
A fun jungle gym and the smooth, paved paths through the rose bushes make it especially child-friendly, so be sure to bring the whole family along.
Note: On Sundays, during October through to May, visitors are invited to enjoy tea (served by various charity organisations) in the garden's tearoom. Tea is served from 14:30 pm – 17:30 pm.
Contact: +27 (021) 948 8717
Website: capetown.gov.za
Address: Durbanville Rose Garden, 33 Drakenstein Road, Durbanville Hills, Cape Town, Western Cape, South Africa.
#8 Explore Durbanville Nature Reserve
Located just next door to the Durbanville Race Course, one finds the small, but beautiful Durbanville Nature Reserve.
Here, amid the hustle and bustle of suburban life, you can step out into the fresh air and enjoy exploring this protected plot of land.
It offers some great walking trails and wheel-chair-friendly paths, picnic spots and birdwatching sites and is also home to some excellent local flora and fauna.
Happily, this reserve is also free to visit, making it a real gem indeed! So go on… lose yourself in the beauty of this unique, little reserve.
Contact: +27 (021) 979 0060, durbanville.naturereserve@capetown.gov.za
Website: capetown.gov.za
Address: Durbanville Nature Reserve, Race Course Road, Durbanville, Cape Town, Western Cape, South Africa.
#9 Shop till you drop at Willowbridge Mall
Shopaholics rejoice because the upmarket and vibrant Willowbridge Mall offers some 90 stores, which include everything from boutique clothing and home ware stores (like @home) to Woolworths and Pick n Pay.
There are also some great restaurants to be enjoyed here, including Hussar Grill, Primi Piatti and Baconville. And, best of all, every Saturday, shoppers and visitors alike can enjoy browsing the popular Willowbridge Slow Market.
The centre is also extremely child-friendly and has a wonderful outdoor play area, which keeps the little ones occupied for hours at a time.
Prepare to shop till you drop at Willowbridge Mall… you have been warned.
Contact: +27 (021) 914 7218, info@willowbridgecentre.co.za
Website: www.willowbridge.co.za
Address: Willowbridge Mall, 39 Carl Cronje Drive, Tyger Valley, Northern Suburbs, Cape Town, Western Cape, South Africa.
#10 Head to Willowbridge Slowmarket
Situated at the bustling, oh-so-trendy Willowbridge Mall, this laid-back, fun market takes place every Saturday and Sunday.
At Willowbridge Slowmarket, you can browse a wide assortment of food, clothing, jewellery and home ware stalls. Then, when you're done, you can still catch up on your Saturday shopping or lunchtime outing to Willowbridge Mall itself.
All goods on offer at this chilled market are of the highest quality and are organic or lovingly made/selected, so you can rest easy knowing you will leave with only the best buys in the Northern Suburbs!
Contact: +27 (021) 886 8514, +27 (072) 416 4890, admin@slowmarket.co.za
Website: www.slowmarket.co.za
Address: Willowbridge Slowmarket, Willowbridge Mall, 39 Carl Cronje Drive, Tyger Valley, Northern Suburbs, Cape Town, Western Cape, South Africa.
These are just some of the best picks from Durbanville and its surrounds – be sure to check them all out next time you're in the idyllic Northern Suburbs.
Browse the best accommodation options in Durbanville.