Durban is undoubtedly one of South Africa's most popular cities. With its vibrancy, balmy, tropical climate, glorious beaches and warm Indian Ocean waters perfect for swimming in,it's hard not to be drawn to this coastal-lying city.
Here are some great activities to enjoy when visiting Durban:
#1 Browse Shongweni Farmers & Craft Market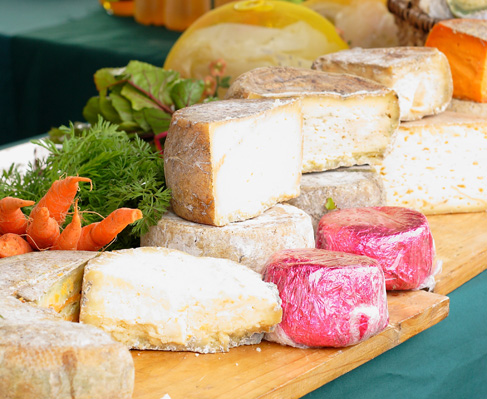 Every Saturday morning (from 6:00 am till 11:30 am), you can enjoy exploring this exciting, yet relaxed market, just a short drive outside Durban. Browse a wide variety food, jewellery, drinks, keepsakes and more.
You are even allowed to bring your pooch (provided you bring a bag and leash!) and with a child-friendly play area, it is perfect for a fun morning out at the market.
Contact: (031) 777 4686
Website: www.shongwenimarket.co.za
Address: Lot 457, MR551, Shongweni, Hillcrest, KZN
#2 Feel ten feet tall at MiniTown
Mini Town, at Fizsimmons Snake Park, is a place where everyone can feel like a giant… at least for a day.
Established some 30 years ago, this mini city offers miniature replicas of some of Durban's most notable landmarks, including the airport and Durban Harbour, in 1:24 scale.
Contact: (031) 337 7892
Website: www.durban-tourism.com
Address: 114 Snell Parade, North Beach, Durban, KZN
#3 Have a good time at Durban Funworld
This beachfront amusement park offers family-friendly fun and entertainment, with offerings such as: a scenic cable car, awesome rides for young and old to enjoy, carnival lights, music and of course, great entertainment to keep everyone well-occupied.
Contact: (031) 332 9776
Website: www.durbanfunworld.com
Address: 73 O R Tambo Parade, South Beach, Durban, KZN
#4 Enjoy a romantic gondola ride with Zulumoon Gondolas
Be transported to Venice and experience a unique gondola ride around Durban Point Waterfront Canal.
Options include: day or night rides, as well as mysterious Venetian-masked rides and even oh-so-romantic picnic rides too!
Contact: (084) 730 8784
Website: gondolas.co.za
Address: Zulumoon Gondolas, 39 Timeball Boulevard, Point, Durban, KZN
#5 Dive into uShaka Marine World
uShaka is definitely one of Durban's biggest holiday attractions. This marine theme park offers a treasure trove of activities and attractions, day or night.
These include everything from: Sea World, Wet 'n Wild, Dangerous Creatures, Kids World and uShaka Beach, right down to the night-time festivities of Village Walk.
Contact: (031) 328 8000
Website: www.ushakamarineworld.co.za
Address: 1 King Shaka Avenue, Point, Durban, KZN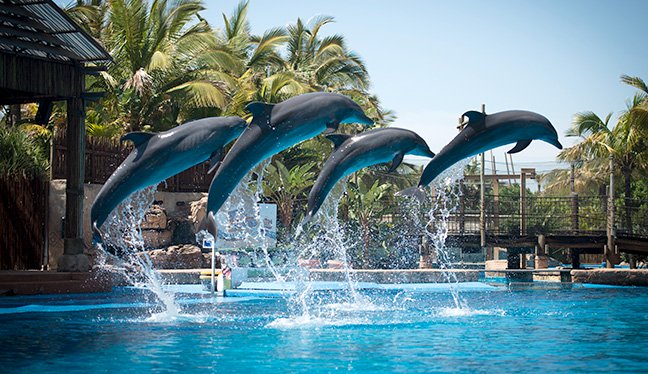 #6 Get active at Southern Rock
Southern Rock is Durban's sole climbing venue. It's a world-class facility for amateur and advanced climbers to hone their climbing skills.
Here, young and old can get the best advice and quality climbing gear, and enjoy some quality climbing within this fine indoor space.
Contact: (031) 705 3842
Website: srockgym.co.za
Address: 5 Valley View Road, Falcon Industrial Park, New Germany, KZN
#7 Devour a Bunny Chow like a Durbanite
No visit to Durban is official without trying one of the delicious bunny chows (basically half a loaf of hollowed out bread with rich curry sauce inside).
Durban has a number of restaurants and takeaway spots that offer bunny chows of all different sizes and flavours so be sure to pick your favourite and try it!
Contact: Various
Website: Various
Address: Durban, KZN
#8 Monkey around at Mitchell Park Zoo
Durban's solitary zoo, Mitchell Park Zoo, offers a host of animals, reptiles and birds for visitors to see. These include: crocodiles, buck, raccoons, cranes, wallabies, monkeys and more – as well as a walk-through aviary, filled with all kinds of beautiful birds.
There's also a sand-filled playground for small kids, with jungle gyms, swings, slides and other play equipment. Also, enjoy a meal or tea at the Blue Zoo tea garden, located amid the trees and flowers.
Contact: (031) 303 2275
Website: www.durban.gov.za
Address: 10 Ferndale Rd, Morningside, Durban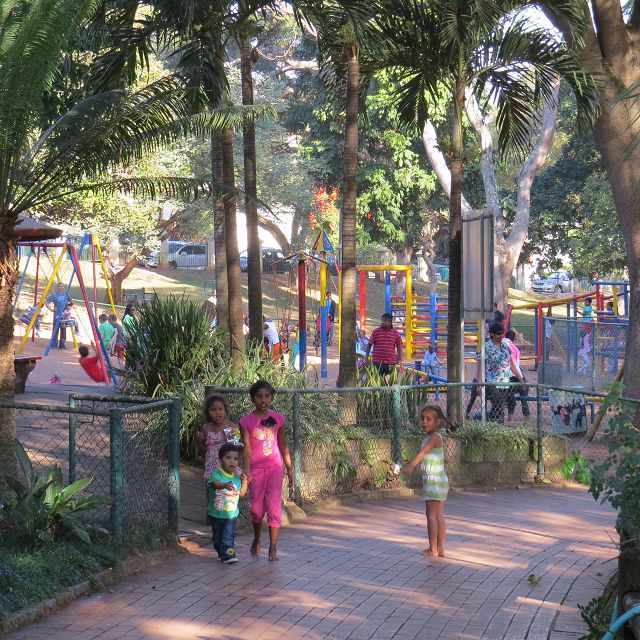 #9 Visit Durban's KZNSA Gallery
Located on a street corner, the KwaZulu-Natal Society of Arts (or KZNSA) offers a range of installations and performance arts events, which emerge from its gallery space.
However, the fun doesn't stop there, for you can enjoy browsing a shop filled with unique, hand-made goods, clothing, toys and more, as well as dining outside in the sunshine at the outdoor café.
Contact: (031) 202 3686
Website: www.durbanlive.com
Address: 166 Bulwer Road, Glenwood, Durban, KZN
#10 Walk along Wilson's Wharf
Situated on Durban's Victoria embankment, Wilson's Wharf is a combination of fun, food, shows and crafts that revolve around the boating marina and working slipways, found between Yacht Mole and Sugar Terminal.
Here, visitors can enjoy the great outdoors, the marine lifestyle and the trendy vibe the wharf offers, as well as experiencing performances and festivals, which occur throughout the year.
Contact: (031) 907 8792
Website: www.wilsonswharf.co.za
Address: 14 – 18 Boatmans Rd, Albert Park, Durban
#11 Take in the gorgeous Golden Mile
Runs from South Beach to the Suncoast Casino in the north, the Golden Mile is a gorgeous stretch of sea and sunshiny beachfront.
Although it's longer than a mile, it's the ideal place for a beach jog, rollerblading session or even a cycle alongside the coastline.
Contact: none
Website: www.southafrica.net
Address: Durban, KZN
#12 Explore Umgeni River Bird Park
This bird zoo is a safe haven for our feathered friends and contains some 700 birds, with almost 200 different species from across the globe. One of the Park's main highlights is the free-flight bird show.
The Bird Park also offers The Cockatoo Café, a lovely tea garden situated within the Bird Park, which happily overlooks an awesome, 20metre-high waterfall.
Contact: (031) 579 4600
Website: www.umgeniriverbirdpark.co.za
Address: 490 Riverside Road, Durban North, KZN
#13 Visit the Southern Hemisphere's oldest mosque
Juma Masjid Mosque, aka the 'Mosque of the Congregation', is not only Durban's first mosque, but it is also the largest and oldest mosque in the entire Southern Hemisphere! It can fit some 6,000 worshippers inside at any given time.
Aside from its history and pure geometric beauty, it is a sacred place. As such, out of respect, visitors are expected to dress decently when visiting and to remove their shoes before entering the mosque.
Contact: (031) 304 1518
Website: www.sa-venues.com
Address: Corner of Denis Hurley (old Grey) Street and Dr. Yusuf Dadoo (old Queen) Street, Durban, KZN
#14 Tour Durban Natural Science Museum
The Durban Natural Science Museum, found within Durban City Hall, is a fascinating place, with spectacular wildlife displays, realistic illustrations of habitat groups (or dioramas).
It includes some pretty unique museum exhibitions, including the mummy of Peten-Amena, an Egptian who lived some 2300-odd years ago, an almost complete Dodo skeleton and even a life-sized T-Rex.
Contact: (031) 311 2256
Website: www.durban.gov.za
Address: City Hall, 234 Anton Lembede Street, Durban Central, KZN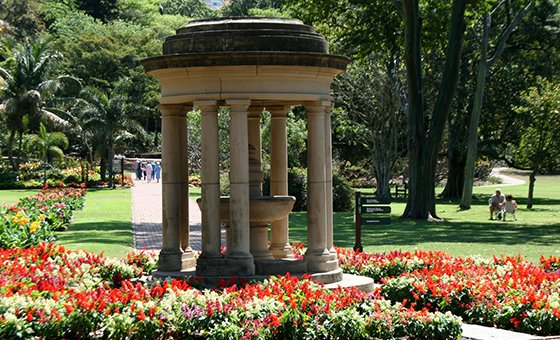 #15 Delve into the Durban Botanical Gardens
Founded in 1851, the botanical gardens are Durban's oldest institution, as well as Africa's oldest surviving botanical gardens.
Aside from a wide variety of rare cycads, palms and many other indigenous plants, the gardens also include the popular Orchid House. They also play host to a range of local events.
Contact: (031) 322 4000
Website: www.durbanbotanicgardens.org.za
Address: 70 St Thomas Road, Musgrave, Durban, KZN
#16 Head into the jungle at Beachwood Mangrove Nature Reserve
Containing three rare mangrove species – red, black and white – Durban's amazing Beachwood Mangroves are also a National Monument.
Stroll about the Reserve's sturdy wooden walkways, exploring these glorious mangroves – and if you're lucky, you may even catch glimpses of the wonderful animal life, like mudskippers, fiddler crabs and rare kingfishers to name only a few.
Contact: (082) 559 2839
Website: www.southafrica.net
Address: Riverside Road, Durban, KZN
#17 Utilise the epic Durban Beachfront Skate Park
Haul out your roller blades, MBX bikes and skateboards and head to Durban's epic skate park.
The arena is located in the Military Museum and it's the ultimate place for wheel enthusiasts.There is also a cool skate shop nearby.
Contact: (031) 3327433
Website: none
Address: Durban Beachfront, Durban, KZN
#18 Stroll about the iconic Umhlanga Pier
Finally, saving perhaps the best for last, you have to make a stop at the iconic Umhlanga Pier. Popular among Instagrammers and photographers, this beautiful pier is most striking, particularly at sunset.
With its whalebone skeleton structure, it provides immense aesthetic appeal, in addition to performing the important function of helping disperse excess storm water into the sea, as an extension of an underground culvert.
Contact: none
Website: none
Address: Whlae Bone Pier, Umhlanga, KZN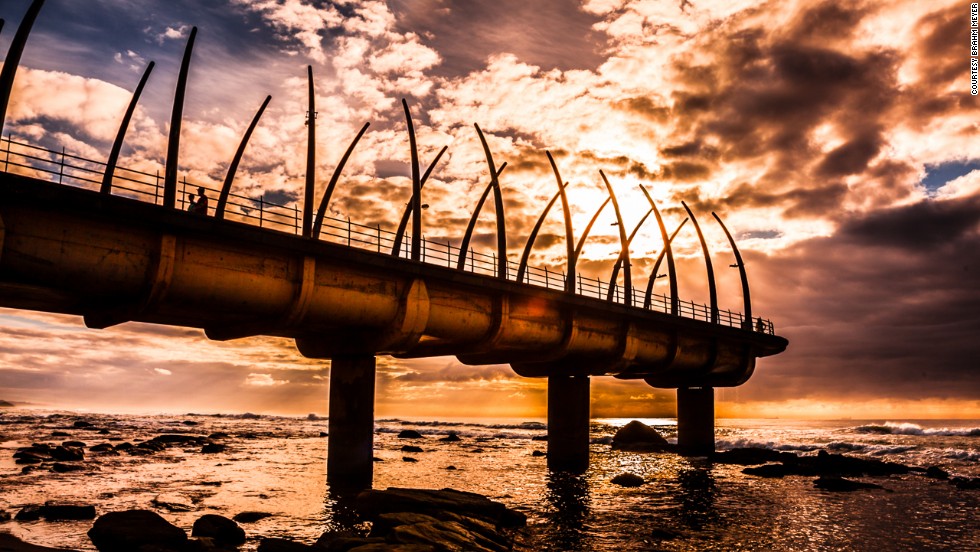 These are just some of the great activities you can enjoy in and around the glorious South African city of Durban.