Cape Town is a city that offers both indoor and outdoor activities to suit all tastes, senses of adventure and travel budgets… but some are just too iconic or unusual to miss out on!
So, here are our top 20 Mother City picks:
#1 Catch the Cable Car (and abseil down) Table Mountain
Table Mountain is one of the city's crowning glories, and as such, it's a must-visit for tourists and locals alike. If you're not up for a hike up the Table, why not catch the cable car up and then abseil back down?
Abseil Africa is one of the best companies around. You'll have to follow a rope 112 metres or so down, in what is a safe, guided abseil, which is, coincidentally, the world's highest commercial abseil offering.
Please contact them directly for full pricing details.
Contact (Abseil Africa): (021) 424 4760
Website: http://abseilafrica.co.za
Address: 297 Long Street, Cape Town
Photo credit: https://www.facebook.com/pg/Abseil-Africa via Facebook
#2 Visit the Two Oceans Aquarium
No visit to Cape Town is complete without experiencing the world-renowned Two Oceans Aquarium. Adults and children alike will delight in the wonders of the sea.
Find Nemo, see the penguins or go for a dive… either way, you're in for a fun and educational underwater experience!
Visit their website for latest pricing details.
Contact: (021) 418 3823
Website: http://www.aquarium.co.za
Location: Dock Road, V&A Waterfront, Cape Town
#3 Walk the Museum Mile
Located within and near to the city's well-loved, historic Company's Gardens, you will find the South African National Gallery, Houses of Parliament, Iziko South African Museum, Planetarium and Slave Lodge.
All are worth a visit and on certain days, such as Heritage Day (24 September), you can enjoy these wonderfully historic and engaging places for free.
Contact (Iziko Museums): (021) 481 3800
Website: http://www.iziko.org.za
#4 Experience Cape Town's art scene
Woodstock is fast becoming the Mother City's go-to art hub, as buildings are being restored, warehouses transformed and artists descend on the area like never before.
Here, why not visit the likes of the international-influenced Stevenson Gallery, among others, for some sophisticated and unique art appreciation?
Contact: (021) 462 1500
Website: http://www.stevenson.info
Address: Buchanan Building, 160 Sir Lowry Road, Woodstock, Cape Town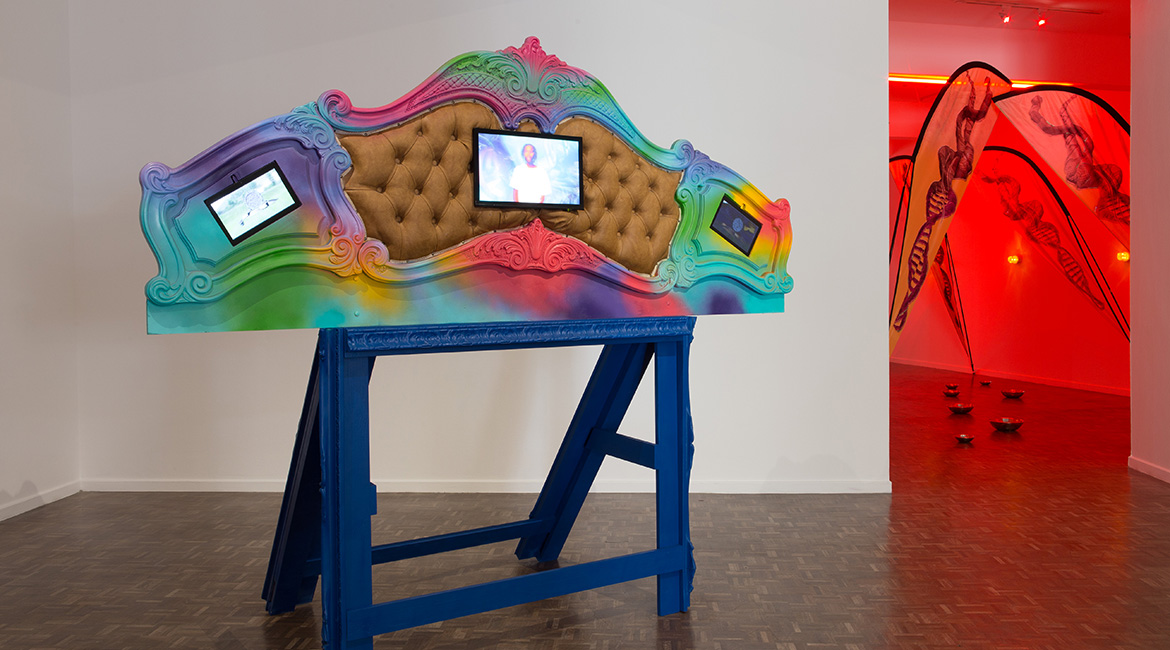 Photo credit: www.stevenson.info
#5 Helicopter flights with NAC Helicopters Cape Town
Experience the Mother City from the air as you choose from several amazing flight options, including: Hopper, Atlantico, Two Oceans, Robben Island, Three Bays and Cape Point Tours.
Although they have branches across SA, their Cape Town one is definitely memorable!
Please contact them directly for full package and pricing details.
Contact: (021) 425 3868
Website: http://www.nachelicopterscapetown.com
Address: East Pier Road, V&A Waterfront, Cape Town
#6 Learn to surf in Muizenberg
Surfing (be it traditional surfing or kite/wind surfing) is very much a popular Cape Town activity – and surfers' haven, Muizenberg, is considered the best spots to learn to surf in South Africa.
Better still, the surf schools based in Muizenberg, near Muizenberg Beach, are ideal for beginners and more experienced (but rusty) surfers alike.
Here, you can enjoy small group or private lessons, weekly. Most local schools are open almost every day of the year, weather permitting.
Contact: Various
Website: whalewatchers.co.za/best-surfing-lessons-in-muizenberg/
Address: Muizenberg, Cape Town
#7 Kayak with seals and dolphins
Cape Town-based Kaskazi Kayaks & Adventures offers wonderful kayaking experiences and close encounters with sea birds, seals, dolphins and during whale season (July to December usually), you can even see the whales too!
Their shop is based in Three Anchor Bay and from there, they embark on a 3-5 km journey towards either Clifton Beach or Granger Bay. Trips are approximately two hours long. If you have prior kayaking experience, you can arrange a half-day trip too.
Booking is essential and all trips are weather-reliant. To find out the cost per trip, please contact Kaskazi Kayaks directly.
Contact: +27 (021) 813 9307
Website: kaskazi.co.za
Address: 179 Beach Road, Three Anchor Bay, Cape Town
#8 Enjoy whale watching in False Bay
Of course, the whale capital is Hermanus – but that's not the only place in the Western Cape to see the wonderful whales.
Areas along the False Bay coastline are also prime whale watching spots and the best part is, you can view the whales from land or shore for free!
Recommended spots along the False Bay coastline include: Muizenberg, Kalk Bay, St James, Fish Hoek and Simon's Town, as well as Cape Point.
#9 Ride a bicycle along the Promenade
This activity has certainly grown in popularity and it is great for both children and adults alike.
Up Cycles is your recommended service provider, especially as they offer affordable pricing and have plenty of different rental options (everything from e-bikes to mountain bikes).
On their normal city bikes, you can cycle as far as the Waterfront, if desired – and helmets and locks are included.
Ride along the Sea Point Promenade at a leisurely pace and maybe even catch the sunset.
Contact: (076) 135 2223
Website: http://upcycles.co.za
Address: The Pavilion, Sea Point Promenade, Sea Point, Cape Town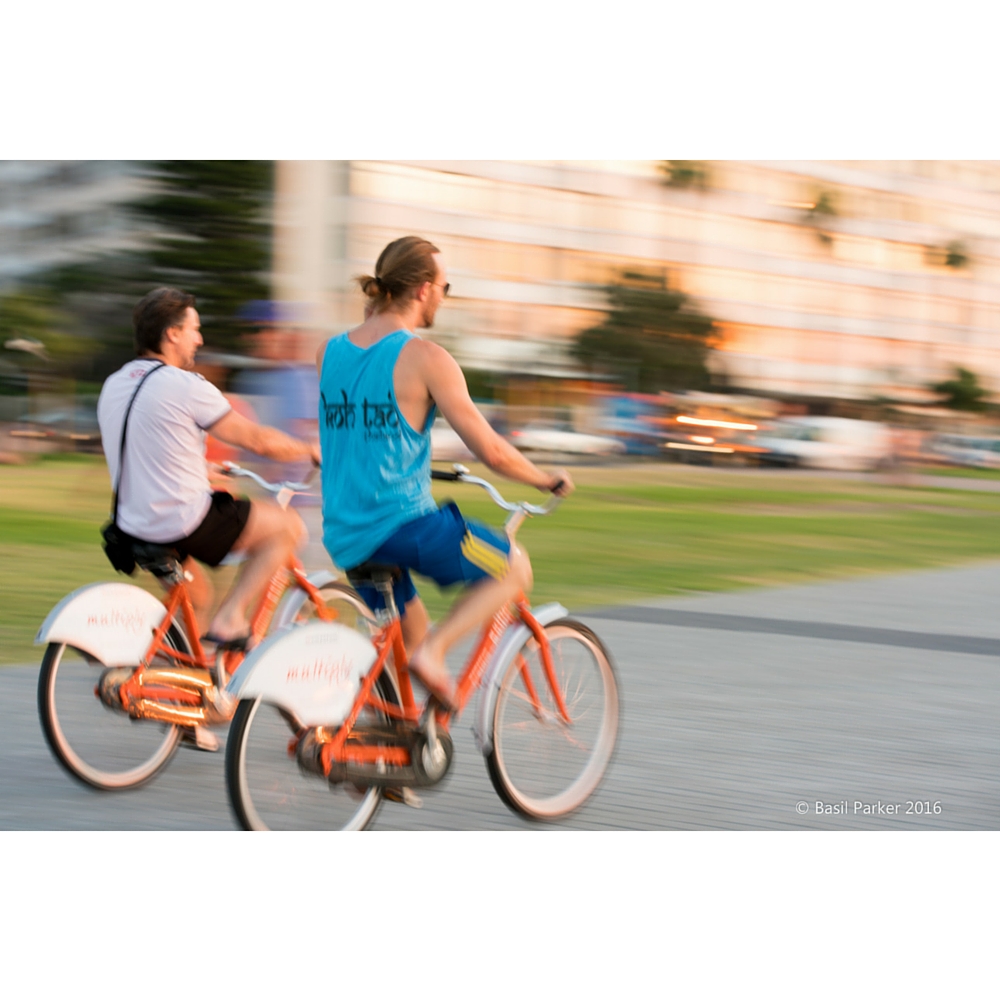 Photo credit: Basil Parker, upcycles.co.za 
#10 Snorkel with the seals
Experience the fun and beauty of snorkeling with Cape Fur seals on the city's Atlantic side, at Duiker Island, Hout Bay.
Join Animal Ocean Seal Snorkeling (particularly during summer) for 1-5m depth snorkel. No experience is needed but participants must be competent swimmers. (Afterwards, you'll even be treated to hot chocolate and biscuits!)
For pricing and other details, please contact them directly.
Contact: (072) 296 9132
Website: http://animalocean.co.za
Address: Hout Bay Harbour, outside NSRI Station 8 Building, Hout Bay, Cape Town
#11 Hop on, hop off the CitySightseeing Bus
CitySightseeing bus tours have grown in popularity and numbers in recent years and now offer an excellent array of tours.
These include (to name a few): Harbour Cruise Tour, Purple Wine Tour, Sunset Bus Tour and even a Cape Point Explorer Tour!
Cost varies depending on tour but can be anything between R40–R550 per person (adults).
Contact: (021) 511 6000
Website: http://www.citysightseeing.co.zaa
Address: 81 Long Street and The V&A Waterfront, near the Two Oceans Aquarium, Cape Town.
#12 Ride a Harley along Chappies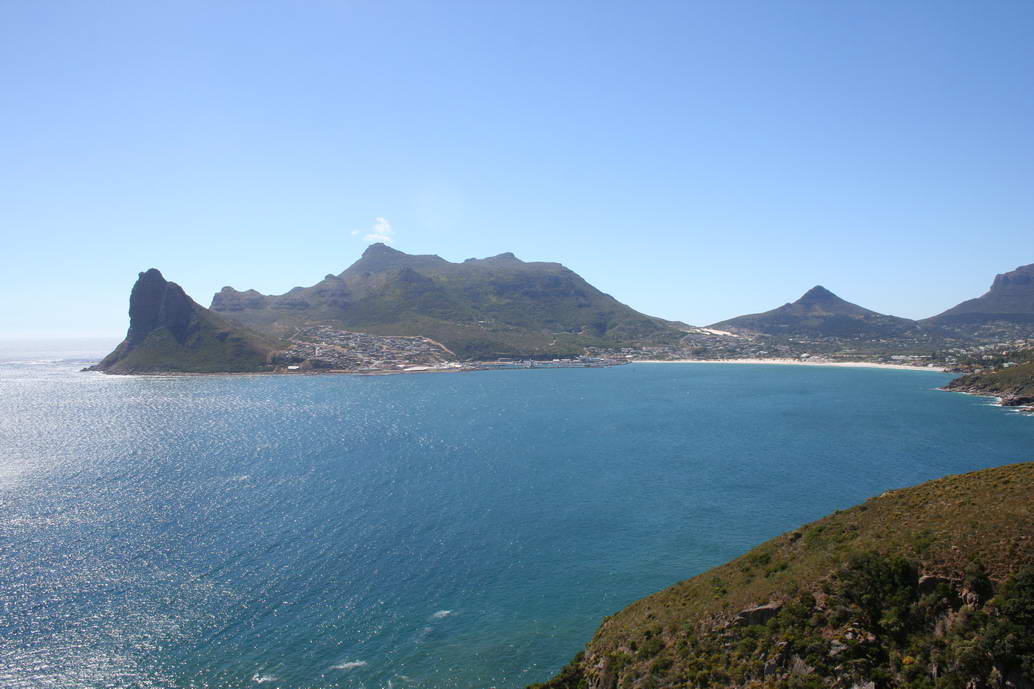 Photo credit: www.capebiketravel.com
Drive the world-famous Chapman's Peak Drive on one of the world's most iconic motorbikes: the Harley Davidson when you opt in for the Cape of Good Hope Tour. It covers approximately 180km, stretching from Hout Bay to Simon's Town, and is weather dependent.
With Cape Bike Travel, you can rent and drive a Harley yourself – or enjoy a chauffeured ride.
For pricing and other details, please contact them directly.
Contact: (021) 424 5013
Website: http://www.capebiketravel.com
Address: 125 Buitengracht, City Centre, Cape Town
#13 Experience high tea in the city
The Mother City has a number of hotels, which offer "high tea" (more commonly referred to as afternoon tea these days). They are hugely popular and are great fun for adults (and teens).
Costs vary but you can generally expect to pay R350+ per person as you feast on savouries, an assortment of tea (or coffee), macaroons, cakes and so much more in a luxury setting.
The Belmond Mount Nelson, The Taj Hotel, One&Only Cape Town, Cape Grace Hotel and 12 Apostles Hotel all offer excellent high/afternoon teas.
For more information, contact the above-mentioned hotels directly or visit their websites.
#14 Horse ride along Noordhoek Beach
Situated at the charming, historic Imhoff Farm, near Kommetjie, is the Imhoff Equestrian Centre, where you can enjoy beach horse rides.
These two-hour-long rides take you along the pristine Noordhoek Beach. They cater for those who have never ridden, as much as experienced riders. (Maximum age is 12 years and maximum weight is 100 kg.)
Booking is essential. To enquire after the cost per person, please contact them directly.
Contact: (082) 774 1191
Website: http://www.horseriding.co.za
Address: Imhoff Farm, M65, Kommetjie, Cape Town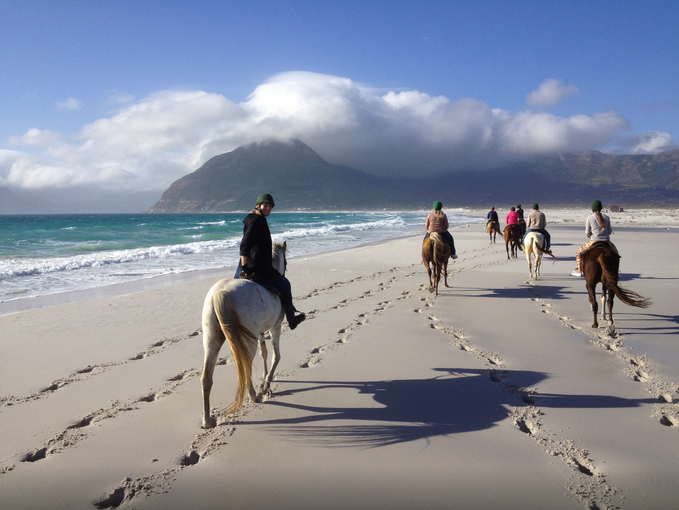 Photo credit: www.imhofffarm.co.za 
#15 Visit the Boulders penguins
Simon's Town is home to the beautiful Boulders Beach. Here, a colony of African penguins have taken up permanent residence.
Boulders is one of the few places in the world where you can walk among and swim with these tuxedoed dudes.
Boulders Beach is a protected SANParks beach so there's an entry fee.  Please visit the SAN Parks website for latest pricing.
Contact: (021) 428 9111
Website: http://www.sanparks.org
Address: Kleintuin Road, Simon's Town, Cape Town
#16 Head to Cape Point
Lying at the southern section of the vast Table Mountain National Park (or TMNP), Cape Point is a truly life-changing destination.
Visit the historic, old lighthouse, see the Chacma baboons, enjoy a scenic walk or explore the Cape of Good Hope.
Whatever you choose to do, you're sure to enjoy a day of true Cape adventuring in one of the most beautiful spots on the globe.
Please visit their website for current pricing details for international and local visitors alike.
Contact: (021) 780 9010
Website: www.capepoint.co.za
Address: Cape of Good Nature Reserve, near Simon's Town, Cape Town
#17 Explore Kirstenbosch National Botanical Garden
The amazing Kirstenbosch National Botanical Garden is one of the city's proudest and most well-loved public spaces. It's a wonderful, vast place to explore with friends and loved ones alike.
Enjoy a picnic, Summer Concert or strolling among the plants in this 528-hectare reserve.
For current pricing details, please visit the website or contact them directly.
Contact: (021) 799 8783
Website: http://www.sanbi.org/gardens/kirstenbosch
Address: Rhodes Drive, Newlands, Cape Town
#18 Hike up Lion's Head
The (free) hike up Lion's Head is one of the city's most popular activities now.
Perfect any time of day (though it's best at sunrise and sunset), even during full moon, this 1-2-hour-long hike is a must. Reach the summit or see if you can discover one of the mountain's cave, particularly the well-loved Wally's Cave.
There are two routes as you near the summit… so opt for the one without the staples and ladders if you're afraid of heights.
Address: Lion's Head, Cape Town
#19 Visit Robben Island
The former prison, where late, former president Nelson Mandela and so many others were held captive during the Apartheid Era, is one of the Mother City's chief tourist destinations.
Boats leave daily from the Waterfront. The guides will provide you with an insightful tour, especially as so many of them are former prisoners themselves.
For current pricing and other details, please contact them directly.
Contact: (021) 413 4200
Website: http://www.robben-island.org.za
Address: Robben Island, Cape Town
#20 Be part of First Thursdays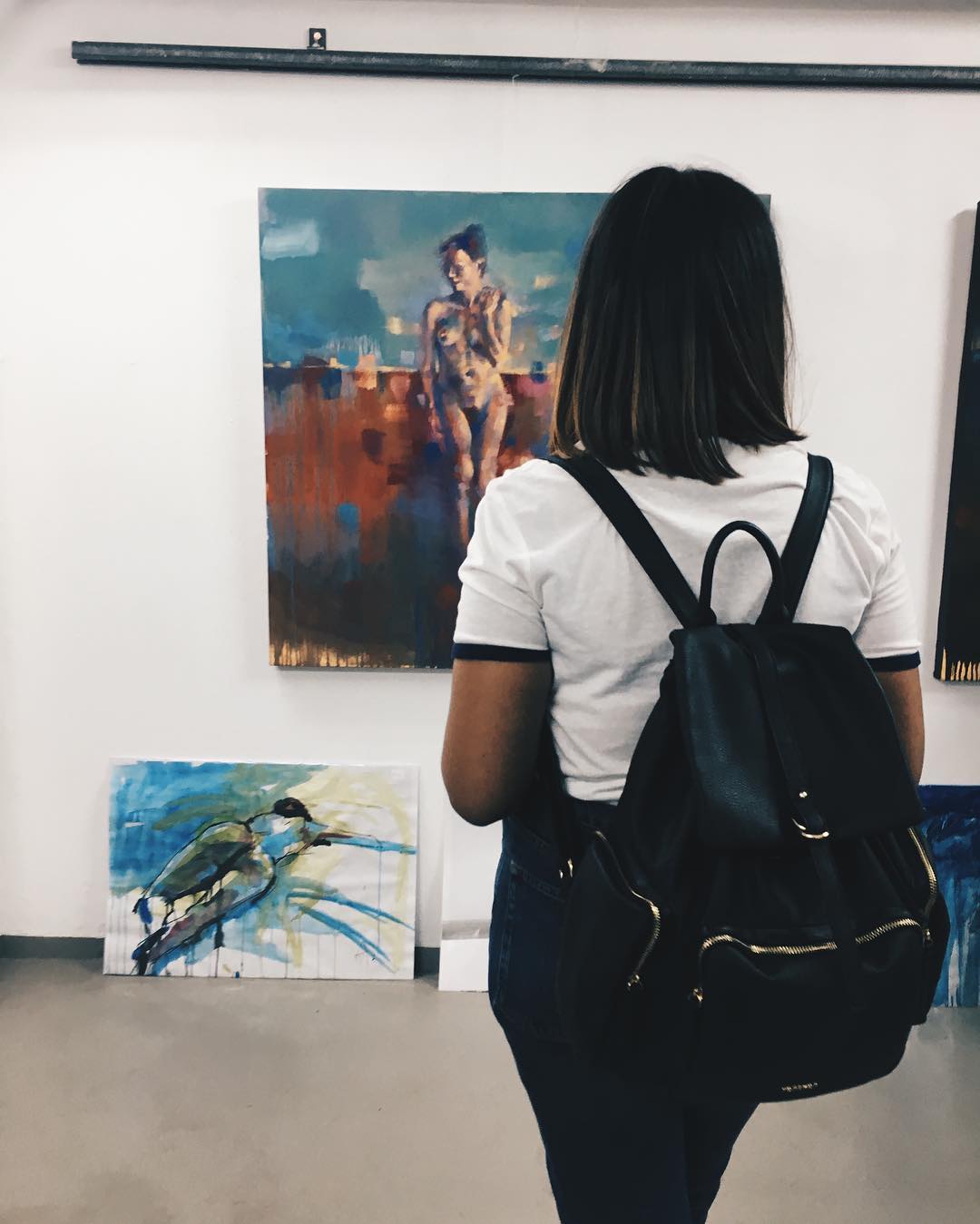 Photo credit: Laura September via Instagram
On the first Thursday evening of every month, the city's art galleries in Bree and the CBD come alive, opening to the public, permitting free entry and fun exploration.
This highly popular event now sees many restaurants and cafes joining in on the fun, so you can enjoy a tasty meal with the art.
Each month brings exciting changes, new participating venues and fresh exhibitions – so save the date!
Galleries are open from 5pm – 9pm (if not later) and remember: entry is free!
Website: http://www.first-thursdays.co.za/cape-town
These are just some of the amazing activities you can enjoy in the Mother City, whether you're a culture vulture, adrenalin junkie or nature lover… there's something for everyone to enjoy experiencing, both indoors and out.