There is truly nothing better than seaside village getaway because more often than not islands, snorkling, sunning and boating await. For the small town of Vilanculos in Mozambique, it's no different and there's a wealth of water and land activities to enjoy while visiting. Some of my favorites include:
Standup paddle boarding
If you know how, rent a board from Mark's Kite Surfing centre and savor a tranquil paddle out on flat turquoise ocean. If you're a newbie, their instructors will show you how it's done and advise on the best time of day when it's less windy ( which will differ with each season). Once you've engaged your core and got the hang of standing up; you'll be addicted!
Visit kitesurfingcentre.com  to book your SUPPing lesson.
Learn how to Kitesurf
So on those windy days when SUPPing is not the best option, kitesurfing is. This is definitely a trickier water sport to master but I recommend everyone try it at least once. And if you're going to try it, it may as well be in the paradise of Vilanculos. Mark and his team have been doing this and teaching for year so you're in the best possible hands.
Book your lesson with kitesurfingcentre.com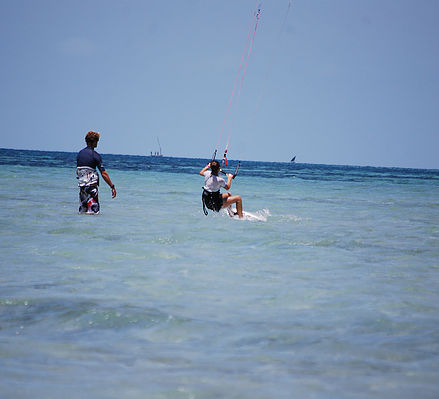 Yoga
Once you arrive in Vilanculos, you'll realize that there is no better place to slow down and focus on your body, mind and soul and give them all a break (and a stretch). While there, I signed up for group yoga classes at Bahia Mar hotel. Aside from their aerobics, anti-gravitational training and yoga, they also boast a world-class spa and offer fitness retreats over a few days. Wellness begins here…
Visit Bahia Mar Club  for more info.
Diving
When you're ready, it's time to explore beneath the aqua-marine ocean surface. If you have your underwater certificate you're all set to go, else you can get certified here…with warm temperatures and great visibility ( depending on the day and season), there's no better place to learn and spot devil rays, garden eels and maybe even a dugong.
Visit Odysseadive.com  to get certified while in Vilanculos.

Snorkeling
Not as keen to go to great depths, but want to discover the magnificent marine life here? Rent snorkels, goggles and fins with Odyssea Dive and head out by boat to the two mile reef where turtles, fish and all manner of marine life awaits.
Get snorkeling odysseadive.com

Dhow cruises
You really can't visit Mozambique, especially this part of it and and not experience the iconic Dhow- a boat used throughout the arabic african trade routes and as a main fishing vessel for locals. Sailaway Safaris offers camping safaris and sunset safaris ( including drinks and snacks), so don't miss out on exploring the islands and ocean in this way.
Visit sailaway.co.za  for more info.