2 accommodation listings in Lake Malawi National Park. Enter dates to see full pricing and availability: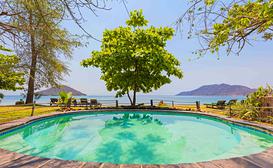 Chalets, Guest Lodge, Self Catering
in Lake Malawi National Park, Malawi
WELCOME TO MGOZA LODGE IN CAPE MACLEAR...
Mgoza Lodge is centrally located within Cape Maclear on the shores of...
Braai Area
Bar
Laundry facilities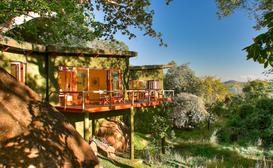 Guest Lodge, Villas
in Lake Malawi National Park, Malawi
The spectacular Pumulani is an exquisite beach lodge situated on the pristine shores of Lake Malawi. It is the...
Popular Destinations
Chintheche, Nkhata Bay, Monkey Bay, Likoma Island, Mangochi, Lake Malawi, Lilongwe, Salima, Malawi, Cape Maclear, Blantyre
Lake Malawi National Park Reviews
More info about Lake Malawi National Park
Between lush vegetation and towering mountains the breathtaking scenic Lake Malawi National Park beckons with enticing adventures and peaceful relaxing surroundings. Situated on the southern end of the azure waters of Lake Malawi in Malawi, the park is foremost a marine preserve and is also a World Heritage Site.
Home to abounding colourful fish species, Lake Malawi National Park was established for the protection of the cichlid fish and their habitat and as such is a Garden of Eden for enthusiasts to view the diverse number of species. Within the park's borders are splendid lodges and exclusive islands offering accommodation within an awe-inspiring natural beautiful setting. Shopping facilities, camping sites and a variety of hotels are located in quaint fishing towns dotted along the shores of the lake.
Lake Malawi National Park's crystal clear waters are an inviting environment for recreational activities. Partake in snorkelling, scuba diving, fishing, kayaking, or hire a boat to... Show more