A World Heritage Site and one of the world's most majestic wonders, The Victoria Falls and the area surrounding it is rich in natural beauty offering a wealth of  activities for all adventure levels.
Experience the falls from the sky, on foot or from the Zambezi plus take adventure of safari adventures right within the Most Ao Tunya National Park. Here's a few activities to choose from when visiting the Victoria Falls area…
Lock eyes on the 'Smoke that Thunders'
Driving towards the falls it will appear as though you're making your way towards a bush fire. With all the 'smoke' and mist rising up from the powerful waterfall, you can certainly understand why it appears this way.
Try get to the park as early as possible. Before 7am, hardly any tourists have already arrived and you'll have a combination of the best light and space to take great photographs.
April and May when the falls are at the strongest, the zambia side is a wonderful place for viewing. While many viewing spots are dry, be sure to take a rain coat ( and waterproof poncho if possible) as you will get drenched.
Make sure your valuables, phones and cameras are safe in waterproof cases too) But more than anything soak in the beauty and spray of this awe-inspiring beauty.
Contact: N/A
Website: www.victoriafalls-guide.net
Address: Victoria Falls, Mosi-o-tunya Road, Livingstone, Zambia.
River Rafting
Various operators will offer river rafting trips and start from the gorge and go from the 'boiling pot' through various rapids of the Zambezi and close to the falls. This is certainly an activity to get your adrenalin pumping and is heaps of fun plus it's a unique angle at which to view the falls.
Contact: + 263 (0) 8328 44471 (Shearwater Victoria Falls)
Website: http://www.shearwatervictoriafalls.com/victoria-falls-activities/zambezi-rafting/
Address: Zambezi, Zambia.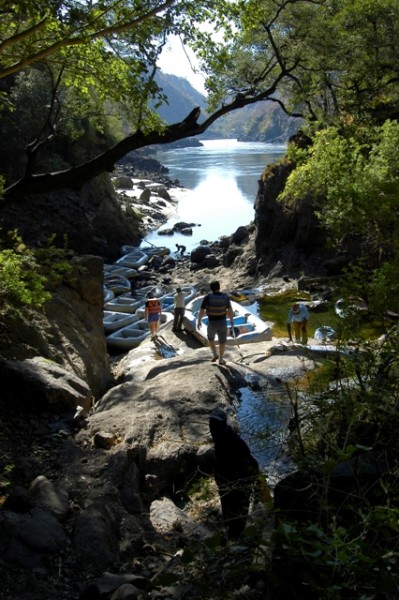 Bungee Jumping from the Zambia-Zimbabwe Bridge
If you're keen to kick up your adrenaline-junkie status and not scared to scream, fly or fall a little; then don't miss out on bungee jumping here.
Very few people get to say that they bungee jumped on the bridge between Zambia and Zimbabwe in view of the falls. Make sure you are one of them.
Contact: +263 (0)13 44471 (Shearwater Bungee)
Website: http://shearwaterbungee.com/
Address: Victoria Falls Bridge, Victoria Falls, Zimbabwe/Zambia.
Vic Falls from a Helicopter
Get the bird's eye view of Victoria Falls from above. Fall over both the Zimbabwe and Zambia sides and take in this spectacle from the skies. This is most certainly a life changing experience and one you won't soon forget.
Contact: +263 (83) – 2844571, 2844426, 2842313, 2842029 (Wild Horizons)
Website: http://www.wildhorizons.co.za/see-and-do/victoria-falls/helicopter-flights/
Address: Victoria Falls, Mosi-o-tunya Road, Livingstone, Zambia.
Microlighting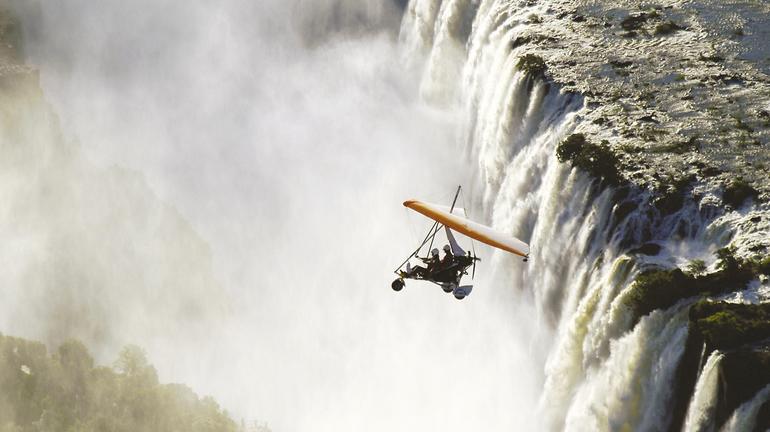 Turn up the adventure levels a notch and you'll find yourself somewhere in between paragliding and a tiny plane. Microlighting is a thrilling experience in itself with you seated behind the pilot who guides the micro lighting in various directions with the use of a single engine and light wings.
With nothing separating you from the air, water and elements and the wind in your face,  this is one of the most thrilling things you can do. And being above the world's largest falling sheet of water, this is a must-do.
Contact: +263 83 284 6213 (Victoia Falls Guide)
Website: https://www.victoriafalls-guide.net/victoria-falls-microlight.html
Address: Victoria Falls, Mosi-o-tunya Road, Livingstone, Zambia.
Game Drives in Mosi-oa-tunya National Park
Most lodges will offer game drives within the park and even though there are no big cats in this Zambian national park, you'll will find elephants, rhinos, hippos, wildebeest, zebras, giraffe and more here.
Head out on a game drive at sunrise or around sunset when the animals are most active and when temperatures are milder.
Contact:+27 10 600 0520 (Pure Africa), +27 11 469 9300 (Bushtracks Africa)
Website: www.zambiatourism.com/destinations/national-parks/mosi-oa-tunya/
Address: Mosi-oa-tunya National Park, Zambia.
Zambezi Sunset Cruises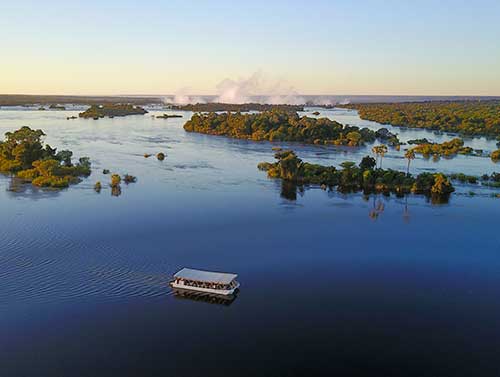 To fully take in the splendor and bird life on Africa's fourth largest river, jump aboard a river cruise at sunset.
Head up and down the river on the calmer parts of the river with a guide who will point out hippos, crocodiles and the burgeoning bird life. Plus there's almost always promise of sundowners aboard the boat.
Contact: +263 (83) – 2844571, 2844426, 2842313, 2842029 (Wild Horizons)
Website: www.wildhorizons.co.za
Address: Zambezi River, Zambia.
Canoe Down the River
This is only permitted with a knowledge guide as the Zambezi is home to crocodiles and hippos who are both very dangerous creatures.  
Choose a day trip or a canoeing expedition over a few days where you can canoe, stopping off on the riverside with guides for lunch and camping.
Contact: + 263 (0) 8328 44471 (Shearwater Victoria Falls)
Website: www.shearwatervictoriafalls.com/activities/canoe-zambezi/
Address: Zambezi River, Zambia.
Visit a Local Village
Many lodges and operators will have this activity during your stay. Do your research before and select an operator who values sustainable interactions with locals and who contributes to the upskilling, education and entrepreneurial advancement of the locals in the village.
Educate yourself on the structures of villages in Zambia; the way they are built, run and what they do to earn a living.  If there are ways for you to donate or contribute in a meaningful way then do so through your lodge or tour operator.
Contact: N/A
Website: https://pickyourday.com/activity/2483
Address: Various, Zambia
Shop a Local Market
Get your bargaining hats on and bring cash. There are wonderful markets right near the falls or in town where you can buy jewelry, bowls, bags, toys and decor.
Locally made and designed you will be assisting locals in earning a living and also take a momento from Zambia home with you.
Contact: N/A
Website: www.discoverafrica.com/safaris/zambia/shopping-and-markets-in-zambia/
Address: Various, Zambia