Ballito Backpacker Accommodation
4.6 - 25 Guest Reviews
All accommodation is verified
1 Backpacker in Ballito.
Enter dates to see full pricing and availability: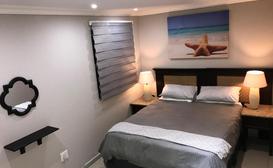 Backpacker
, Self Catering
in Ballito
Ballito Backpackers
Ballito Reviews
06 September 2021
Love all the restaurants.
Love the beaches.
09 June 2021
I generally love the Ballito community, I was disappointed that I didn't spot any dolphins but I'll be going back soon. Hopefully with better luck!
07 May 2021
Love the beaches and restaurants.
09 April 2021
Italian restauarant near Vetho house, Willard beach, sea view accommodation, walk on the beachfront.
30 March 2021
Beautiful weather, restaurants and beaches.
14 March 2021
We stayed at the Islands 2...Beautiful house and ocean view.. Will definitely book again...
19 February 2021
Everything was Perfect!
24 December 2020
LaVita SPA.
15 December 2020
Willards beach is a great swimming beach. Promenade is clean and uncluttered. Great malls and a few select eateries..
More info about Ballito
Ballito is a small serene resort town on South Africa's warm sub-tropical east coast, about 42 kilometers north of Durban in KwaZulu-Natal.
Ballito has a beautiful natural bay, facing the Indian Ocean, with wonderful sea views and exquisite immaculate beaches, and is encircled by sloping green hills rising behind. The lovely setting led to the development of a holiday village on the seafront amidst luxuriant tropical vegetation
Ballito is the heart of the Dolphin Coast. Schools of dolphins can be seen frolicking in the clear shallow waters of the bay. In summer people watch the whales on their yearly journey up north to Mozambique. It is peaceful and quiet most of the year, but has shops, hotels and all necessary amenities.
Things to Do
Ballito is away from noise and crowds, ideal for people wanting a restful time surrounded by nature and the sound of waves. It is perfect for families with children, a blissful... Show more
About Backpacker
For those who are a little adventurous and enjoy the company of other travellers, you can decide to stay at a Backpackers. Often having to share a room with others as well as costs, it is incredibly inexpensive. Often the best choice for those who may be just passing through or will be occupied for the majority of their day. It comes with the most basic amenities and is often formed as part of a bar or similar establishment. Not recommended for those who want privacy, this is best suited for those who wouldn't mind meeting various other interesting travellers.