East London Caravan Parks Accommodation
4.3 – 14 Guest Reviews
All East London Caravan Parks accommodation is verified
1 Caravan Parks in East London.
Enter dates to see full pricing and availability: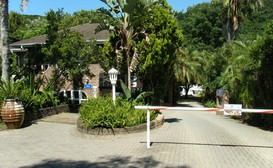 Areena Riverside Resort
Cottages
, Camps, Chalets, Self Catering, Caravan Parks, Bungalows, Resorts
in East London
Areena Riverside Resort is situated on the banks of the Kwelera tidal river, 23 km east of East London city center,...
FROM
R

600

per night

% Off
Destinations Related to East London Caravan Parks
Beach Front East London, Bunkers Hill, Blue Bend, Vincent , Nahoon Mouth, Dorchester Heights, Stirling, Baysville, Nahoon, Southernwood, Woodleigh , East London CBD, Gulu, Selborne, Abbotsford, Cove Rock, Berea, Kayser's Beach, Beacon Bay, Quigney
East London Reviews
27 April 2022
I live here and enjoy it all the time. Especially Gonubie.
27 December 2021
Civic pride.

19 July 2021
Beautiful place!!
05 January 2021
Malls and shopping.
28 January 2020
Beautiful City.

13 November 2019
Great place.
21 November 2018
Cafe Neo and windmill are excellent food outlets.
17 September 2018
Friendly people in East London.
More info about East London
East London is a picturesque port city in the Amatola region of the Eastern Cape Province in South Africa. The city's architecture perfectly reflects its progression from Victorian- and Georgian-dated beauties combined with today's modern works.
Proof of early habitation to this area lies in the 124000 year old dated fossil footprints discovered on Nahoon Beach in 1964 and housed in the museum. In the mid-1800s, German immigrants were settled in the region and their legacy is apparent in surrounding towns such as Berlin and Stutterheim, named after their hometowns.
Located at the Buffalo River mouth which spills out into the warm Indian Ocean, East London is the only river port in South Africa boasting the largest grain elevator and almost 3000 parking bays at the harbour to cater for Mercedes Benz vehicles shipped out from the nearby Daimler-Chrysler factory.
East London has an average annual temperature of around 22° with moderate winters and a... Show more
About Caravan Parks
One of the most intimate ways of staying a night or more in the open, Caravan Parks are for guests willing to get closer to nature. There are also often a host of activities from canoes, fishing and hiking trails depending on the destination.If you have your very own caravan, this makes it the perfect choice for your trip as you will be able to make the most out of your budget. This form of accommodation is ideal for those on a budget, couples, small groups of friends and families.