Mombasa Apartments Accommodation
All Mombasa Apartments accommodation is verified
1 Apartments in Mombasa.
Enter dates to see full pricing and availability: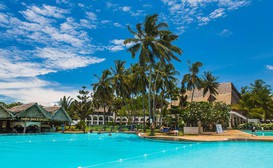 Reef Hotel
Bed And Breakfast
, Apartments, Self Catering, Hotels
in Mombasa
Discover the magic of Kenya at the Reef Hotel Mombasa.
Welcome to Mombasa and to the Reef Hotel, conveniently...
EXCLUSIVE DEAL
SAVE 8%!
FROM
R

1,250

per night
Mombasa Reviews
More info about Mombasa
The beautiful coastal city of Mombasa is situated in the south eastern region of Kenya, and is located on an island in the Indian Ocean. Mombasa has a major airport as well as a port that overlooks a harbor where commercial shipping intermingle with traditional dhow sailing boats. Although the port plays a vital role in the economy through its import and export industry, Mombasa is a thriving tourist destination. The city is steeped in rich history and culture, a fascinating and vibrant city that is depicted by the dusty winding streets and whitewashed streets found in colorful Old Town Mombasa. The ancient buildings, ornate art designs and abundant curio shops are best explored on foot as the narrow streets can not accommodate large numbers of vehicles. The busy markets are a hive of activity and the air is heavy with the scent of Indian spices. At he docks the boats are filled with fresh fish... Show more
About Apartments
For guests who are self-sufficient and would much prefer their own space and privacy, there are apartments. These are designed to ensure guests feel right at home and have a proper living space to enjoy on their holiday. Apartments are self-catering and come with a fully equipped kitchen, living room and at least one en suite bathroom. More often than not, guests will enjoy spectacular views of their surrounds, and find that they are close to shops and transport. Apartments are ideally suited for families or small groups of friends. Apartments come in all shapes and sizes and prices to suit your preference or budget. You can find the apartment tailored to your needs.