Founded by Alexander the Great and ruled over by Queen Cleopatra, the Mediterranean port city of Egypt, Alexandria, is home to many historical wonders and exciting places for visitors to see and explore. Here you will find, among other things, an amazing library, a delightful palace and some historical marvels to boot.
These are the top 12 Alexandria activities to enjoy in 2017:
#1 Immerse yourself in Bibliotheca Alexandrina
This library is one of the most special places you can explore in the city, and is a dedication to the original Bibliotheca Alexandrina. Not only is it found within a truly beautiful building but it's also home to a vast store of history, arts, philosophy and much more, contained inside its museums and books.
Aside from being able to hold up to 2000 bookworms at a time, it offers an educational experience for all visitors to Alexandria – regardless of their age or interests.
Contact: (20) 03  4839999
Website: www.bibalex.org
Address: Bibliotheca Alexandrina, Corniche Alexandria, Egypt
#2 Be dazzled by Montazah Palace
Built high up on a hill, overlooking Alexandria's most beautiful beach, this palace is a visual feast. Not only is it an architectural masterpiece but its lovely gardens are really something to behold.
Walk amid tall palms and fragrant flowers, as you soak up a little of Alexandria's more glamourous history.
Contact: n/a
Website: www.memphistours.com
Address: Montazah Palace, Al Mandarah Bahri, Qism El-Montaza, Alexandria Governorate, Egypt

#3 Explore Alexandria National Museum (ANM)
The ANM spans across three floors and provides wonderful insight into former times. It covers everything from the Pharaonic era to the Byzantine and Islamic periods.
Within you will find excellent displays, maps, drawings and more, all of which will help you to re-imagine days long gone. It's also a great place for the whole family to explore.
Contact: (20) 3 4835519
Website: www.egypt.travel
Address: Alexandria National Museum, Tariq al-Horreya Street, Alexandria, Egypt
#4 Step back in time at Citadel of Qaitbay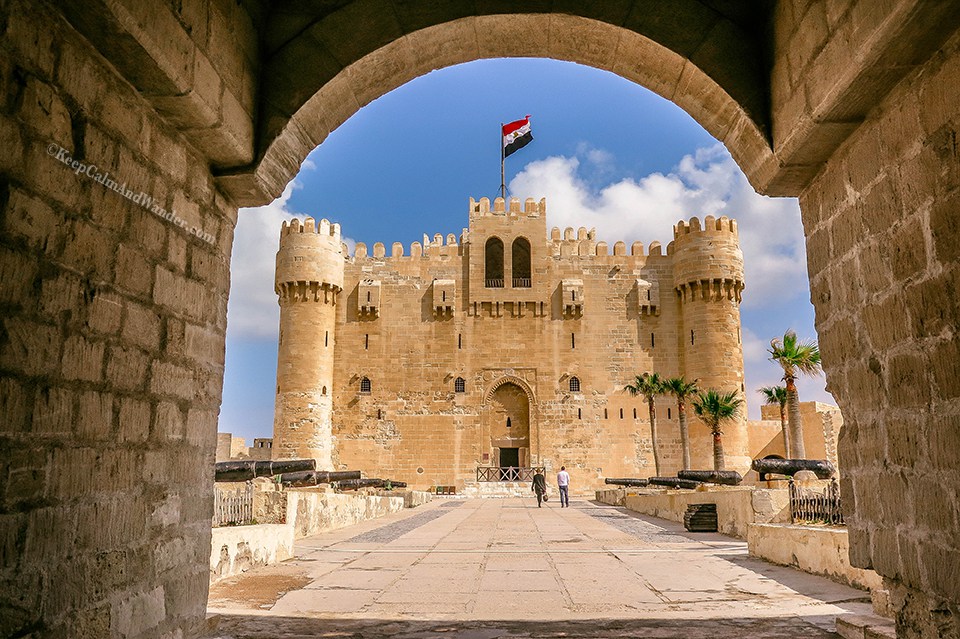 This 15th century fortress is not only iconic thanks to its own history but perhaps more especially for its unique location: on the foundation of what was once the legendary Pharos Lighthouse – one of the Seven Wonders of the Ancient World.
It's worth exploring the fortress from within, allowing your mind's eye to recreate the vast structure, which once stood here. Afterwards, indulge in the peninsula's shops, restaurants and views.
Contact: n/a
Website: www.memphistours.com
Address: Citadel of Qaitbay, As Sayalah Sharq, Qesm Al Gomrok, Alexandria Governorate, Egypt
#5 Unearth the wonders of Kom el-Dikka
Not many discoveries come as a result of housing apartments being planned but such was the case with Kom el-Dikka. Translated as "Mound of Rubble", this amazing area revealed a number of ruins, including a small Roman theatre. Today, after some excavation, this park area offers a Ptolemaic temple and the mosaic flooring from a wealthy Roman villa…
Kom el-Dikka is definitely one for the culture vultures and history buffs among us.
Contact: none
Website: www.lonelyplanet.com
Address: Kom el-Dikka, Yousri Street, Alexandria, Egypt
#6 Catacombs of Kom El Shoqafa
The Catacombs of Kom El Shoqafa are believed to date back to the 2nd century and were probably used for the dead over 200 years. Disappear underground and experience a blend of Egyptian and Greco-Roman styles, as you explore burial chambers, particularly the Sepulchral Chapel.
It's a different experience, there's no doubting it – but it's a truly authentic Egyptian one nonetheless!
Contact: (20) 3 3936825
Website: www.unmuseum.org
Address: Catacombs of Kom El Shoqafa, Qesm Al Gomrok, Alexandria
#7 Pompey's Pillar
This Roman column is the largest in Egypt and was erected in honour of Roman Emperor, Diocletian. It marks the site of what used to be a huge, polished marble temple, once decorated with precious metals.
Visitors can explore a few of the surrounding tunnels and see some of the recovered artefacts on display.
Contact: n/a
Website: www.memphistours.com
Address: Pompey's Pillar, Alexandria, Egypt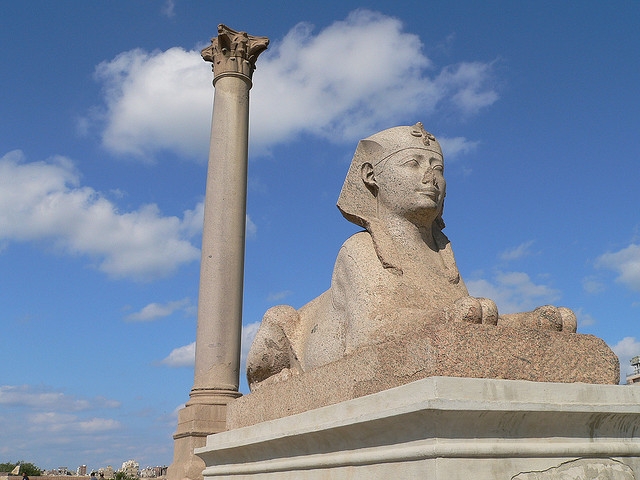 #8 Dive down to Cleopatra's Palace 
For the ocean lovers and history fans, you're going to relish the chance to dive down to Queen Cleopatra's palace.
Sunken as a result of a great earthquake, this palace is a real-life historical treasure… It's sure to provide a superb adventure too!
Contact: n/a
Website: n/a
Address: Cleopatra's Palace, Alexandria, Egypt
#9 Visit the lovely Ras El Tin Palace
This spectacular palace – which still serves as an official residence for Egypt's president – was once a summer retreat for Egypt's sultans when Cairo's sultry heat became too much for them to bear.
It's also now used by the Egyptian navy, so, while visitors cannot explore its sumptuous interiors – the pure white facade is certainly worth admiring, especially from the harbour.
Contact: n/a
Website: www.expedia.com
Address: Ras el-Tin Palace, Alexandria, Egypt
#10 Head within the beautiful Abu Abbas al-Mursi Mosque 
This beautiful mosque is one of Alexandria's key landmarks. Built in 1796, it lies above the tomb of 13th-century Sufi holy man, Abu Abbas al-Mursi. It's also a major pilgrimage site, but, for the non-religious visitors, it's a delight to see the swirly Islamic calligraphy designs and motifs.
Note: If they wish to go inside, visitors must dress modestly and leave their shoes at the entrance.
Contact: (20) 3 4801251
Website: www.sacred-destinations.com
Address: Abu Abbas al-Mursi Mosque, Qesm Al Gomrok, Alexandria, Egypt
#11 Draw inspiration from Cavafy Museum
Created in memory of Alexandrian-Greek poet Constantine Cavafy – a poet who spent his final twenty-five years on earth in a flat above a brothel – this museum will reveal copies of his manuscripts, correspondence and notebooks, as well as a collection of paintings and portraits in the final room. It's certainly a place of interest worth paying a small visit to.
Contact: (20) 3 4821598
Website: hfc-worldwide.org/museums/cavafy-museum
Address: Cavafy Museum, Alexandria, Egypt
#12 Shop the town at Main Souq
Head to Alexandria's main market and immerse yourself in the city's culture and of course, all kinds of sale goods. You will find everything from silver trinkets to fresh food produce here.
It's a wonderful way to experience Alexandria's atmosphere and city life, and allows you to find some good treasures in the process.
Contact: n/a
Website: n/a
Address: Alexandria, Egypt
These are just some wonderful activities you can experience for yourself in fairest Alexandria during 2017.