With its diverse landscapes, wherein rolling hills bleed into magnificent mountains and lush, green grass turns to fynbos-covered terrain, South Africa makes for wonderful, varied camping opportunities.
Better still, SA has great camping spots spread across its many provinces, so whether you wish to be tucked away in the mountains, sleeping next to the whoosh of the ocean or lighting a campfire alongside the river, here are some of the most well-known and/or not-to-be-missed camping spots to try:
1. Storms River Mouth Rest Camp (Western Cape)
Found within arguably one of South Africa's most beautiful and verdant regions, the Garden Route, Storms River Mouth Rest Camp – which spans some 5km towards the Tsitsikamma National Park's eastern shore – allows guests access to 80km of undisturbed, rugged coastline, and comes with every necessary camping comfort.
Facilities include: a communal ablution block and kitchen, restaurant and store, as well as the added bonus of a Laundromat.
Experience rich birdlife in the forest and if you're lucky, you might see otters and other native animals too, as you camp inside of the special Tsitsikamma National Park.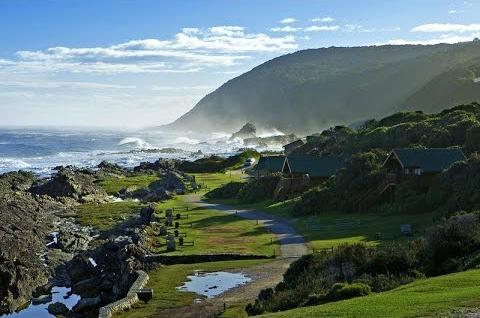 2. Cape Vidal (KZN)
Experience camping in the exceptionally lovely Isimangaliso Wetland Park. Cape Vidal is a small campsite with only eight sites. This pristine coastal campsite offers wonderful beaches, hikes, and it comes with ablution facilities and electricity plug points.
Outdoor activities to partake in include: snorkelling, fishing, swimming, bird watching, sunbathing, beach walks and even whale watching.
You may also catch sight of hippos, crocodiles, elephants, buffalo, loggerhead and leatherback turtles, frolicking dolphins and perhaps even some whales too.
3. Gariep Dam (Orange River)
Gariep Dam Campsite, which lies midway between Cape Town and Johannesburg, can be found some 200km outside of Bloemfontein. Enjoy camping near South Africa's largest dam, which fortuitously borders a vast nature reserve, with many roaming zebra and buck species, by the same name.
The campsite, which offers 122 sites in total, includes sixteen accompanying ablution blocks, as well as braai areas and an on-site restaurant. Outdoor activities to experience include: a host of watersports, fishing, and game watching and/or sunset cruises by boat.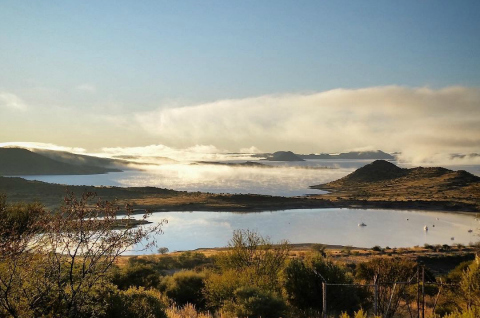 4. Stoney Ridge (KZN)
Located in the Natal Midlands, among some 6000 acres of natural beauty on a private game farm, you will find the Stoney Ridge Campsite. It lies near the Bloukrans River and, aside from the obvious bird and game watching one can enjoy, there are also great 4×4 trails to try too. The campsite offers ablution facilities, and there is a restaurant on the premises as well.
5. Mazhou Campsite (Limpopo)
Found within the Mapungubwe National Park – a World Heritage Site – this campsite is small and exclusive, offering just ten peaceful campsites for camping enjoyment. Head for a sunset/night drive or explore the park via a guided heritage walks, which will even take you to a graveyard up on the Mapungubwe Hill.
Campsite facilities include: ablutions, power points (at each of the ten sites) and a communal kitchen.
6. Sterland Caravan Park and Campsite (Northern Cape)
Found in the star gazing capital of South Africa (and indeed, possibly in the southern hemisphere in general…), Sutherland, this campsite really will allow you to camp under a sky full of stars, after a long evening around a roaring campfire. Located just out of town, the campsite has seven stands tucked into tidy, 2m Muisbos enclosures.
Facilities include an ablution block (with a washing area and warm showers), with electricity at each individual stand. Enjoy relaxing, braaing and watching the stars, and don't forget to visit the SALT Observatory up on the hill during the day or perhaps even for some pre-arranged, nightly stargazing.
7. Yellowwood Forest Campsite (Eastern Cape)
Found alongside the Inchara River's banks, a mere 1km away from the beautiful Morgan Bay beach, this campsite is one for the bird lovers and nature fanatics out there. Enjoy relaxing near or swimming in the river, identifying birds, heading to the beach, relaxing in the tea garden, where children can experience the fun, on-site play area, or snack on light meals and wood-fired pizzas.
Facilities include: ablution blocks (with toilets, showers and hot running water), as well as campsite electricity points.
Each campsite offers a unique experience, be it relaxing alongside a river, pitching your tent within a national park and/or World Heritage Site or lying beneath the brightest stars visible in South Africa, so make sure you check these off your camping to-do list in the future.
Content Created by Speckled Egg Digital Team.