Knysna is one of the most child- and family-friendly towns around thanks to its gorgeous outdoor experiences, fun adventures, animal sanctuaries and local attractions.
But often the hardest thing for parents travelling with kids is finding a suitably child-friendly or family restaurant to enjoy eating at.
Fortunately, Knysna is not short of these… Offering everything from safe and secure play areas for little ones to smarter dining experiences for quiet, older kids and teens.
Found along South Africa's favourite coastal stretch, the Garden Route – Knysna is a popular town for holidaying, adventures and seaside escapes. 
Here's a selection of the best family friendly restaurants in Knysna:
#1 Tottie's Farm Kitchen
Tottie's Farm Kitchen is one of the most welcoming, family friendly restaurants you will find anywhere. With indoor and outdoor seating in the garden, guests can enjoy a relaxed, soothing meal out with their loved ones.
Offering a selection of hearty, generously portioned farm food – prepared using country fresh ingredients – there is something for everyone to enjoy tucking into at Tottie's.
There is even a special 'Sapling' section on the menu for Little Tots, with yummy options like chicken strips with chips, mini burger and chips and an array of sweet delights sure to thrill the whole family. There is also a small playground for kids to make use of.
Contact: +27 (044) 389 0092, tottiesfarmkitchen@gmail.com
Website: www.tottiesfarmkitchen.co.za
Address: Tottie's Farm Kitchen, Main Road, Rheenendal, Knysna, Western Cape, South Africa.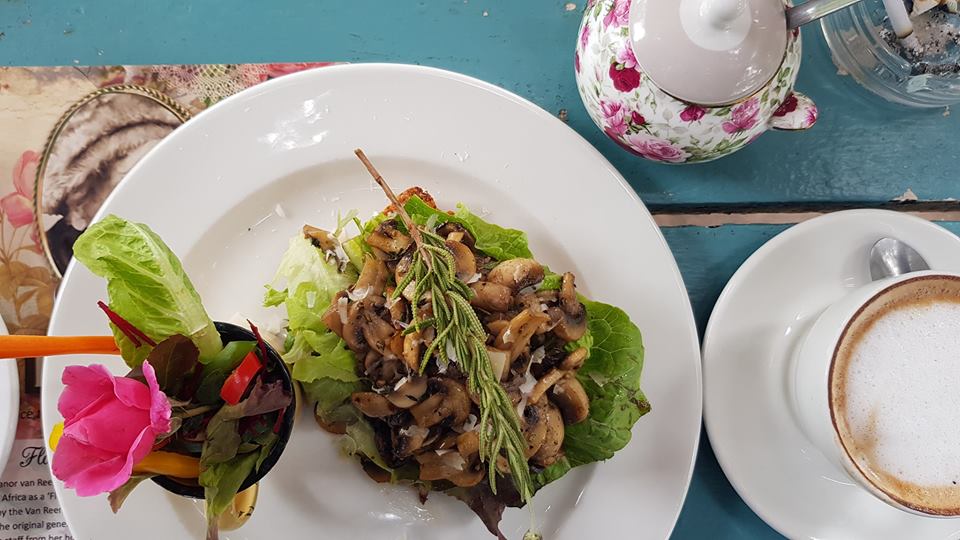 #2 The Farm
Situated 4 km outside Knysna, The Farm is a great place for young and old to enjoy… With its wide open spaces, delicious, hearty meals and excellent play facilities for children – it offers one of the most family friendly experiences around.
There is a dedicated 'Kiddies Breakfast', toasted sandwiches and pizza, all of which are sure to appeal to even the pickiest little eater. (And let's not forget the sweet treats!)
Benches and tables are sprawled across the beautiful garden, overlooking a green vista of natural beauty, and parents and grandparents can enjoy a meal while easily watching over the children.
For the kids, there is a large, safe space to play, as well as a jungle gym, swings, shaded sand pit, wendy house and even a mini-mud kitchen so the young ones really can play till sundown out in the country air.
There is also some cycling fun to be had, with a number of tracks, including a mini bump track for young riders.
Contact: +27 (060) 528 9232, sheilapasio@gmail.com
Website: thefarmknysna.co.za
Address: The Farm, Old Cape Road, Knysna, Western Cape, South Africa.
#3 East Head Cafe
East Head Cafe is one of the most popular eateries in Knysna – and rightly so. It offers incredible views, overlooking the famous Knysna Heads, good, honest food, excellent service and a small, dedicated play area for children, handily equipped with toys.
The interiors are clean and chic without being pretentious, while the outside seating (mostly comfy picnic benches) offer lagoon views to die for.
There is no special kids' menu advertised on the website but this will definitely suit older children who are accustomed to eating 'adult food'.
Still, with some classics like fish and chips (highly rated!), burgers, cakes of the day and ice cream and chocolate sauce, there is surely something for younger children to enjoy too.
Contact: +27  044 384 0933, info@easthead.co.za
Website: www.eastheadcafe.co.za
Address: East Head Café, 25 George Rex Dr, The Heads, Knysna, Western Cape, South Africa.

#4 Chatters Bistro
This small but cosy, owner-run eatery is a gem in Knysna. They are famous for their made-to-order, thin and crispy wood-fired pizzas (also available on a gluten- and wheat-free base) – but they also offer an excellent selection of burgers, homemade pastas, potato bakes, salads, filled paninis and of course, plenty of dessert options too.
There isn't a dedicated kiddies' menu but the Create-Your-Own Pizza option is sure to appeal to everyone, as even the fussiest eater can build their own pizza.
This is certainly a fun, family restaurant, with a really great atmosphere. Locals agree: Chatters Bistro is a winner every time.
Contact: +27 (044) 382 0203, info@chattersbistro.co.za
Website: www.chattersbistro.co.za
Address: Chatters Bistro, 9a Gray Street, Knysna, Western Cape, South Africa.
#5 Bodega Cafe
This lovely restaurant has put a modern spin to the traditional coffee shop  – and the result is wonderful. This child- and dog-friendly spot is also a real treat in terms of the food, which is fresh, delicious and fun.
There is indoor fireside seating (ideal for wintertime) or verandah seating, perfect for when the bright South African sun is shining.
It's a favourite, tranquil spot for diners to go and bond over a meal and the views and atmosphere just make the experience all the more delightful… It's definitely a great pick for families.
Contact: +27 (076) 496 1600, thebodegacafe@gmail.com
Website: www.thebodegacafe.com
Address: Bodega Cafe, 5 Kings Way, Leisure Island, Knysna, Western Cape, South Africa.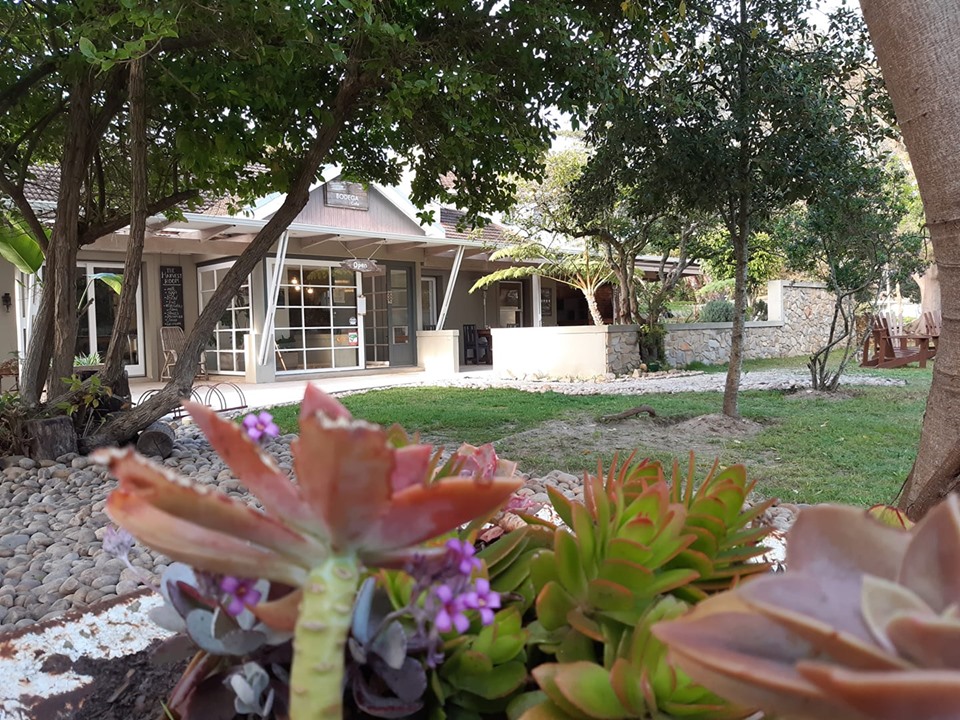 #6 Blend Country Restaurant & Pub
Nestled amid the trees, this child-friendly country restaurant and pub has a wonderful, peaceful ambiance about it.
There is cosy indoor and outdoor seating, depending on your preference, a variety of good food, live music (on selected days) and friendly service to boot.
This is arguably one of the most popular family spots in Knysna and many agree it is one of the best places to go eat out with kids, especially as there is a secure play area.
It can get very busy due to its popularity, so on some occasions, advance booking is advised.
Contact: +27 (044) 384 0493 ,blendknysna@gmail.com
Website: N/A
Address: Blend Country Restaurant & Pub, 18 George Rex Drive, Hunters Home, Knysna, Western Cape, South Africa.
#7 Persello Pizzeria
Who doesn't love a good pizzeria? And with Persello Pizzeria, you can enjoy a wonderful Italian family-run pizza and pasta restaurant in the heart of Knysna. It comes complete with large food portions, a lovely vibe and a classic Italian-style restaurant experience…
Restaurant specials are naturally the delicious pastas, wood-fired pizzas and chicken involotini.
Best of all, this intimate, cosy restaurant is child-friendly and offers a choice of equally lovely indoor or outdoor seating.
Contact: +27 (044) 382 2665, marcopersello3@gmail.com
Website: N/A
Address: Persello Pizzeria, Memorial Square, Knysna, Western Cape, South Africa.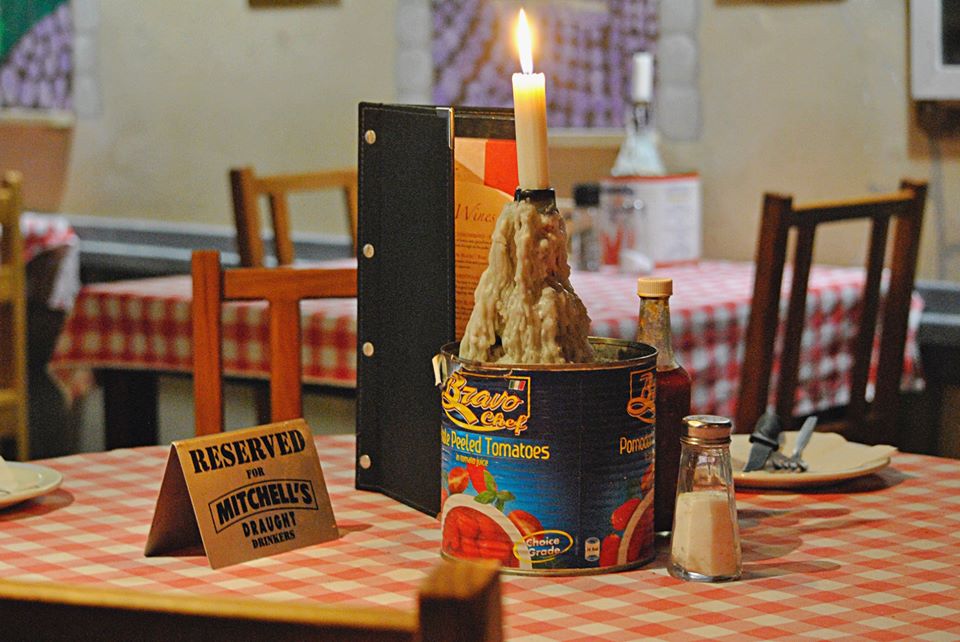 #8 île de païn
This enchanting cafe-style restaurant, situated on Knysna's Thesen Island, is known for its delicious breakfasts, lunches and artisanal breads.
Each dish at île de païn is lovingly prepared using the freshest, seasonal ingredients and the results are simply mouthwatering. Options include the likes of salads, sandwiches, pastries and more.
The bakery and shop make for a lovely addition – allowing you to shop for some takeaway treats and baked goods – while the self-catering apartments mean you to linger longer.
Although île de païn is not especially geared for tots and kiddies, it is the ideal spot to go with quieter, older children who perhaps no longer enjoy play areas or running about outside as much. Still, either way, it is suitable for the whole family.
Contact: +27 (044) 302 5705, artisans@iledepain.co.za
Website: iledepain.co.za
Address:  île de païn, 8-10 The Boatshed, Thesen Harbour Town, Knysna, Western Cape, South Africa.
#9 34 South
This waterfront restaurant, found in Knysna Quays, offers an extensive menu, specialising in seafood, baked bread and deli and sushi bar offerings.
There isn't a dedicated kids menu – and it might not be ideal for very young children, as it can get busy and lively – but the restaurant is certainly suitable for families with older kids or teens.
The menu is fresh and fun, with everything from juices and smoothies to breakfasts to seafood and desserts, pastries and cakes too.
Contact: +27 (044) 382 7331, 082 419 3434, keith@34south.biz
Website: www.34south.biz
Address: 34 Degrees South, Shop 19, Knysna Waterfront, Knysna Central, Knysna, Western Cape, South Africa.
#10 Tapas and Oysters
This family friendly, waterside restaurant offers lovely views of the Knysna Lagoon, great food and friendly service, complete with a good restaurant atmosphere.
The food focus is on Spanish, Mediterranean and South African tapas but they also offer a nice selection of sushi dishes and platters from their sushi bar and an excellent pizza menu too.
There is a lovely play park for kids and the overall restaurant offering is definitely geared towards a family meal.
Contact: +27 (044) 382 7196, info@tapasknysna.co.za
Website: www.tapasknysna.co.za
Address: Tapas and Oysters, TH 29, Thesen Island, Knysna, Western Cape, South Africa.
These are just some of the welcoming family friendly eateries you can enjoy in Knysna… Have you visited any with your loved ones yet?
Book your Knysna Getaway Now!