Hermanus is one of the most scenic Western Cape towns you will find anywhere… With pristine natural beauty, marine life and a laid-back town feel, this coastal town is a special place to visit.
Found in the scenic Overberg Region, Hermanus is an unmissable destination that offers incredible outdoor experiences, beautiful nature and wonderful service establishments. 
Here are some of Hermanus's best restaurants with a sea view:
#1 Just Pure Bistro
This lovely, little restaurant offers visitors sublime views, gorgeous interiors, complete with tasteful decor, and an all-round charming dining experience.
Everything is made using fresh, high quality ingredients, so the food is top class. Furthermore, service is prompt and polite so you're guaranteed a good meal out all around.
Just Pure Bistro is good for breakfast, lunch, a coffee break or dinner – and its views certainly add to the cosy, pretty atmosphere.
Contact: +27 (028) 313 0060, info@justpure.co.za
Website: www.justpure.co.za/pages/the-bistro
Address: Just Pure Bistro, Ocean View, 5 Park Lane, Hermanus, Western Cape, South Africa.
#2 Origins at The Marine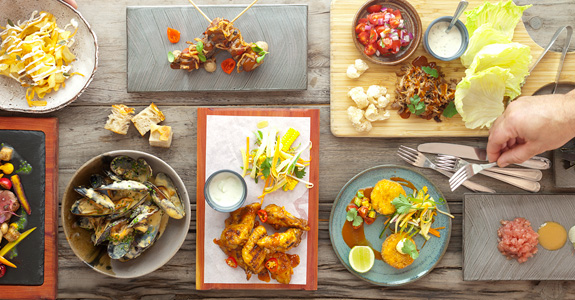 Situated within opulent hotel, The Marine, Origins is one of the highest quality restaurants around. It offers an vibrant setting, with excellent food options and impressive views.
Diners can choose from a small plates/tapas experience, natural wines, craft beer and of course, the full sit-down dining experience too. The food is made from fresh, locally sourced ingredients – and the result is perfect.
If you are looking for a special dining experience, head to Origins.
Contact:+27 (028) 313 1000
Website: www.themarinehotel.co.za/restaurants-bars/origins/
Address: Origins at The Marine Hotel, Main Road, Hermanus, Western Cape, South Africa.
#3 Bientang's Cave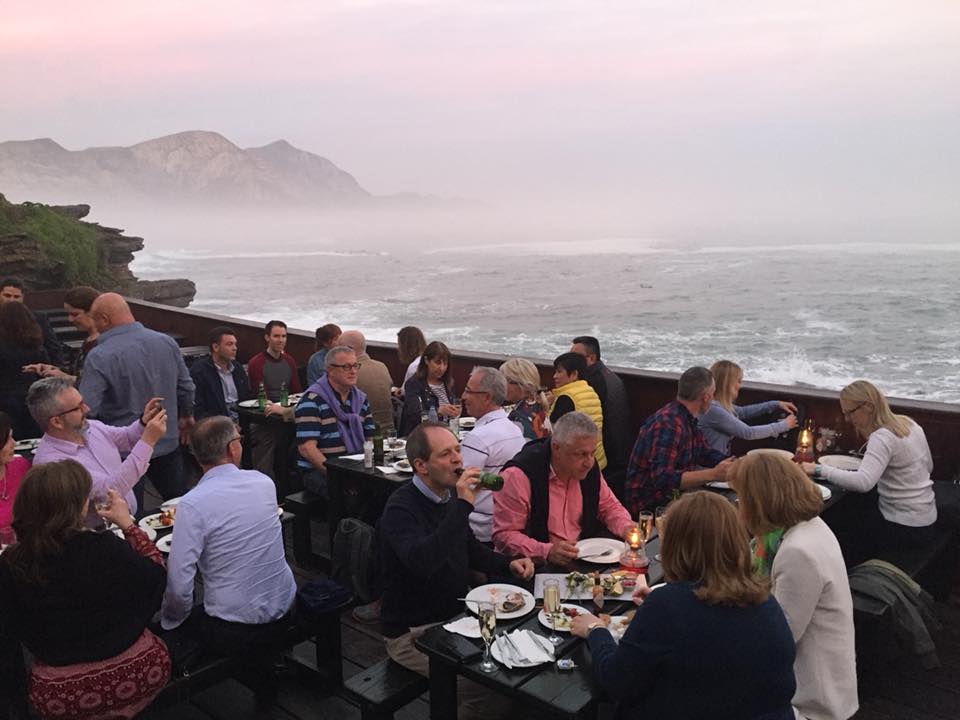 If you wish to enjoy a close encounter with the sea (without getting wet!), then Bientang's Cave is the perfect place to go for a meal… It's a hair's breadth away from the sea's foaming white horses and interesting rocks, so diners have quite a unique setting.
The menu at this rustic eatery is certainly seafood-focused but they are not limiting in that sense, as they also offer excellent sharing platters, fresh salads, hearty potjies and curries, beef and chicken dishes and vegetarian delicacies too!
Bientang's Cave – a longstanding Hermanus favourite – has consistently won over new and old guests alike, with its good service, food and of course, killer ocean views.
So, order a glass of wine or a cold one and enjoy this spectacularly positioned restaurant, which cheerfully overlooks the sea.
Contact: +27 (028) 312 3454, info@bientangscave.com/bookings@bientangscave.com
Website: www.bientangscave.com
Address:  Bientang's Cave, cave below Marine Drive, between The Old Harbour and The Marine Hotel, Hermanus, Western Cape, South Africa.
#4 La Pentola Hermanus
With its chic restaurant interiors, well-known reputation for both great service and incredible food and breathtaking views across Walker Bay, La Pentola is one of the loveliest restaurants you will find in Hermanus – or beyond.
Under Chef Shane Sauvage's careful, talented helm, La Pentola wows with its fushion food offerings. These allow diners to enjoy everything from the freshest seafood to exotic game meals and marvellous vegetarian dishes… So there is something for everyone to tuck into at La Pentola.
This restaurant is one class act from start to finish – and let's face it, its views are pretty hard to beat too…
Contact: +27 (028) 313 1685
Website: hermanus.lapentola.co.za
Address: La Pentola, Shop 4, Ocean View 87 Marine Drive, Hermanus, Western Cape, South Africa.
#5 Burgundy Restaurant
Situated on the edge of the bay, a stone's throw from Hermanus Old Harbour, Burgundy Restaurant is one of the most central, well located restaurants in Hermanus.
It's also one of the most consistently popular – and with good reason! The views, service and food are all of the highest quality. It is no wonder then that so many diners frequently return to this relaxed, yet stylish eatery.
With a standard and tapas menu both, guests can choose from a wide range of tasty dishes, suitably complemented by the stunning scenery, fine wines and beautiful restaurant setting that Burgundy offers its clientele.
Contact: +27 (028) 312 2800, info@burgundyrestaurant.co.za
Website: www.burgundyrestaurant.co.za
Address: Burgundy Restaurant, 7 Harbour Road, Hermanus, Western Cape, South Africa.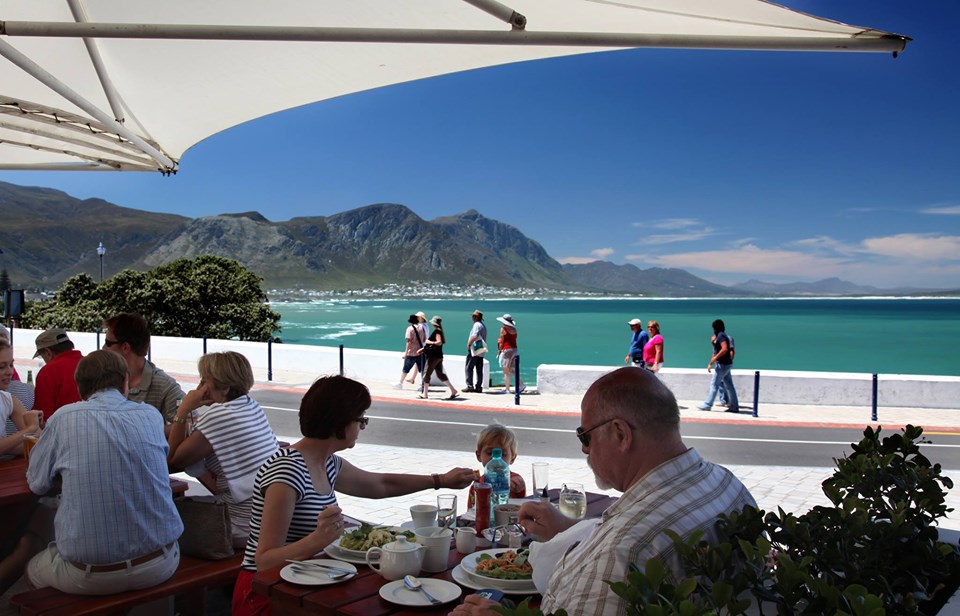 #6 The Gecko Bar and Restaurant
Where can you find good food, live music, awesome drinks, stunning views and a fun vibe in Hermanus? The Gecko Bar and Restaurant, of course!
This bar-meets-restaurant, found in New Harbour, is the ideal spot to go and enjoy some mouthwatering wood-fired pizzas, pasta, burgers sushi and other delicacies… And with a sundowner in your hand, it's also a wonderful spot in Hermanus to soak up the sunset and sea views.
This is one casual, trendy restaurant, complete with good service and pretty scenery, especially as it overlooks the ocean.
Contact: + 27 (028) 312 4665, admin@geckohermanus.co.za
Website: geckohermanus.co.za
Address: The Gecko Bar and Restaurant, New Harbour, Hermanus, Western Cape, South Africa.
#7 Dutchies
For those seeking a cheerful, inexpensive eatery to soak up the casual atmosphere of coastal-lying Hermanus, Dutchies is ideal.
It's unpretentious, yet fun and welcoming, with shaded seating, tasty, fresh food and great service… Oh and did we mention this beach restaurant has gorgeous ocean views and an idyllic setting too?
All in all, the eatery is ideal for a chilled, yet wholesome meal out with those you love.
Contact: +27 (028) 314 1392
Website: dutchies.co.za
Address: Dutchies,Grotto Street, Grotto Beach, Hermanus, Western Cape, South Africa.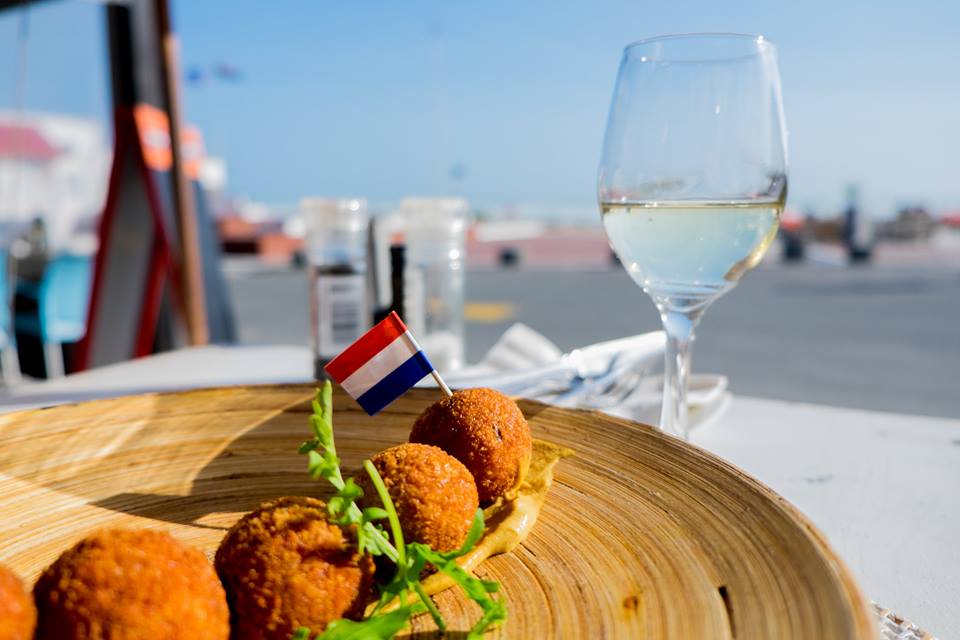 #8 Harbour Rock Restaurant
Harbour Rock Restaurant – which overlooks the lovely New Harbour from its impressive, cliff-topping location – is one of Hermanus's restaurant gems.
This upmarket restaurant provides guests with delicious, fresh food, stylish interiors and incredible sea views.
In particular, Harbour Rock is famed for its seafood platters, sushi, curries and grill food offerings, as well as good coffee and a great local wine list.
Better still, if you visit during whale season, you can even enjoy whale watching from the restaurant's sweeping floor-to-ceiling windows. This makes for a truly special dining experience, one which will stay with you for a long time to come.
Contact: + 27 (028) 312 2920, book@harbourrock.co.za
Website: harbourrock.co.za
Address: Harbour Rock, New Harbour, Hermanus, Western Cape, South Africa.
#9 LB Seafood Bistro on the Bay
Offering pretty ocean views from its windows, the quaint LB Seafood Bistro is a laid-back, yet delightful Hermanus eatery.
They have a good menu, with highlights like steak, sushi, sweet treats and beautiful seafood to set you well on your way to gastronomic delight.
What's more, service is good and the restaurant ambiance is both soothing and warm.
Contact: +27 (028) 312 3611
Website: N/A
Address: LB Seafood Bistro on the Bay, Village Square, Market Square Street & Marine Drive, Hermanus, Western Cape, South Africa.
#10 Belgian Waffles, Beer and Burgers
If you need a waffle, beer or burger fix – then this eatery has your name written all over it in bold letters.
The staff are friendly and welcoming, the setting is informal, yet inviting and the food and drink are great.
So, whether you tuck into the sizable Belgian, sugar-free waffles, sip on some Belgian beer or enjoy a good, strong cup of coffee, you are sure to enjoy your dining experience.
Best of all, the largely outdoor,shaded seating allows you to marvel at the sea views offered from within this little eatery.
Contact: +27 (072) 393 6704, thebelgianbakery@hotmail.com
Website: N/A
Address: Belgian Waffles, Beer and Burgers, Village Square, Hermanus, Western Cape, South Africa.
These are just some of perfectly scenic restaurants with ocean views that you will find in Hermanus!
Book your Hermanus Getaway Now!