Situated in South Africa's Gauteng province, Joburg is an exciting city, perfect for travellers, locals and coffee connoisseurs to enjoy.
It is also a place of food finds, quick eats and delicious culinary experiences to suit all tastes.
And because the city is so all-inclusive in its food provision, here are some of the most vegan-friendly restaurants in Johannesburg and surrounds:
#1 The Greenside Cafe
If you are craving a delicious, well-loved and entirely vegan eatery, then The Greenside Cafe is perfect for you.
Speaking to the principles of integrity, mindfulness (particularly mindful eating) and love for humans and our fellow creatures alike, this tranquil, self-professed 'vegan haven' is a true gem.
Owner Dimitri Gutjahr translates his passion for the planet (and all that is in it) into food and warmly welcomes both vegans and non-vegans to enjoy this charming cafe… and all its kind, conscious food and drinks!
It offers everything from wraps, salads to breakfasts, desserts to gourmet health burgers, pizzas, pastas and more and the drinks (both hot and cold beverage options) are just as good!
So, if you want to help save the planet one meal at a time, head to The Greenside Cafe!
Contact: +27 (011) 646 3444
Website: www.thegreensidecafe.co.za
Address: The Greenside Cafe, 34 Gleneagles Road, Greenside, Johannesburg, Gauteng, South Africa.
#2 The Fussy Vegan
Since its opening in 2018, The Fussy Vegan has been raking in rave reviews… and not just among vegans either!
Highlights include their burgers (fans are wild about the Beyond Burger), toasties and subs, sides like sweet potato wedges or seitan wings, as well as burritos and bowls to satisfy all your food cravings… There is something here for every kind of eater to enjoy!
The Fussy Vegan is a small eatery space but it is perfect for a quick bite or even your on-the-go daily nourishment. And best of all, staff are friendly, the food is solid right through and it's a way to show your respect and love for good food and animal welfare, as you try new food tastes.
Contact: +27 (060) 716 6029, info@thefussyvegan.co.za
Website: thefussyvegan.co.za
Address:  The Fussy Vegan, Caltex Waterfall, Jan Smuts Avenue, Blairgowrie, Johannesburg, Gauteng, South Africa.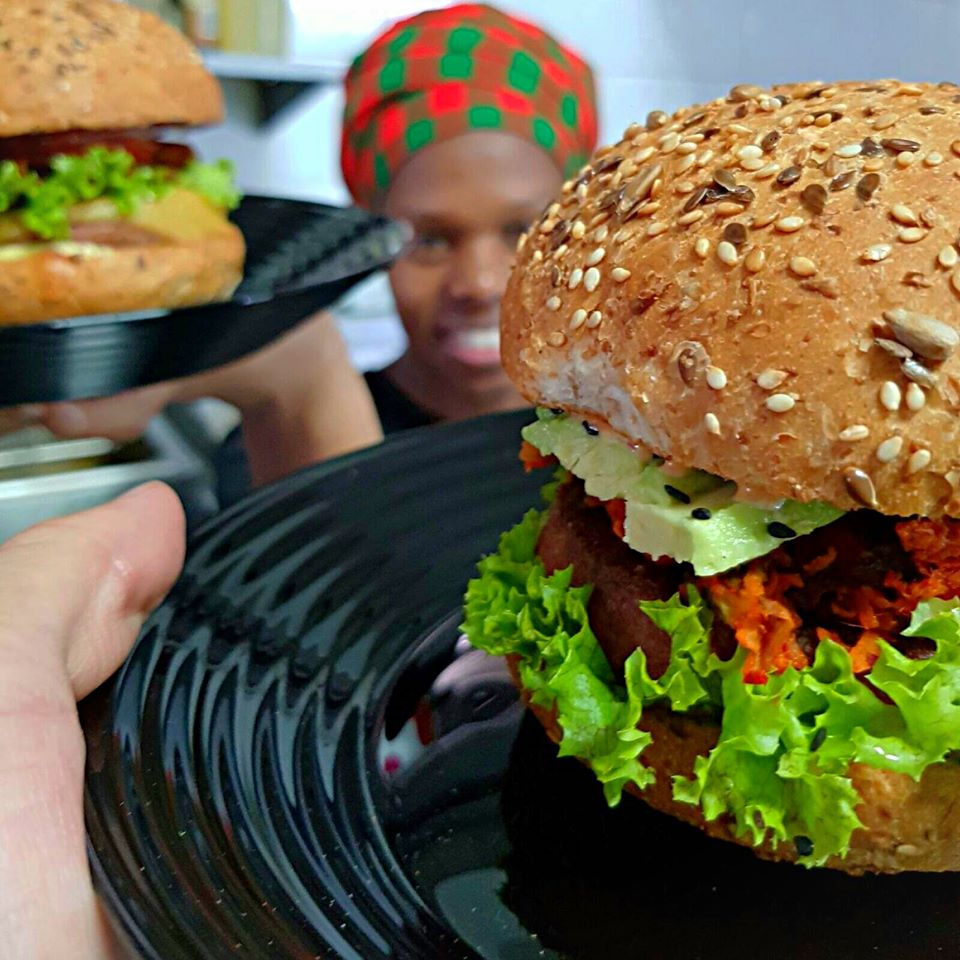 #3 Leafy Greens Cafe & Shop
Your parents were right to tell you to eat your greens – and at Leafy Greens Cafe, you can do that in style!
This cosy cafe – which aims to nourish your belly, as much as your mind and soul – is the place to go for fresh air, healthy eating and all things raw and natural.
Stroll through the beautiful gardens to reach the cafe, where you can tuck into a wide assortment of food and drink. Leafy Greens offers seasonal breakfast and lunch dishes (along with a kiddies menu too), desserts and beverages.
Everything at Leafy Greens is delicious… Opt for the breakfast buffet; gluten-free pancakes (served with berry coulis and vanilla gelato (optional)) or even the lunch winner, veggie curry… the options are endless.
Locals really love Leafy Greens – and when you visit, so will you.
Contact: +27 (010) 595 4563, +27 (082) 882 7300, mytable@leafygreens.co.za/office@leafygreens.co.za
Website: www.leafygreens.co.za
Address:  Leafy Greens Cafe, Plot 328, Rocky Ridge Road, Beyers Naude Drive, Muldersdrift, Gauteng, South Africa.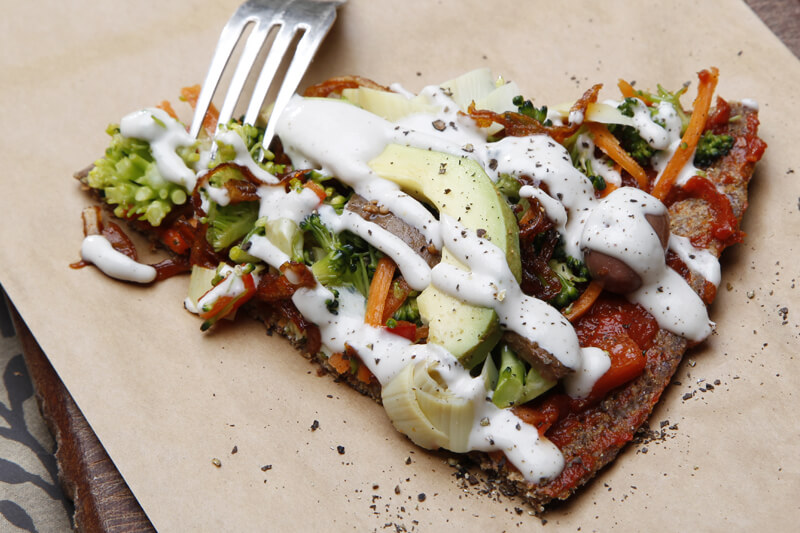 #4 Free Food 
What began in 2007 as a tiny cottage kitchen has grown into one of the most popular, long-standing plant-based eateries in Joburg.
Free Food offers a wide range of food, all of which is vegan, gluten/wheat-free, as well as sugar- and preservative-free too. Better still, they use only the finest, freshest ingredients to prepare their food and keep the kitchen free from microwaves, tin openers and fryers…
Join them for a plant-based meal of 'infinite possibility'; to sip a healthy smoothie; or even just to grab a hot beverage because Free Food is a wonderful, vegan-friendly spot for all.
Contact: +27 (082) 406 4699, ariel@freefood.co.za
Website: www.freefood.co.za
Address:  Free Food, 1 Delta Road, Johannesburg, Gauteng, South Africa.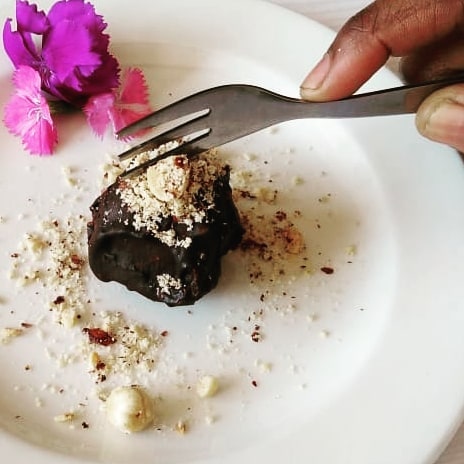 #5 Fresh Earth
With a goal to provide food that is "delicious, healthy, organic, sustainable and nutritious food that is as close to nature as possible", Fresh Earth is one of the handiest places around.
This food store-meets-restaurant is your best stop for all things vegetarian, vegan, raw and gluten-free, as well as banting- and diabetic-friendly. They provide you with lovely food experiences that are as good for your body as they taste.
Pop by for a great meal or, if you're in a hurry, snag a takeaway optio… Either way, you're in for a health-conscious meal. Plus, locals agree – service is friendly and welcoming, helping to cement an all-round great experience.
Contact: +27 (011) 646 4404, support@freshearth.co.za
Website: https://www.freshearth.co.za/healthy-recipes-more/fresh-earth-cafe-restaurant
Address: Fresh Earth, 103 Komatie Street, Emmarentia, Johannesburg, Gauteng, South Africa.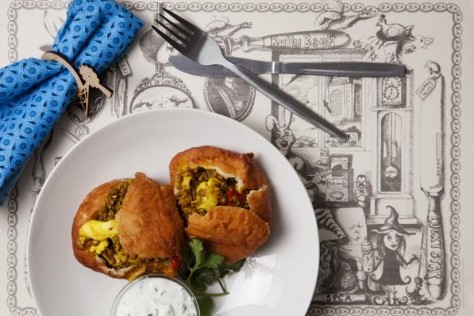 #6 Lucky Bean Restaurant
If you want to savour great African food in Melville, then Lucky Bean could become your new haunt.
While Lucky Bean Restaurant is not strictly vegan, they do offer some mouthwatering vegan options. Especially ideal if you decide to visit with friends or family who aren't practicing vegans, as that way you can all find a great meal off their menu.
With a warm, relaxing and comforting atmosphere, delicious food and a beautiful restaurant setting, Lucky Bean (named after the Erythrina Lysistemon or Coral Tree) is a nice place to enjoy a meal.
Note: While they aren't necessarily vegan – they do cater nicely to both vegans and vegetarians.
Contact: +27 (10) 900 1626, info@luckybeanrestaurant.co.za
Website: www.luckybeanrestaurant.co.za
Address: Lucky Bean, 16 on 7th Street
Melville, Johannesburg, Gauteng, South Africa.
#7 Sprout Cafe & Salad Bar
Sprout Cafe & Salad Bar offer a nice range of food options for everyone – most especially vegans, vegetarians and healthy eaters! In fact, they have an extensive variety when it comes to vegan, vegetarian and even gluten-free meals.
There is so much to choose from here and everything is healthy and oh-so-delicious!
So visit them for an excellent salad, vegan cappuccino, mouthwatering smoothie and much, much more!
Contact: +27 (011) 452 3003
Website: N/A
Address:  Sprout Cafe & Salad Bar, Shop 11, Stoneridge Centre, Greenstone Hill, Edenvale, Johannesburg, Gauteng, South Africa.
#8 Lexi's Healthy Eatery
With branches in Rosebank, Modderfontein and stylish Sandton, Lexi's is nicely spread out to offer guests an array of sustainable, conscious, moral and above all, healthy food.
Using mostly plants-based ingredients and as little processed food (including animal products) as possible, Lexi's – though not purely vegan or vegetarian – endeavours to cater to all palates, diets and preferred tastes.
The menu offers things like breakfast (with tofu options), smoothie bowls, wraps/sarmies and nibbles too. What's more, there is something suitable for everyone to eat and drink here.
So if you wish to embark on a journey to become more food- and planet-conscious… or slowly introduce your loved ones to a more vegan-friendly way of eating without them giving everything up at once, Lexi's might be a good place to start.
Note: While they aren't necessarily vegan – they do cater nicely to both vegans and vegetarians.
Contact: +27 (083) 300 1210, info@lexiseatery.com
Website: lexiseatery.com
Address: Lexi's Healthy Eatery, 24 Central Centre, 6 Gwen Lane, Sandown, Sandton, Johannesburg, Gauteng, South Africa.
#9 Urbanologi
For those seeking 'urban garde cuisine', the unique Urbanologi Restaurant, situated in the Mad Giant Brewery, makes for an entrancing food experience.
And while are not purely vegan or vegetarian, their menu does cater for both vegan and vegetarian meal preferences.
They might be based in the oldest part of Johannesburg – but their ways and concepts are cutting edge and altogether modern. They believe in ethical culinary practices, promoting sustainability, wholesome cooking and above all, zero waste.
Ingredients are freshly sourced from selected local farms and the menu speaks to this, with its seasonal influences and constant changes.
So if you are looking for an impressive, eye-opening and award-winning restaurant, visit Urbanologi today.
Note: While they aren't vegan – they do cater nicely to both vegans and vegetarians, with vegan- and vegetarian-friendly meals available.
Contact: +27 (011) 492 1399, reservations@urbanologi.co.za
Website: www.urbanologi.co.za
Address: Urbanologi, Mad Giant, 1 Fox Street, Ferreirasdorp, Johannesburg, Gauteng, South Africa.
#10 Barazza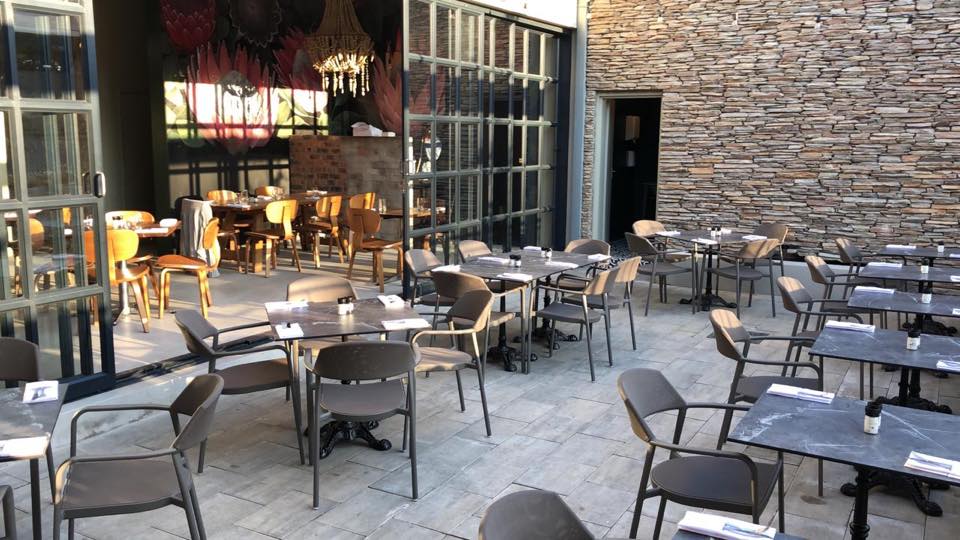 Although they are unfortunately not a vegan or vegetarian restaurant, Barazza still offers a few great options for vegans and vegetarians.
So if you are comfortable dining in a restaurant that still serves meat and other non-vegan products, keep them in mind.
They offer everything from tapas-style food and scrumptious breakfasts to lunch and dinner or even Friday cocktails in the courtyard. Yummy vegetarian and vegan options include things like the Vegetarian Burger, Vegan Bolognese, Vegetable Korma and more.
This classy restaurant oozes charm with its simple, yet beautiful atmosphere, stunning food presentation and fun meal concepts.
They have been making waves since their opening in July 2019 and the reviews are stellar across the board… So if you are keen to try this hot, new restaurant and don't have any dining inhibitions, find them in Hobart Grove Centre.
Note: While they are not vegan – they do still specifically cater to both vegans and vegetarians, thanks to a few select menu items.
Contact: +27 (011) 706 0991
Website: N/A
Address:  Barazza, Hobart Grove Centre, 52 Hobart Road, Johannesburg, Gauteng, South Africa.
These are just a few of the most vegan- and vegetarian-friendly restaurants and food options in Joburg and surrounds!