Cape Town is a city that offers many delights for young and old. Fortunately, along with all the excellent activities geared at families, the Mother City – and the surrounding Winelands regions – offer plenty of incredibly lovely, family friendly eateries too.
Found in the beautiful Western Cape, Cape Town is one of South Africa's most spectacular cities, offering gorgeous experiences, restaurants and places to explore.
Here are the top ten family friendly restaurants in Cape Town:
#1 Dunes Beach Restaurant
Situated in Hout Bay, Dunes is one of the most family friendly restaurants you will find in Cape Town… and beyond.
With gorgeous views of the mountains and bay, good service in a lovely setting (with a choice between either indoor or outdoor tables) and an excellent play area for children, Dunes ensures quality family time without compromising on the finer things in life.
Their menu offers a nice selection of adult and child meal options, so no one gets left out. Some of the menu's standout dishes include the seafood platter, an array of sushi options, sirloin steak, pizza – and kiddie ribs, homemade chicken nuggets, spaghetti bolognese and kiddies' burger to keep the younger, pickier eaters content too.
If you and your family are looking for a classy, yet relaxed Cape Town restaurant, head to Dunes.
Contact: +27 (021) 790 1876
Website: www.dunesrestaurant.co.za
Address: Dunes Beach Restaurant, 1 Beach Road, Hout Bay, Cape Town, Western Cape, South Africa.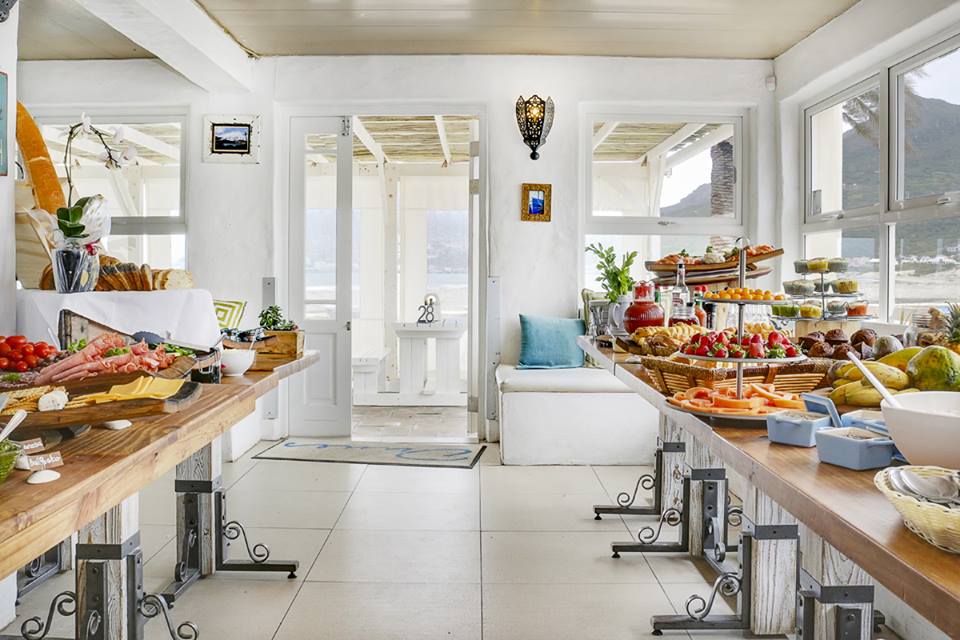 #2 Clay Cafe
If you are craving fun experiences and good food, then the Clay Cafe has you well covered on both fronts.
This charming, family-run establishment offers both fun ceramic painting, a peaceful setting and good times for young and old.
In addition to their excellent menu and play facilities, guests can also host parties, school outings, team buildings and more here.
So next time you need a soothing experience with your food, pop by Clay Cafe!
Contact: +27 (076) 810 5120, (062) 455 6578, info@claycafe.co.za
Website: claycafe.co.za
Address: Clay Cafe, 4080 Main Road, opposite Bokkemanskloof Estate, Hout Bay, Cape Town, Western Cape, South Africa.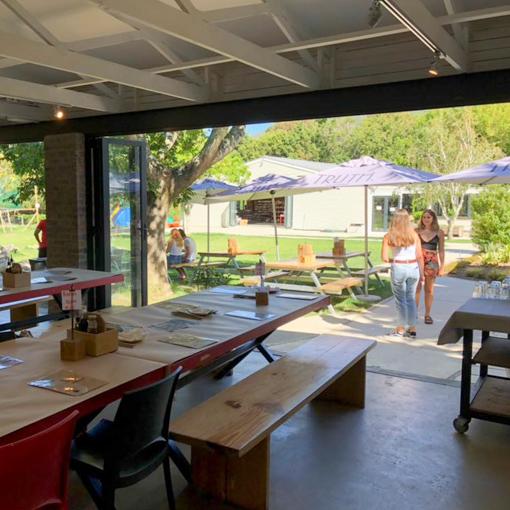 #3 cafe Roux
cafe Roux is both a child- and dog-friendly eatery, which is one of the most popular places in the Mother City, for this and plenty of other reasons.
With excellent outdoor play facilities, a soothing atmosphere (enhanced by live music performances) and good food options to boot, it seems there is little cafe Roux doesn't offer its visitors!
Additionally, they have a good menu for both adults and children so everyone can enjoy a fitting meal at this cool cafe!
Contact: +27 (021) 789 2538, info@caferoux.co.za
Website: www.caferoux.co.za
Address: cafe Roux, Noordhoek Main Road & Village Lane, Noordhoek, Cape Town, Western Cape, South Africa.
#4 The Gardener's Cottage Restaurant
With exquisite grounds and traditional, heartwarming cuisine, The Gardener's Cottage is charming by all accounts.
Best of all, with its lovely indoor and outdoor spaces, it is very much family friendly, allowing families the chance to enjoy some fresh air and garden walks during their visit.
Join them under the vast Camphor trees for breakfast, lunch or tea – you won't regret it!
Contact: +27 (021) 689 3158, gardenerscottage@telkomsa.net
Website: www.montebello.co.za/the-gardeners-cottage.htm
Address: The Gardener's Cottage, 31 Newlands Avenue, Newlands, Cape Town, Western Cape, South Africa.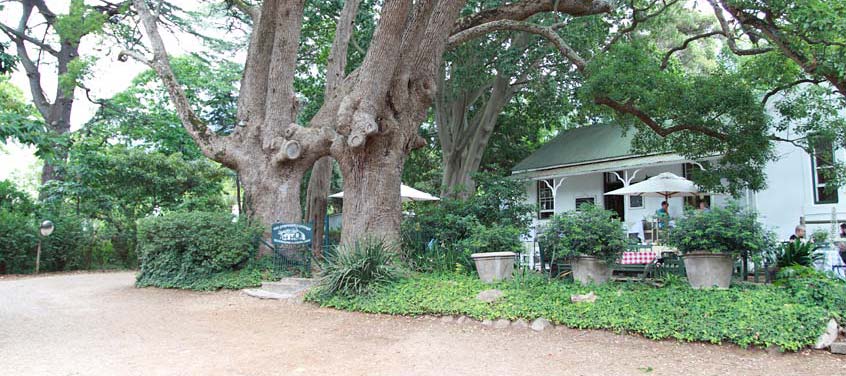 #5 Bon Amis at Bloemendal
If ever a place was made for children to run riot outdoors at and lose themselves in a world of exciting play areas and jungle gyms, then it has to be Bon Amis.
Situated on Bloemendal Estate in the Durbanville Wine Valley, Bon Amis is truly a delight for families. Offering both classy indoor seating and more relaxed outside tables, it is the perfect blend of classy and carefree.
The restaurant also has some quality menus – including a la carte, lunch and kiddies' options – so guests are sure to enjoy a fine meal in a truly tranquil winelands setting.
Contact: +27 (021) 976 2682, info@bonamis.co.za
Website: www.bonamis.co.za
Address: Bon Amis, Bloemendal Wine Estate, M13 Tygervalley Road, Durbanville, Cape Town, Western Cape, South Africa.
#6 Damhuis Restaurant
This quality family venue has so much to offer visitors… Incredible food (especially its seafood and traditional South African food!), a family- and pet-friendly space and a great ambiance with pretty views to boot.
For those who wish to bring their whole family along – furry friends included – Damhuis is one of the best restaurants to visit. Plus,the value-for-money food portions are generous and tasty every time!
Add friendly, efficient service in a beautiful setting… and you are all set for a gorgeous outing near the sea!
Contact: +27 (021) 553 0093
Website: www.diedamhuis.co.za
Address: Damhuis Restaurant, 32 Beach Road, Melkbosstrand, Cape Town, Western Cape, South Africa.
#7 The Stone Kitchen at Dunstone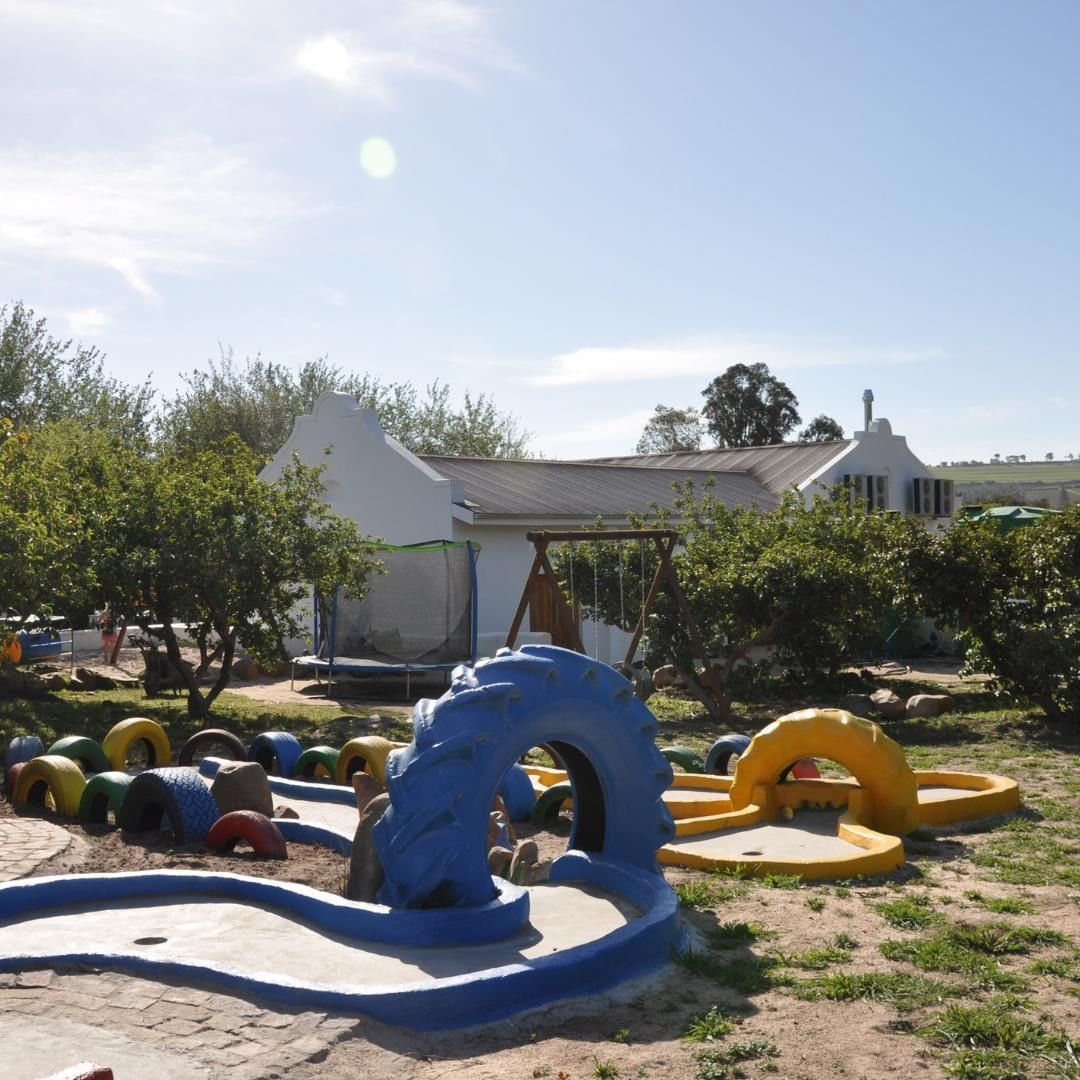 Although it is situated in Wellington, The Stone Kitchen at Dunstone Country Estate deserves to be on every family friendly list, focusing on places in and around Cape Town.
It's one of the most delightfully family friendly, elegant (yet relaxed) bistros you will find anywhere.
With gorgeous indoor and outdoor seating, peaceful garden areas and both indoor and outdoor play areas for children, The Stone Kitchen is an experience the whole family can enjoy… even well-behaved, friendly pooches!
The food (and wine) at The Stone Kitchen is equally great and service is friendly and warm, making you feel thoroughly welcome as you enjoy some quality family time out in the Cape Winelands.
Contact: +27 (021) 873 6770, 060 340 1635, 078 860 9721, food@dunstone.co.za
Website: www.dunstone.co.za/bistro
Address: The Stone Kitchen, Dunstone Country Estate, Wellington, Western Cape, South Africa.
#8 Tables at Nitida
Tables at Nitida looks like something out of Hansel and Gretel… Thankfully though, in strong contrast to the fairytale, it is very much family and child-friendly so you don't need to worry about any scheming witches here!
With its picture-perfect setting on the gorgeous Nitida Wine Farm, this lovely, laidback restaurant is suitable for young and old to enjoy. The restaurant also offers everything from breakfast to lunch to cakes and mouthwatering savoury platters!
It is, in every way, a charming, family friendly eatery, ideal for groups of friends and family and couples to enjoy.
Contact: +27 (021) 975 9357, tables.nitida@gmail.com
Website: nitida.co.za/tables-at-nitida-restaurant
Address: Tables at Nitida, Nitida Wine Farm, Cape Town, Western Cape, South Africa.
#9 Joostenberg Bistro
A winelands gem near Stellenbosch, Joostenberg Bistro is a firm family favourite. Offering simple, good food from seasonal menus, cosy interiors and beautiful garden spaces, Joostenberg Bistro is a delightful eatery in so many respects.
As a bonus, the outdoor spaces allow children the space to run about and play in a safe, beautiful environment so families of all ages can relish this wonderful winelands bistro.
Contact: +27 (021) 8844208, bistro@joostenberg.co.za
Website: joostenberg.co.za/the-bistro
Address: Joostenberg Bistro, Klein Joostenberg. R304 Muldersvlei, Stellenbosch,Western Cape, South Africa.
#10 Peppa Jack's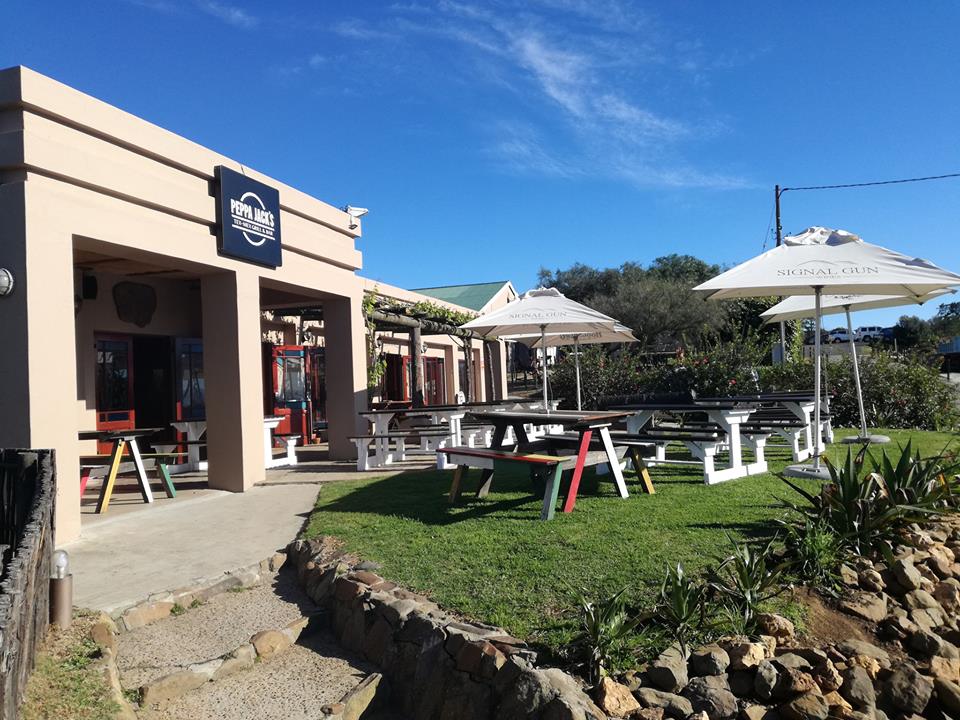 Peppa Jack's is a fun Mexican-style eatery, which offers great food, a casual, yet lovely atmosphere and excellent play facilities for children to enjoy.
It's ideally suited to families and groups of friends. Plus, their authentic Mexican cuisine is hugely appealing and good value for money.
For those seeking a fun date night experience, meal out with family or friends in a pretty setting or simply the ideal place to try authentic Mexican food, this Durbanville restaurant is the one for you.
Contact: +27 (021) 975 5606, bookings@peppajacks.co.za
Website: www.peppajacks.co.za
Address: Peppa Jack's, Thaba Park, 19 Hooggelegen Road, Durbanville, Cape Town, Western Cape, South Africa.
These are just some of the delightful family friendly eateries you can enjoy in Cape Town and its surrounding areas… Which is your family most eager to try?
Book your Cape Town Getaway Today!