Ballito, found in KwaZulu-Natal, is a beach paradise, filled with gorgeous beach spots, fun local attractions and good restaurants for visitors to enjoy.
Situated along KZN's Dolphin Coast, Ballito is a place of natural, vibrant beauty… With the ocean kissing its shorelines, this special town offers plenty of breathtaking scenery and outdoor thrills.
It's no surprise then that the local establishments, particularly its restaurants, benefit from this ocean beauty…
Here are the top ten restaurants, in or around Ballito and surrounds, that are blessed with sea views:
#1 Al Pescatore
If you are looking for a warmly welcoming Italian- and seafood-restaurant with gorgeous ocean views, good food and excellent service, then Al Pescatore is the place for you.
This cosy Italian eatery – which offers a wide assortment of delicious dishes, cocktails, local wines and much more – is a consistent favourite among Ballito locals and visitors alike.
It is one of the oldest and best Ballito restaurants around – and they have successfully stood the test of time, changing as needed to accommodate more modern eating wishes.
Plus, with its deck seating – which offers prime views of the balmy Indian Ocean – this is one of the best spots in Ballito to enjoy uninterrupted ocean scenery as you eat.
Contact: +27 (032) 946 3574,  info@alpescatore.co.za
Website: www.alpescatore.co.za
Location: Al Pescatore Italian Restaurant, 14 Edward Place, Ballito, KZN, South Africa.
#2 Two Shrimps Restaurant
Situated a short drive away in Salt Rock, Two Shrimps Restaurant is another local gem when it comes to impeccable scenery.
Found inside Canelands Beach Club & Spa, Two Shrimps Restaurant is dedicated to providing guests with a memorable dining experience.
Whether it's dining on the pretty deck, sharing an intimate dinner for two on the beach or simply enjoying a hearty meal with your family, Two Shrimps has all the bases firmly covered… What's more, service is top class and the food is cooked to perfection, no matter what you order.
Two Shrimps really does have it all: good service, food and best of all, sublime ocean views.
Contact: +27 (032) 525 2300, info@thecanelands.co.za
Website: www.thecanelands.co.za/dining
Location: Two Shrimps Restaurant, Canelands Beach Club and Spa, 2 Shrimp Lane, Salt Rock, KZN, South Africa.
#3 NIKOS Ballito
With branches scattered across South Africa, the NIKOS restaurant franchise needs little introduction. And one of its most beautiful offerings is the Ballito branch: it offers the same incredible Greek fare – but with showstopping ocean views thrown in for good measure!
Affectionately known as 'NIKOS by the sea', this branch offers special sea views as it overlooks the beach. There is an outdoor deck (perfect for fair weather), where you can sit and enjoy the scenery while you eat, although the indoor seating is lovely too.
If you are craving a generous, great meal with good service and a lovely restaurant setting, NIKOS Ballito is a wonderful place to start.
Contact: +27 (032) 586 0493, ballito@nikosgreek.co.za
Website: nikosgreek.co.za
Location: NIKOS Coalgrill Greek Ballito, 12B Compensation Road, Ballito, KZN, South Africa.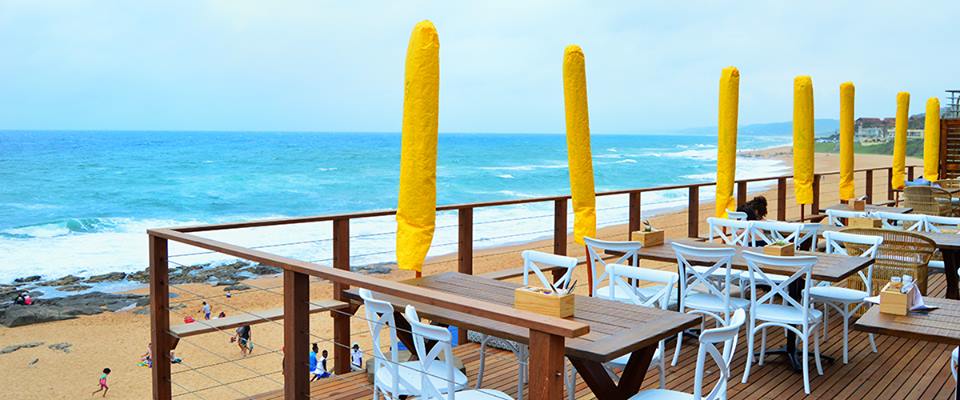 #4 Salt Cafe
While not in Ballito itself, Salt Cafe lies a short drive away in Shaka's Rock… Still, it is well worth the drive to enjoy all the charm and perfect beach views!
This cheerful, little cafe is situated across the road from Shaka's Rock Beach so it offers beautiful sea views.
Specialising in mouthwatering coffee and thin, wood-fired pizza, Salt Cafe also offers a good mix of pastries, toasties, smoothies and frappes.
Order a takeaway pizza or coffee-to-go and enjoy it by the beach or dine at the cafe and soak up the warm vibe… Either way, you will love Salt Cafe.
Contact: +27 (032) 525 5576
Website: saltcafe.co.za
Location: Salt Cafe, Corner of Ocean Drive & Old Main Rd, Shaka's Rock, KZN, South Africa.
#5 The Galley Beach Bar & Grill Seafood Restaurant
Found right on the beach, The Galley Beach Bar & Grill Seafood Restaurant is blessed with the best when it comes to ocean views and beach vibes.
This restaurant, which offers excellent service and tasty food, is known for offering authentic, local seafood cuisine, stunning views (think: crashing waves stretching into the horizon) and a taste of Ballito in every sense. It's perfect for family dining or catching up with friends.
Note: They can get very busy, especially during lunch- and dinner-time, so you may have to wait a bit… but it is so worth it!
Contact: +27 (032) 946 2546, thegalleyballito@yahoo.com
Website: N/A
Location: The Galley Beach Bar & Grill , 17 Compensation Beach Road, Ballito, KZN, South Africa.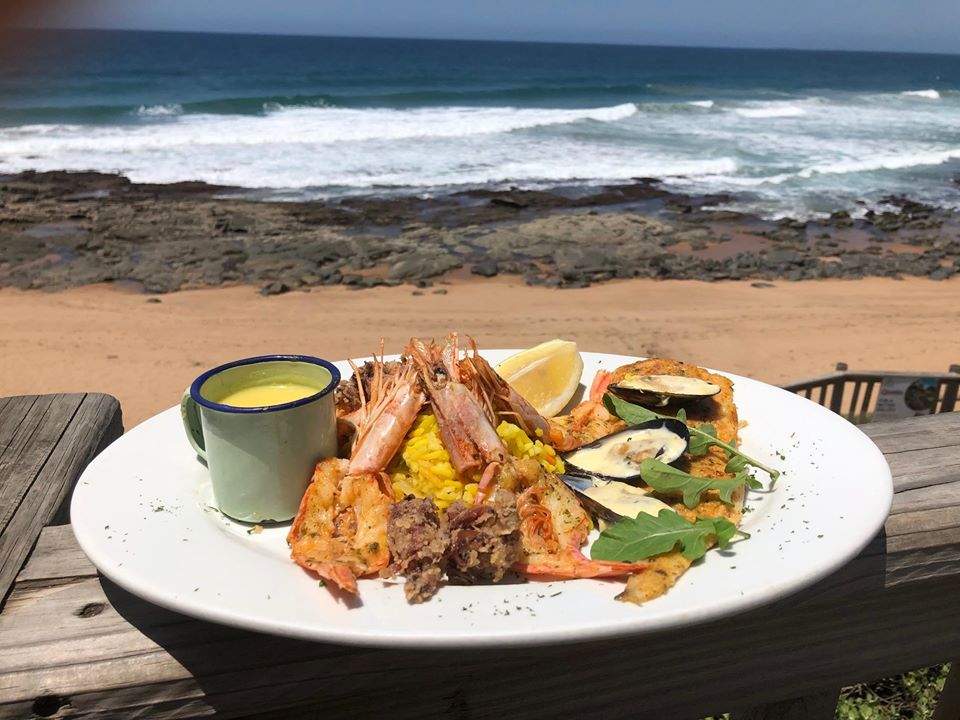 #6 Thava Indian Restaurant
This classic Indian eatery offers a beautiful restaurant setting, good service, beautiful sea views and tantalising foods to keep you coming back time and again.
Owner Mathew Abraham opened Thava to give residents a chance to enjoy food from his native Kerala region. Now, Thava uses only the freshest ingredients and offers a unique Indian tapas experience – aromatic small plate food, perfect for sharing.
This Ballito branch offers lovely ocean views, making it the ideal spot to enjoy seaside dining or even hosting a special function.
Contact: +27 (078) 802 7427, info@thava.co.za
Website: http://www.thava.co.za/thava-indian-restaurant.html
Location: Thava Indian Restaurant, 33 Compensation Beach Road, Salmon Way, Ballito, KZN, South Africa.
#7 Gianni's Beachfront Ristorante
Serving up Italian continental-meets-seafood cuisine and spectacular sea views, Gianni's Beachfront Ristorante – fondly referred to as 'Ballito's Little Italy' – is a wonderful restaurant to enjoy with your family and friends.
In addition to their Mediterranean-style menu, they also offer some South African favourites, so there is something for everyone to savour.
This cheerful spot has arguably some of the best views on the coast, making it a must-visit for those residing in or passing through Ballito.
Note: Gianni's is completely wheel-chair friendly, both in terms of access and bathroom facilities.
Contact: +27 (032) 9463217, info@giannis.co.za
Website: giannis.co.za
Location: Gianni's Ristorante, 17 Compensation Beach Road, Ballito, KZN, South Africa.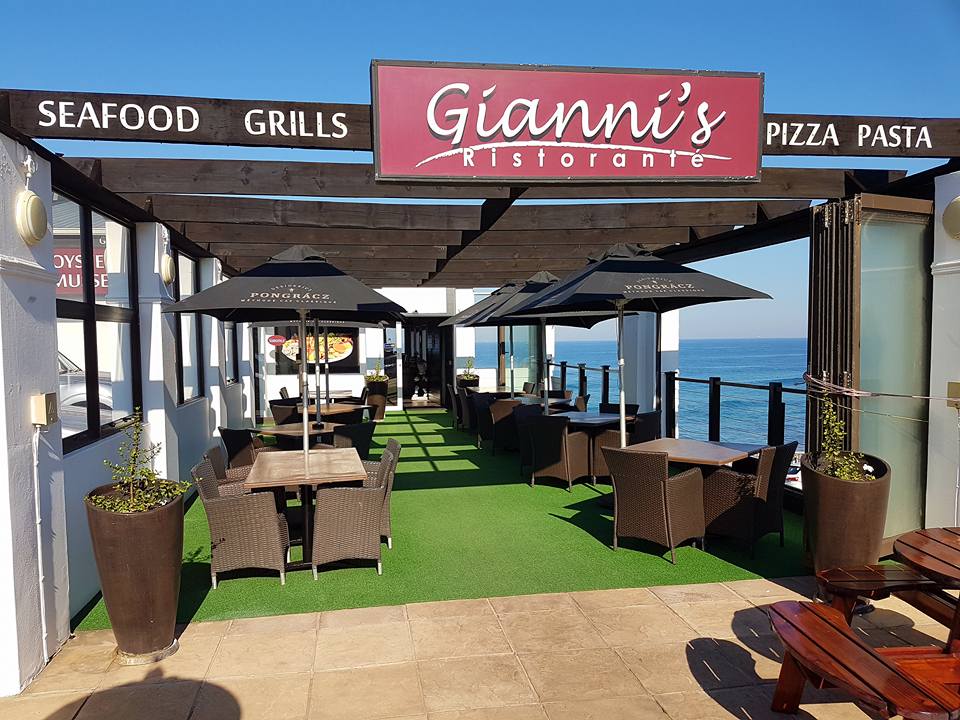 #8 Impulse By The Sea
For the curry lovers (and really, who isn't one?), Impulse By The Sea is like a match made in (beach) heaven. Their curries are full of flavour and body, leaving guests raving and eager to return soon.
Plainly put: Impulse By The Sea is South African Indian cuisine at its best and it shows. And if that isn't enough to tempt you, the views, good service and outstanding, welcoming atmosphere certainly will…
Join them for a special meal that will leave your senses singing with joy.
Contact: +27 (072) 790 8901
Website: N/A
Location: Impulse By The Sea, 167 Seaview Drive, Tinley Manor Beach, Ballito, KZN, South Africa.
#9 Concha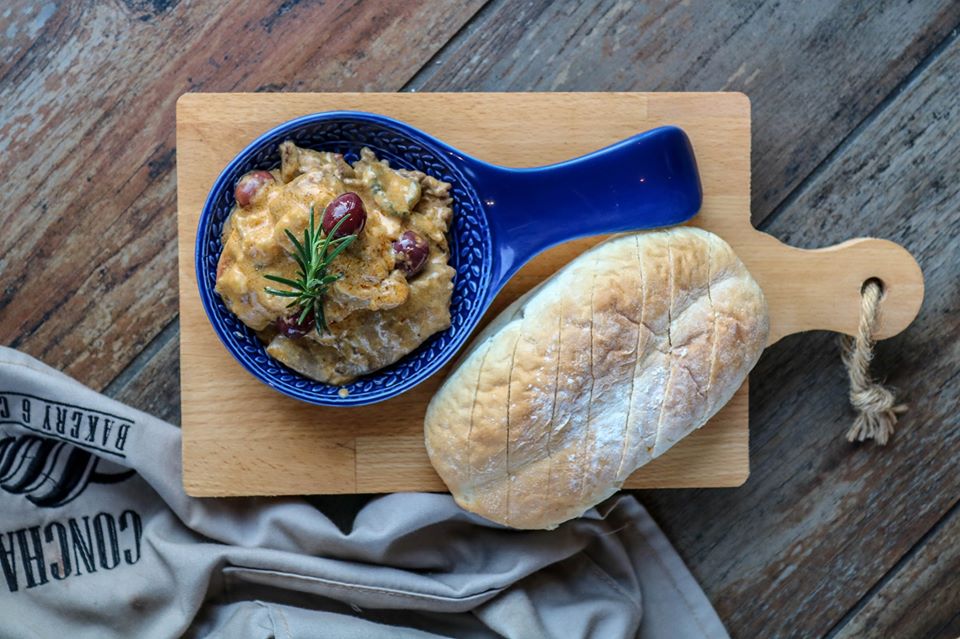 Locals agree that Concha Bakery & Cake Ballito – a delightful family-run bakery in the heart of Old Ballito village – is one of the best little bakeries around… and it doesn't hurt that it is so close to the beach and is blessed with beautiful views!
If you are craving something sweet or savoury, Concha has you covered, as they offer an excellent array of baked goods and fresh coffee… Think: waffles, biscuits, croissants and more!
It is also wonderfully cosy inside, with lovely, soothing decor – and service is always friendly.
Contact: +27 (032) 815 2992
Website: N/A
Location: Concha Bakery & Cafe, 18 Compensation Beach Road, Ballito, KZN, South Africa.
#10 Hops Ballito
At Hops Ballito, guests can enjoy both great food and drinks and lovely sea views.
Situated right on the beach, Hops invites you to join them for good food, a large variety of draught beer and of course, seaside scenes that dreams are made of. The views here are quite something and diners agree: Hops offers an excellent selection of both food and drinks (everything from beer to G&T).
At Hops, service is good and the atmosphere pleasant, all of which helps to ensure it is an ideal spot for you and your loved ones or friends to enjoy.
Note: Hops is also happily child-friendly and even offers a menu and dedicated play area for the little ones.
Contact: +27 (032 946 2895/6
Website: www.hopsballito.co.za
Location: Hops Ballito, 14 Edward Place, Ballito, KZN, South Africa.
These are just some of the restaurants around Ballito where you can enjoy spectacular views while you dine… Have you been to any of them yet?
Book your Beautiful Ballito Getaway Today!