A tropical paradise known for its azure blue ocean, adventure water activities and the superb mix of African and Indian cultures… There are multitudes of flavours, spice and fragrances to sample and enjoy in the food.
It's not called the spice island for nothing so come expecting dishes carefully prepared with a cacophony of spices.
Here's a few favourites you should try when visiting Stone Town…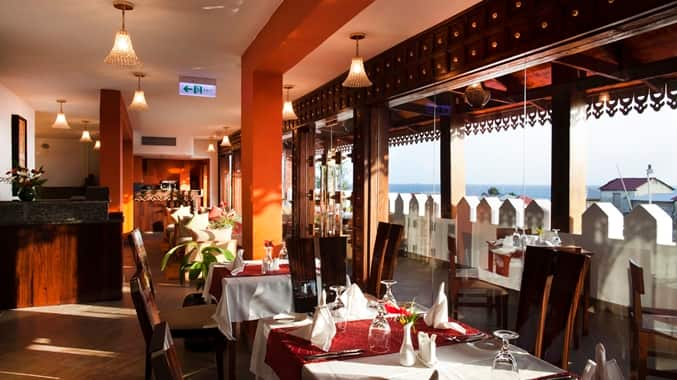 1. Taarab Restaurant
Atop the Double Tree by Hilton Hotel in the heart of Stone Town is a roof top restaurant overlooking  the old city and the ocean.
These are one of the restaurants which really impart the romance of Zanzibar especially once sun sets and night falls.
Enjoy scrumptious breakfasts in the morning, sundowners in the evening and warm dinners  at the a la carte restaurant outside on the terrace.
The Chef is known for creating marvelous meals and the team are known for wonderful gestures of hospitality.
90 / 90A Shanghani St | DoubleTree by Hilton Hotel Zanzibar, Stone Town, Zanzibar City, Tanzania
+255 24 223 4062
Website: doubletree3.hilton.com 
2. Tea House Restaurant
Get whisked away by the romance of Stone Town and book your seat at The Tea House at Emerson Hurumzi showcasing true Swahili style with lush Persian rugs, low tables and live traditional Taarab music.
Known for serving up some of the best meals in Zanzibar, one cannot help but get swept away to another time and relax into Afro-Persian luxury.  
The restaurant only seats 35 guests so reservations are essential for lunch and dinner.
236 Hurumzi Street | Emerson on Hurumzi, Stone Town, Zanzibar City, Tanzania
+255 24 223 2784
Website: emersononhurumzi.com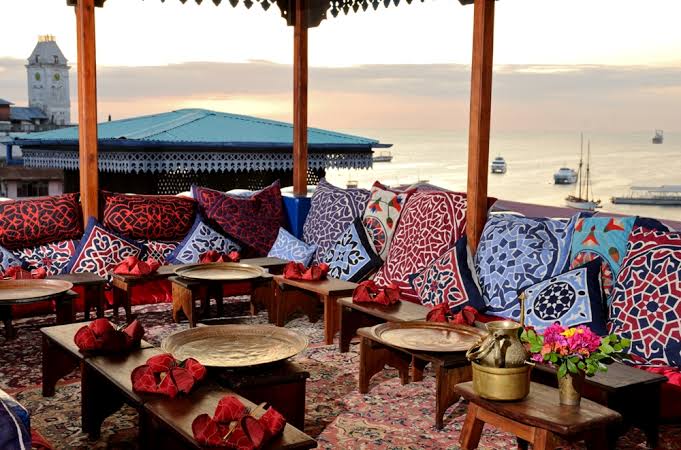 3. Ma Shallah Cafe
Started by local Yaseer, this buzzing restaurant is said have some of the best Indian meals in Zanzibar and this comes from Indian guests who tend to be very choosy about how their Indian meals are prepared.
With well loved briyanis and butter chicken, fresh juice and fresh food, this is a stop you can't miss on your culinary journey through the city.
Watch how the naan is baked and sit outdoors watching the world go by.
Mkunazini Street | Stone Town, Zanzibar City, Stone Town, Zanzibar City 4151, Tanzania
+255 24 223 3444
https://www.facebook.com/MaShaaAllahCafe/
4. Lukmaan Restaurant
Keen to experience the authentic flavours of Zanzibar? Lukmaan Restaurant is place you can't miss out on and opens from 7am to 9pm.
Without a menu, you just point and choose what tickles your fancy.  You'll find delicious dishes like biryani, pilau rice, fried fish, a variety of pre-made curries, and a selection of deep fried snacks like samosas and mandazis.
Favorites include octopus curry, pilau rice and you can except to pay an average of 5,000 TZS ($2.92) per person
It's located on New Mkunazini Road,  just a short distance from the Anglican Church and former slave market.
5. Passing Show Hotel
Another local goody is the Passing Show Hotel also serving famous Zanzibar dishes like goat and fish biryani, rice pilau, beans, stewed vegetables and a full assortment of deep fried snacks.
Add the delicious tamarind juice with a meal. Practically anything you eat here from curries to briyanis will bring delight to your mouth and mealtime.
6. Forodhani Gardens
Visit Forodhani Gardens every evening at 5pm where street food vendors unite to bring their dishes to passersby.
Choose between Zanzibar pizza-a roti filled with meat, veggies, an egg and cheese and then wrapped up and fried, a chicken shawarma stall, urojo- a Zanzibar snack soup mix (popular with locals), and fresh sugar cane juice or an assortment of seafood such as lobster, fish, shrimp and octopus are displayed on skewers, pre-cooked, and when you order it, they will be quickly heated over charcoal.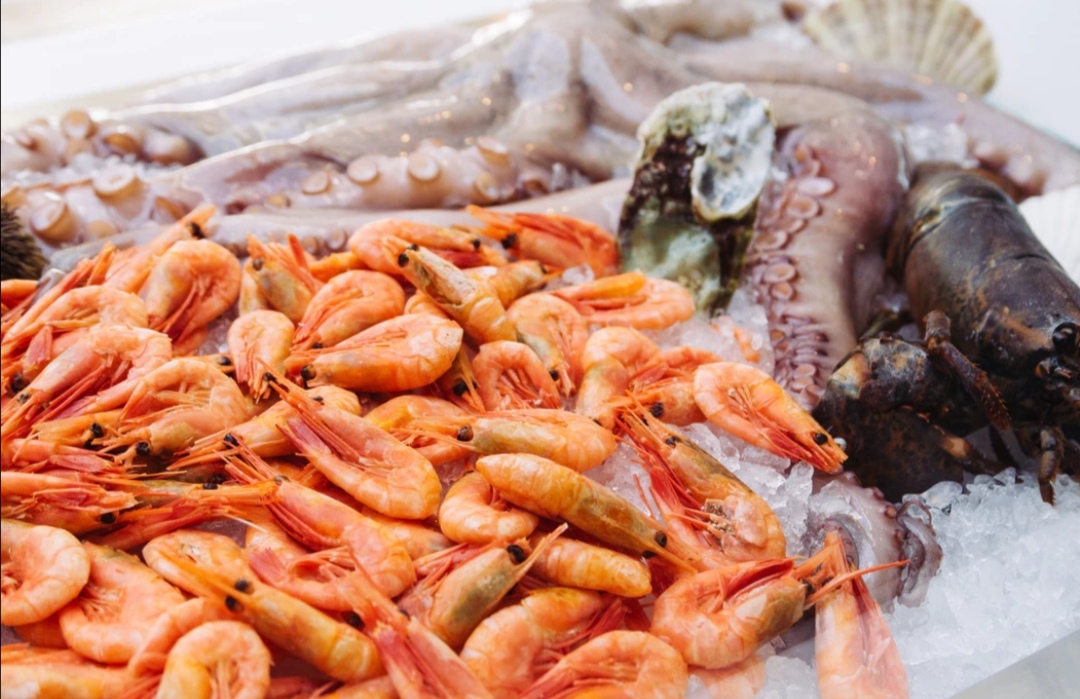 7. Mzuri Sana
Looking for simple food made well, then Mzuri Sana is a small Chinese-owned restaurant that serves delicious Tanzanian and Zanzibari food.
It's an informal restaurant where you select your meals and find a seat.
Find meals such as  eggplant, collard greens, fish tail soup, fried beef, chapatis, bread, mandazis, rice, cups of chai are a few of the dishes available.