Whether you're there on a peaceful break or passing through on a cross-country road trip, this beautiful Garden Route town's eateries will make a memorable impression.
Found along South Africa's favourite coastal stretch, the Garden Route – Knysna is a popular city for holidaying, adventures and seaside escapes. 
Here are the top restaurants to enjoy in Knysna:
#1 East Head Café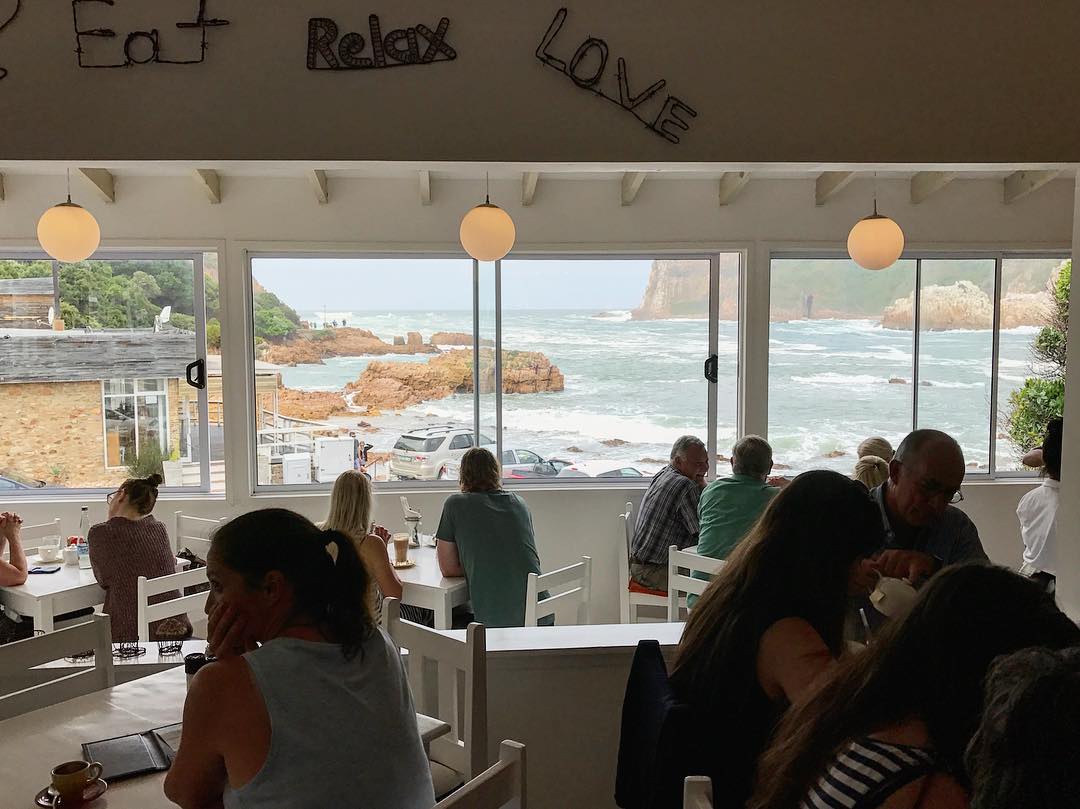 Photo credit: Bernat Orsolya via Instagram
So much more than a café or coffee shop, East Head Café is something of a landmark. Situated on the famous Eastern Head's rock, it offers wonderful views of the Knysna estuary and Indian Ocean.
Responsibly, the restaurant supports local suppliers and offers guests lovely seafood cuisine, including fish and chips and Cape Malay seafood curry.
Contact: (044) 384 0933
Website: http://www.eastheadcafe.co.za
Address: 25 George Rex Drive, The Heads, Knysna
#2 île de païn
In 2015, this popular local institution fell victim to a terrible fire. However, it re-opened recently, after chef-owner Liezie Mulder and master baker and chocolatier, Markus Farbinger transformed into a beautiful, light space.
The renewed restaurant/bakery is back with everything it was loved for previously: tasty meals, fresh artisanal breads and amazing pastries.
Contact: (044) 302 5705
Website: http://iledepain.co.za
Address: The Boatshed, Unit 10, Thesen Harbour Town, Knysna
#3 Freshline Fisheries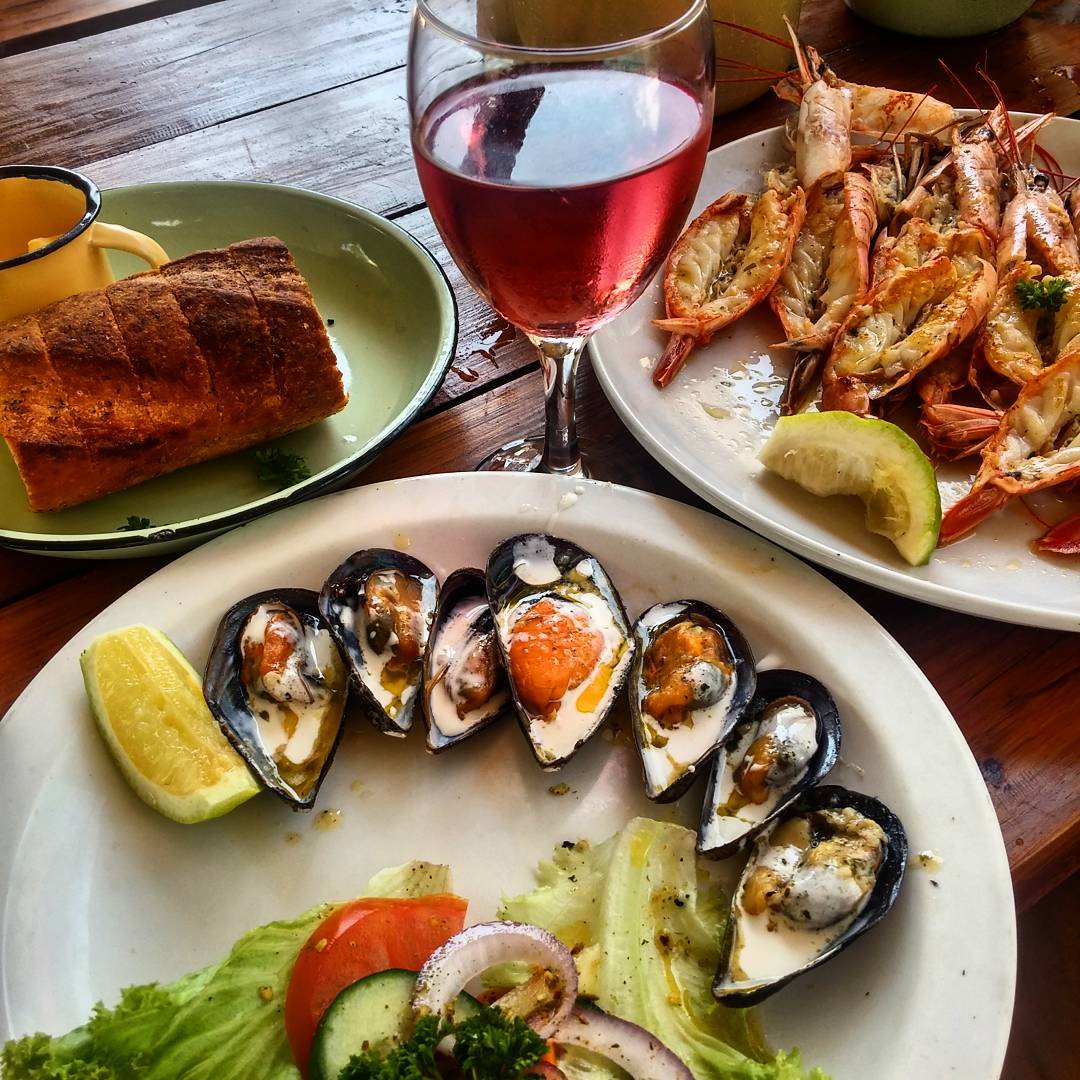 Photo credit: Olga G. via Instagram
This unique, seafood restaurant offers a wide variety of lovely seafood dishes on the beach. It's a perfect spot for a casual meal with those you love.
Enjoy favourites like fish and chips and Kingklip or the Wes Kus braai for delicious seafood fare in this outdoor beach restaurant. You can also buy fresh fish and frozen seafood to take home.
Contact: (044) 382 3131
Website: http://freshlinefisheries.co.za
Address: Railway Siding Dockyard, Corner of Long & Waterfront Drive, Knysna
#4 Anchorage Restaurant
The Anchorage is a traditional seafood restaurant in the epicentre of Knysna. It has been around for some 20 years now, and is considered one of Knysna's oldest restaurants.
Over the years, owner Brian has offered his guests an unforgettable dining experience, with excellent seafood – like fresh fish, Knysna Oysters, seafood platters – mature Angus beef, vegetarian and chicken too, at this well-rounded eatery.
Contact: (044) 382 2230, (083) 310 2135
Website: http://www.anchoragerestaurant.co.za
Address: 11 Gray Street, Knysna
#5 Caffé Mario
Located at the Knysna Waterfront Quays, Caffe Mario offers lovely Italian in a beautiful, scenic setting. It's a popular local eatery, for locals and visitors alike.
One of its most fun meals is the Super Mario full breakfast. They also offer tasty sandwiches, pastas, seafood, thin-crusted pizzas and wine.
Contact: (044) 382 7250
Website: http://www.knysnawaterfront.com/waterfront/restaurants.html
Address: Shop 9, Knysna Waterfront, Knysna
#6 Chatters Restaurant
This small, owner-run restaurant is vibey and is famous for its made-to-order, thin, crispy pizzas, which are made in their traditional, wood-fired oven.
They also offer homemade burgers, pastas, potato bakes, filled paninis, great desserts and takeaways, complemented by beers, wines and spirits.
Contact: (044) 382 0203
Website: http://www.chattersbistro.co.za
Address: 9a Gray Street, Knysna
#7 34 Degrees South Restaurant Knysna
This restaurant/food store, bakery, gift shop, fish monger, clothing emporium and bakery, with a fine wine shop on the side, offers a little something of everything at the appealing Knysna Quays.
Here, visitors will find fresh oysters, bread, wine, deli goods and even some sushi too. It's a good spot for groups and for kids and they also offer take-aways.
Contact: (044) 382 7331
Website: http://www.34south.biz
Address: Shop 19, Knysna Waterfront, Knysna
#8 African Bean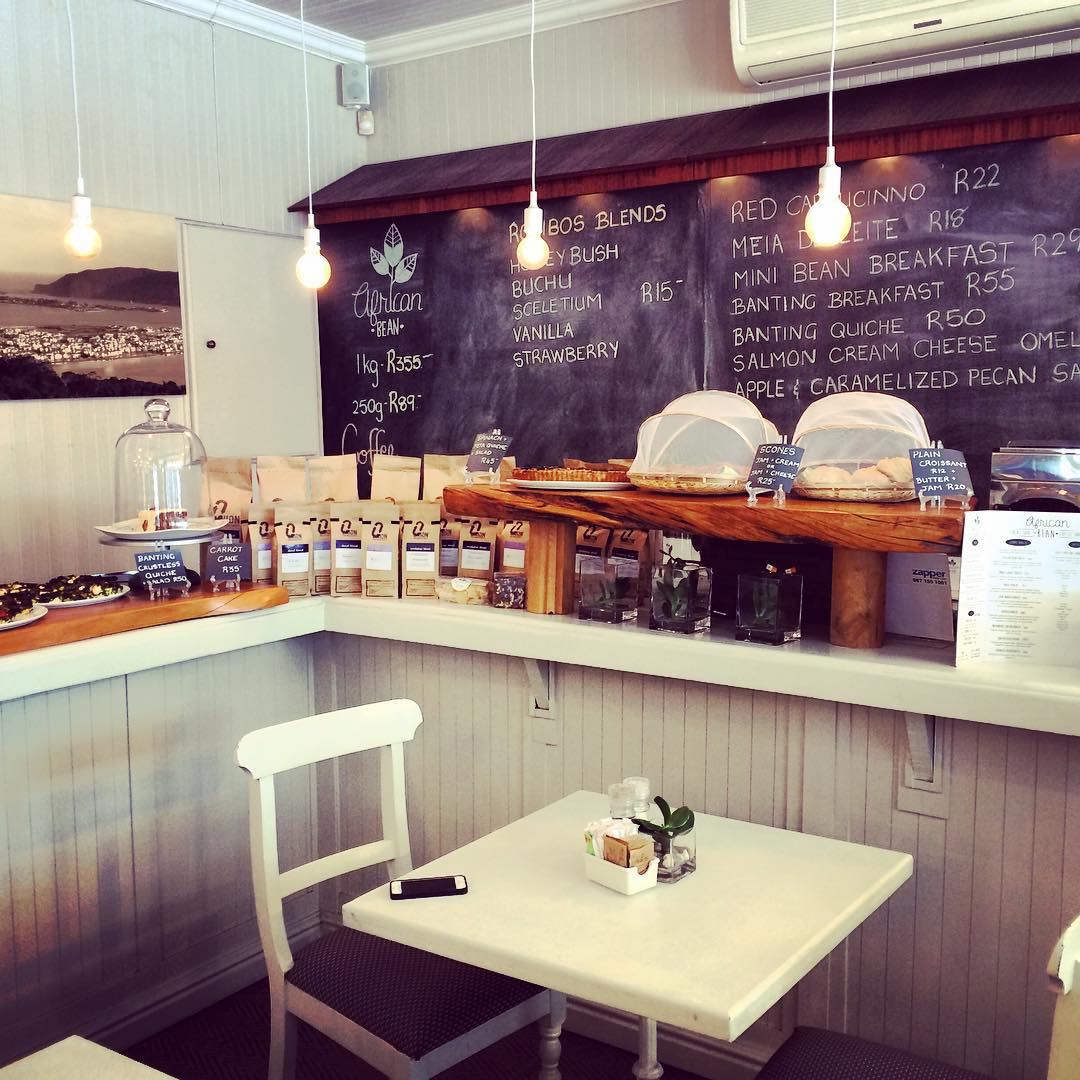 Photo credit: @ stefsterontheroad via Instagram
A favourite among locals, this vibey café was open for twenty-four years before it closed briefly. However, it re-opened in 2014 and is back serving lovely café fare, breakfasts, snacks, lunches and burgers – like the Buffalo burger.
It has a tasteful, cosy interior and is a wonderful meeting spot for friends, loved ones and travellers too.
Contact: (044) 382 2845
Website: none
Address: 29 Main Road, Knysna
#9 Sirocco
This sister restaurant to 34 South and Tapas and Oysters is positioned on the water's edge at Thesen Harbour Town.
Named for the warm Mediterranean wind, Sirocco is a great, vibey lunch and dinner venue, which serves good food in a sophisticated space and is open seven days a week. Aside from their main food menu, they also offer cocktails and beer, sushi and a wine list to enjoy.
Contact: (044) 382 4874
Website: http:// www.sirocco.co.za
Address: TH 28, Thesen Harbour Town, Knsyna
#10 Totties Farm Kitchen
Found along Rheenendal Ramble, Totties Farm Kitchen offers you a warm welcome and a selection of dishes carefully and freshly made.
Totties serves sandwiches, light meals, lunches, milkshakes and delicious desserts too, though it is their Sunday Buffet (R150 per person), which is particularly popular. They also host large functions and weddings.
Contact: (044) 389 0092
Website: http://www.tottiesfarmkitchen.co.za
Address: Main Road, Rheenendal, Knysna
#11 Tapas and Oysters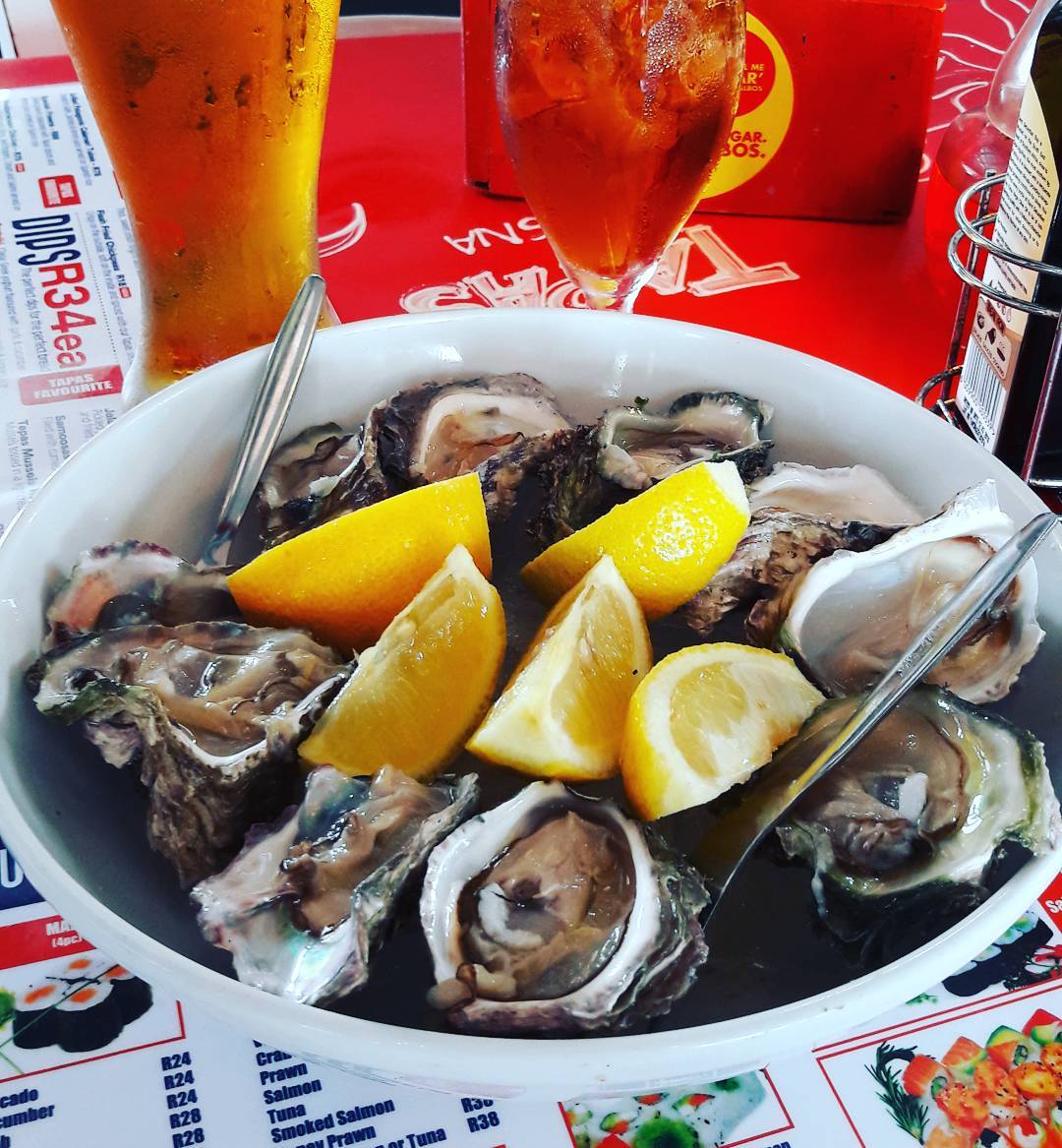 Photo credit: Nicky Sterley via Instagram
This vibrant restaurant is found on Thesen Island and enjoys perfect views over the Knysna Lagoon and famous Knysna Heads. Known for their friendly, vibey atmosphere, this waterside restaurant offers varied Spanish, Mediterranean and South African tapas.
They also offer fresh oysters, seafood, homemade dips and olives, salads, desserts and more, including: sushi, Mitchell's beer and freshly baked, rocket salt baguettes.
Contact: (044) 382 7196
Website: http://www.tapasknysna.co.za
Address: TH 29, Thesen Island, Knysna
#12 O Pescador Restaurant
This Knysna Waterfront restaurant has been around for twenty-eight years now. Manny and his staff serve Mediterranean-Portuguese food in a warm, friendly space.
Included on the menu is fresh fish, steaks, chicken and seafood. O Pescador also has a Rhodesian Teak bar, with an open-plan kitchen.
Contact: (044) 382 3476
Website: http://www.knysnawaterfront.com/waterfront/restaurants.html
Address: Shop U4, Knysna Waterfront, Knysna
#13 Rib & Rump
This popular, local steakhouse offers AAA Grade steaks and pork ribs, flame grilled just right, as well as surf & turf, grilled chicken/eisbein, starters, salads and desserts too.
They also serve fresh fish from their sister restaurant, Freshline Fisheries. With relaxed indoor and outdoor seating, Rib & Rump is great for meals with friends and family, and bring the kids along too.
Contact: (044) 382 0722
Website: http://www.ribandrump.co.za
Address: Corner Waterfront Drive & Long Street, Railway Siding Dockyard, Knysna
#14 The Bell Tavern
Housed on-site of the original Belvidere farmhouse, Knysna's smallest pub offers a wine cellar viewed through a window in the floor. With its yellowwood ceiling and ironwood block floor, The Bell Tavern is a favourite among Belvidere locals.
Enjoy pub meals outside during summer or next to a cosy, warm wood-fired stove in winter. They also offer a selection of locally brewed beers, including Mitchells, as well as Cape wines and spirits.
Contact: (044) 387 1055
Website: none
Address: Lower Duthie Drive, Belvidere Estate, Knysna
So whether it's some of the famous Knysna oysters you're after, a little bistro fare or even some sweet pastries, these top restaurants will be able to suit every palate's needs.
Book your Knysna Getaway Now!